One of the most pleasing aspects of the Coral Sports betting site is that it is absolutely jam-packed full with many different features. Of course, most of these are directly related to placing sports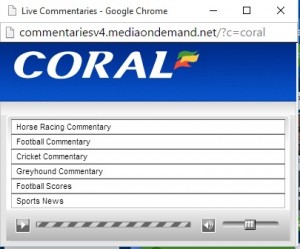 bets, but there are also other features that allow punters to conduct some research into their bets. We've already taken a look at Coral's Results Service in a previous article, so this week we're taking a look at Coral Radio.
Remember, if you aren't yet a Coral customer, you can join today and get the latest Coral sign up bonus by clicking on this link.
What is Coral Radio?
As the name suggests, Coral Radio is a number of audio channels contained within a media player that allows the user to select from a range of different options. When an option is selected the radio station begins broadcasting and as in a traditional radio station, you can sit back and listen to the news that is being announced.
Of course, with this being Coral Radio, the main focus of the radio station is sports betting and in particular, the news that may influence the type of bets that people want to place. There's also previews of major sports events and a general news service.
Finally, you can also get all the latest football results from matches played over the past 24-hours on a dedicated football scores channel.
Once you have the media player running for Coral Radio, you can leave it running and listen to the news items as you navigate through the site to place a bet.
What sports news items are catered for on Coral Radio?
Coral Radio offers six different channels on its service, although it should be pointed out that perhaps the channel names are a tad misleading, depending upon the time of the day that you tune in to the channel.
The channels listed are:
Horse Racing Commentary
Football Commentary
Cricket Commentary
Greyhound Commentary
Football Scores
Sports News
For the first four channels, the name suggests that clicking on these channels will bring you live commentary of events in each sport, presumably live, but of course, there are not always live horse racing, football, cricket or greyhound events in action (particularly if you visit the site first thing in the morning).
As such, when you click on these channels and there isn't a live commentary to be heard, instead you get a selection of news items, previews and other information about forthcoming sports events within the next day or so.
Of course, that changes when there are events in progress when live radio commentary of all these live sports events is played through the service.
Is Coral Radio really 'radio'?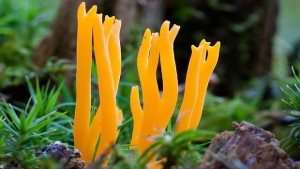 This may sound like a somewhat odd question but it is important to note that Coral Radio only really acts like an Internet-based radio service when live commentary of key events is being broadcast. Of course, when this happens the channels are like an Internet radio and operate and function in a very similar way.
However, when there are no live events scheduled, what happens is that Coral have a number of pre-recorded news and preview items for sports events for the sport clicked on and this then starts the stream of that audio for you to listen to. Once the file has played through once, it then repeats and streams again.
In this instance, Coral Radio is much more like a podcast in that the stream isn't being broadcast live, but is instead an audio file that is simply played and repeated.
Therefore, Coral Radio isn't a radio in the same way that, say Radio 1 or TalkSport is, but is more an audio service for Coral customers.
How Useful is Coral Radio to me when placing a bet?
Of course, the whole point of Coral Radio is that it is a service which Coral punters can use when on the site to help keep them informed about the latest news for any potential bets they make, or when there is live commentary on, for users to hear how their selections are performing.
In terms of the Live Commentary options, these are particularly useful if you are on your mobile and on the move and either there is no live stream available, or watching a live stream would be impractical (say if you are out on a walk).
There are a couple of reasons for this. Firstly, you can just slot your headphones in walk and listen to the commentary on the event you have betted on without having to watch the live stream.
Secondly it takes considerably less bandwidth to transmit an audio file to a mobile device than it does a live stream, so if you are not on an unlimited data plan, Coral Radio is a cheaper option for your mobile phone bill than live streaming when using 3G/4G.
That isn't an issue if you are using free WiFi, such as at home or work, or in a place that offers free WiFi, but if you tend to use the service via 3G or 4G, then this is something worth considering.
In terms of the news items, these are arguably the best and most useful aspect of Coral Radio for punters. Rather than scan through the papers or websites on your desktop or mobile, you can simply click on Coral Radio onto one of the four sports of your choice (or the News service) and hear all the latest major sports news.
How useful is this? Well for example, on the day the research for this article was undertaken, Chelsea striker Diego Costa was handed a three match ban, ruling him out of Chelsea's next three games (one in the Capital One Cup, two in the League) and as such, that has a clear impact on anybody considering a wager on Chelsea's next few games.
Admittedly, Coral Radio is very hit and miss. The news items are very much based around the major sporting events, clubs and individuals and as such, for in depth research about less popular markets (or indeed any sport not listed) the radio service offers limited value.
However, it is a handy service to have playing as you place your bets, just in case you hear that snippet of news that could make you change your mind over a bet and help you place a bet which, upon reflection, may offer a better chance of success.