Usually we tend to focus on some of the top offers on PokerStars Sports Betting site in this article, but this week we are going to change tack slightly and bring you some exciting news about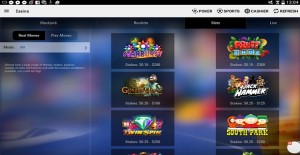 PokerStars Sport's sister site, PokerStars Casino.
Remember, if you haven't joined PokerStars UK sports just yet then click on the previous link to take you to the site to get started.
The Casino site was developed and released around the same time as PokerStars Sport and as such, is still very much developing and this week, mobile customers that have accessed the PokerStars Casino site from their choice of Android or iOS device were given some great news. That news was that the site is now offering a choice of their popular slot games direct from your mobile.
iOS Version
Previously, mobile users of PokerStars Casino could only play a selection of card and table games from their device, but in a press release this week, PokerStars Casino announced that ten of the sites most popular slots were now ready to be played on mobile.
Of course, we always like to be the first to bring you news on such big developments, so we grabbed our mobile devices and logged in to check out what was available.
We checked what games were available on iOS devices first and we found that nine (not ten) slots were available to play:
Starburst
Fruit Shop
Gonzo's Quest
Jack Hammer
Twin Spin
South Park
Mythic Maiden
Flowers
Reel Rush
We also previewed the slots and are delighted to report that each of the games we tied on mobile played every bit as successfully, with all the same features, as you would find in the website version of the game. This is great news for slots such as Starburst that is the most popular slot available on the PokerStars Casino site (based on the number of plays).
Android Version
To check that we hadn't made a mistake and that we'd missed an errant slot, we grabbed our trusty Android tablet and loaded up the PokerStars Casino mobile site on this device too. Once again, once we had loaded up the software, we found that there were the same nine slots available on the Android device as there were on the iOS device.
Quite why this is when the promotional email says ten slots is unclear, although one can surmise that perhaps there were issues with one of the slots running on the mobile platform and that it has been taken down for developmental work to be carried out on it before it is added back on to each app for customers to play again.
However, of the nine slots that are available (at least on tablet devices) all of them play exceptionally well on each device, though it must be said that the overall experience was a little smoother playing on the iPad than on the Android tablet (Samsung Galaxy Tab 3).
So of the nine slots currently available, which of them would be the most tempting to a slots player?
Well each slot has its own positives and very much it would be down to the individual to decide which of them gives them the most fun and enjoyable experience via your mobile. Having played each of the slots available, I'd rank the top three as follows:
3rd Place – South Park – This is a surprisingly simplistic slot given that it is for a hugely popular TV show. It's not as advanced as the Rolling Reels South Park slot but does have one or two nice features and of course, has the sometimes cruel, always crude South Park humour embellishing the slot throughout. It's not a great slot in terms of bigger payouts but if you like the TV show, you'll love the slot.
2nd Place – Mythic Maiden – Being brutally honest, we're not exactly sure which Mythic Maiden this slot refers to but it has a somewhat spooky theme and some unusual symbols across the reels, but what we liked about this medium to low variance slot was that it paid out regularly and even those on smaller bankrolls could play for a considerable period of time without making a massive dent in their funds. Add to this a free spins round that offers you the chance of some big wins and this was a slot that is really enjoyable.
1st Place – Starburst – Arguably NetEnt's finest and most enjoyable slot of recent times and it is by far and away the most popular slot available to play on the PokerStars Casino site. What is truly appealing about this slot is that you can win on paylines running left to right and right to left. You can scale your bet from just 0.10p per game up to £100 per spin and it is a slot that offers regular payouts, which can become huge payouts if you land the right symbols at the right times across the reels.
Like the PokerStars Sports betting site/app, PokerStars Casino is very much a site that is in development and continuing to add lots of new features as it establishes a niche for itself in the UK gaming industry. Adding slots is a fundamental to any casino site so it is good that PokerStars have finally brought their offering bang up to date. No doubt more slots will be added in the future but for now, the nine available offer a fine choice for all slots fans.