A little while ago we took a look at the different options available for the lower stakes poker fan at Bet365 Poker as these are undoubtedly the most popular options for the majority of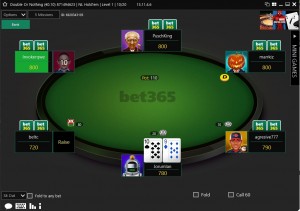 customers on the site.
However, there are a number of players who have a considerably larger bankroll available to them and for whom the preferred form of play is to battle for higher stakes. Although there are not quite so many options available to the higher stakes players at Bet365 (or indeed most poker sites) there are still some excellent games to play.
Remember, you will need to be a Bet365 customer to try out any of the games outlined below. Read our review for the latest Bet365 poker bonus code information to ensure you sign up and get the most out of your new player offer.
So assuming you've got a healthy bankroll available and are ready to test your mettle against the higher calibre of players that frequent the higher stakes tables at Bet365 Poker, what are the options available to you? Well, we will take you through what is available for higher stakes players at cash tables, sit & go games, MTTs and the new arrival on site, Six Plus cash games.
Higher Stakes Cash Games
If you are looking for high quality cash games, then Bet365 Poker offers a choice of options at the higher stakes levels. The maximum you can play for is stakes of £5/£10 at a table of six players with buy ins of a minimum of £200 and up to a maximum of £1,000. Other options includes £2/£4 tables (buy in from £80 to £400) and a €3/€6 table which has buy ins of €120 to €600.
If you want to enjoy the benefits of playing at the higher stakes Premium Cash tables (which offer enhanced points and other bonuses for Bet365 customers), then the largest stakes you can play for are €2/€4.
One thing to note is that the cash table games at the higher stakes are not as well populated compared to the lower stakes cash games, so the options in terms of the number of tables to play at are not as varied. Indeed, during the quieter times of the day, it can be difficult to find a table to play at.  However, if you elect to play at the Premium Tables, then your choice of games tends to be considerably better.
Higher Stakes Six Plus Cash Games
The highest stakes Six Plus Cash Game you can play at isn't exactly high stakes with €0.50/€1 the highest stakes game available with buy ins of up to €100 available at this table.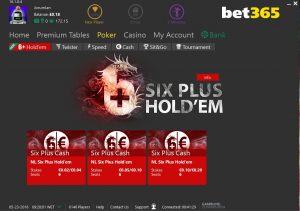 However, given that this is a more volatile form of poker where players get better hands more often, even being sat at the table with a smaller amount of money (for a typical higher roller) can see large swings in fortune in a relatively short space of time.
This means that compared to a standard cash table, more money is likely to change hands in a typical amount of time compared to a cash table.
Again, like the Cash Tables, the higher stakes tables in Six Plus Poker are not that populous in terms of numbers especially during the off-peak hours of the day, however you should find there are more tables in operation during the peak times of play.
Higher Stakes Sit & Go's
When it comes to Sit & Go games, there is a wide choice of games that you can play for higher stakes.
If you are a fan of Heads Up poker then Bet365 offers Sit & Go games of Heads up for two players with buy ins  of €500, €1000, €2000 and €5,000.
Another option is to buy in to Step 9 of the Premium Steps tournament for €350, which is the final stage of this event and where if you win the 3-player tournament that follows, you will take home €800.
If you enjoy the prospect of doubling your money by finishing in the top three of six players of a Sit & Go event, then you can play Double or Nothing games for up to €100 per game.
There are a number of other events which offer buy ins of up to €50 including Turbo and Super Turbo six player tournaments, as well as the chance to play in the Fort Knox Jackpot Sit & Go for a €40 buy in where you could win thousands, if you can win the stated number of tournaments in succession without losing a match.
There are a generally decent selection of Sit & Go games available for the higher stakes player at Bet365 Poker, with a wide spread of buy ins suiting players who want to play for tens, hundreds or even thousands of pounds or Euros across the choice of games.
Higher Stakes MTT's
Arguably the best choice of games for higher stakes players at Bet365 Poker are in the Multi Table Tournament section, with a number of big money games taking place on both a daily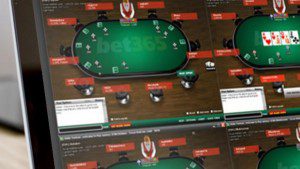 and weekly basis.
The biggest buy in of the week can be found in two events, both with a prize pool of €15,000 guaranteed, the Sunday Masters and Grand Monday events take place on the stated days with a buy in of €150 for each event.
There's also a significant number of events with a buy in of €75 throughout the week, this includes the biggest tournament of the week in terms of prize pool, the €50,000 Big Sunday event. In addition there is also a €20,000 Grand Tuesday tournament available for the same buy in plus a number of events with prizes of €5,000 guaranteed.
For a buy in of €50 there are a number of events on offer including the €15,000 Grand Friday, plus the Grand Wednesday and Grand Saturday weekly events each of which has a prize pool guaranteed at €10,000.
For just €30 you can also participate in the €20,000 Grand Sunday and the €10,000 Grand Thursday events each week.
When you add into this the chance to play Speed Poker for stakes of €1/€2 (max buy in of €200), plus the chance to play Twister Poker for €10 per game, then you have a fantastic choice of higher stakes games available to play every week at Bet365 Poker.