Back in February, Bet365 Poker announced the arrival of an exciting new format of the game, and to much acclaim the site unveiled its Six Plus Hold'em tables to the wait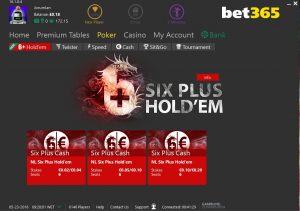 ing world.
In this article, we are going to examine a little about the different Six Plus Hold'em options that there are currently available at Bet365 Poker, but before we do that, let's give you a brief recap of what the key differences are between this format of the game and traditional Texas Hold'em.
Before we start however, remember you will need to be a customer at Bet365 to enjoy this and any other Bet365 Poker game.  Get the latest Bet365 poker bonus code by visiting our detailed review of the site for more information.
What is Six Plus Hold'em?
Six Plus Hold'em is a version of the game of Texas Hold'em that is identical in many respects to the standard game, but with one small modification. That being, all the cards ranked 2, 3, 4 and 5 of each suit (16 cards in total) are removed from the pack. This means that instead of playing with a standard 52-card deck, Six Plus Hold'em is played with a 36-card deck.
Although the actual game itself is played in the same way (you still get two hole cards, and the five community cards are revealed in the same way, betting also proceeds in the usual fashion), the fact that there are four cards from each suit missing does alter some of the hand rankings.
In Six Plus Hold'em therefore, it is statistically more difficult to get a three of a kind hand, than it is a straight and it is also more difficult to hit a flush than it is full house.  Therefore, in Six Plus Hold'em three of a kind beats a straight, while a flush beats a full house.
Other than these small changes to the game, Six Plus Hold'em plays in generally the same way, although given that there are fewer cards in each hand, the chances of being dealt a stronger hand are greater in Six Plus Hold'em than the standard game.
This means that Six Plus Hold'em is a game that does encourage plenty of action and does tend to see players involved in the pot more often than they would ordinarily be if they played to a similar strategy in a standard game.
What Six Plus games can I play at Bet365 Poker?
To find out what 6+ Games are available at Bet365 Poker, you need to load up the client software or app, depending on how you are accessing the site.
Once you have done this click on the Poker option in the list of tabs and from here you can click on the 6+ Hold'em tab that will appear. This will bring up a list of the available tables at Bet365 Poker.
Currently there are three Cash Table versions of Six Plus Hold'em that you can play:
6 Seater NL Six Plus Hold'em of Stakes €0.02/€0.04  (Min buy in €1.50/Max €4.00)
6 Seater NL Six Plus Hold'em of Stakes €0.05/€0.10  (Min buy in €4.00/Max €10.00)
6 Seater NL Six Plus Hold'em of Stakes €0.10/€0.20  (Min buy in €8.00/Max €20.00)
Currently, there are no Six Plus Hold'em games available to play as Speed Poker, Twister Poker, Sit & Go or Multi Table Tournaments.
Why aren't there other Six Plus games available?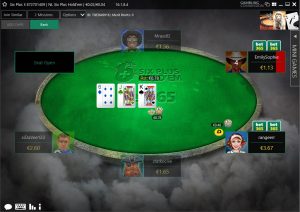 That is a good question because there is absolutely no reason why Bet365 Poker could not offer a variety of Six Plus poker options, such as Sit & Go games, Multi Table Tournaments and even Speed Poker and Twister Poker.
The likely reason is because Six Plus Hold'em is new version of the game, Bet365 are likely going to judge how popular this new version of the game is, before they invest in developing additional forms of the game. There is no point in developing Six Plus Hold;em Sit & Go, MTT's and more, if the demand for the game on the site is only small.
Therefore, if Six Plus Hold'em proves popular over the coming months, then it is likely Bet365 will expand the varieties of the game available for customers. This has happened in the past. Twister Poker was originally released as a limited time offer for customers a couple of years ago now, but proved so popular that it became a permanent part of the Bet365 Poker site.
Why do Bet365 put a warning up on the Bet365 Hold'em tables?
One thing you will notice on the Bet365 Six Plus Hold'em tables is that before you take your seat and buy in at the table, a warning will appear on the screen. This warning is reminding you that this is Six Plus Hold'em and that in this version of the game, players will hit better hands more often, as will you, and thus you may need to adjust your strategy accordingly.
The reason this appears is simply a reminder that given the differences in Six Plus Hold'em, the strategies that you employ on certain hands in traditional forms of hold'em, may not be as profitable in this different version of the game.
As such, what players need to do, especially those that are trying out Six Plus Hold'em for the first time, is to devise their own strategies and playing style for this version of the game. This doesn't have to be built from scratch, you can simply adapt your usual strategies for standard hold'em to reflect the differences between the two games.
What do we mean? Well, in standard hold'em, a hand of a straight is a strong hand usually. However in Six Plus Hold'em, it is significantly weaker and as such, you would need to perhaps play these types of hands more cautiously, than you would in standard hold'em. Conversely, flushes and three-of-a-kind hands are stronger in Six Plus Hold'em, so you can play these hands more aggressively.
Of course, it isn't just as simple as that to devise an effective Six Plus strategy, but by honing your skills on the small stakes cash tables, you can begin to unlock the secrets of how to play the game, to ensure that you start to become better at it as it grows in popularity on the site.