If you've used the bet365 Sports Welcome Bonus recently to enjoy the betting on the World Cup, then you may feel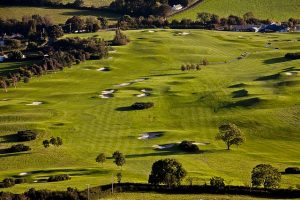 you have a bit of free time available to enjoy before the football season starts in a couple of weeks' time.
However, there's plenty to enjoy this week too with a couple of massive sporting events to enjoy a flutter on. At the weekend we will see the Formula 1 circus make the short trip (in their world) from Silverstone to Hockenheim ready for the German Grand Prix this weekend and we will preview that event in our other article later this week.
Starting before that though on Thursday is the third golfing Major of the season as the world's best head to the undulating and bunker-strewn fairways and greens of Carnoustie to compete for the 2018 British Open Golf Championship.
READ: Learn about the upcoming 2022 British Open
Carnoustie and Golf
The town of Carnoustie lies in Angus Scotland, north east of Edinburgh and close to the city of Dundee. It lies on the North Sea and has seen golf played on the course since the 16th century. There are three courses at Carnoustie, the Buddon and Burnside courses, plus the Championship course, which will host the 2018 Open Championship.
The course has hosted The Open on seven previous occasions over the years. The year and the winner of The Open at Carnoustie in that year are shown below.
1931 – Tommy Armour (US) (+8)
1937 – Henry Cotton (Eng) (+6)
1953 – Ben Hogan (US) (-6)
1968 – Gary Player (SA) (+1)
1975 – Tom Watson (US) (-9)
1999 – Paul Lawrie (Sco) (+6)
2007 – Padraig Harrington (Ire) (-7)
It is interesting to note that all three Open Championships held at Carnoustie since 1975 have required a playoff to win.
The current course record at Carnoustie is -9 which was set by Englishman Tommy Fleetwood during the Alfred Dunhill Links Championship in October 2017. His round included a run of five consecutive birdies from the 11th hole to the 15th hole.
Car-Nasty – When the Wind Blows
Carnoustie has a deserved reputation amongst the top golfers as being the most difficult of all the courses on the British Open roster. This stems from the 1999 Open Championship, when the weather conditions, allied with almost unplayable rough, made for one of the most jarring Open Championships ever played and which left a young Sergio Garcia in tears after shooting 89 and 83 in his opening two rounds.
That tournament is best remembered not just for horrific playing conditions, but also for Jean Van de Velde's collapse at the 18th hole, when requiring just a two-over par six to win, he ended up taking seven to force a playoff with Justin Leonard and the eventual winner, Paul Lawrie. That tournament saw American golfers christen the course 'car-nasty'.
While low scoring is possible, especially in fine, calm weather, as a links course, the undulations of the fairway and greens can make even well struck shots turn out more poorly than expected. The good news for golfers this year is that finer weather is expected and players in contention should be expecting to shoot below-par rounds to win the event.
The course will measure 7,402 yards and is a par 71. Feature holes include the sixth, Hogan's Alley, which features out of bounds for any shot travelling left of the fairway, the pat 5 14th Spectacles, named after two huge bunkers on the hole and the Barry Burn sixteenth, a 248-yard par 3 that is sure to test the players.
2018 Open Championship Stats
156 players will compete
$10,500,000 prize pool
$1,890,000 for the winner
16 Past Champions are expected to participate in the event, only one won their Championship at Carnoustie (Padraig Harrington).
United States golfers have the most entrants with 56, followed by England with 22 and then South Africa with 12.
Who will be in contention for The British Open 2018?
Bet365 Sport are offering each way pay outs for the top eight players which makes this fomr of betting an attractive proposition for punters looking for good value in this event. Currently the top priced odds for the outright winner of the tournament with bet365 is as follows:
Dustin Johnson – 12/1
Justin Rose, Rory McIlroy – 16/1
Rickie Fowler – 18/1
Jordan Spieth, Jon Rahm – 20/1
Brooks Koepka, Tommy Fleetwood, Justin Thomas – 22/1
Tiger Woods – 25/1
Sergio Garcia, Jason Day – 28/1
Henrik Stenson, Alex Noren 30/1
Francesco Molinari – 33/1
40/1 bar
The Winner?
With conditions for the British Open set to be relatively decent for players, I think this will open up the event beyond those players who are more experienced links golfers, or those that have been able to adapt their game to it well (such as Phil Mickelson, Jordan Spieth and Rickie Fowler).
After solid performances at the last two US Open's where he finished 4th and then 2nd I think the time has come for Tommy Fleetwood to put in a top performance on home soil. He holds the course record here, which is a big positive for him, and he is in good form heading into the event. At 22/1, I think he is a very solid choice for the outright market.
My other tip here has to be the world's best golfer at the moment Dustin Johnson who has the advantage of being not just supremely long and accurate from the tee, but also having superb craft with his approach shots. He's been close before finishing 2nd in 2011 and ninth twice in 2012 and 2016 and I think after finishing 10th at the Masters and 3rd at the US Open, he is due another Major win soon.
Each Way Outsider
If you fancy an each way flutter on a golfer to finish in the top eight places or better and you want to pick a longer odds selection to maximise your potential profit then there are a number of options available. American Zach Johnson (80/1) always tends to go well on links courses in the UK and he is a previous Open Champion winning in 2015 at St Andrews.
Another outside bet worth watching could be Irishman Shane Lowry (125/1) who was brought up playing links golf in his native Ireland and has the craft and creativity to play shots that other players would not even think about. He'll need a bit of a turnaround in form to reach the top eight but he certainly has the ability to do so.