In amongst all the World Cup hullaballoo, it is easy to forget that there is a major tennis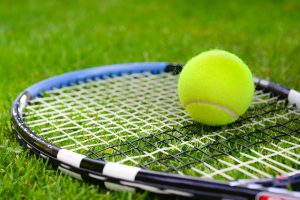 tournament taking place in London at the moment as we now know the line-up of the semifinals of the Women's tournament at Wimbledon, with the four games in the men's quarterfinals taking place today.
There's plenty of great betting available on both the World Cup and Wimbledon at bet365 Sport, and if you fancy a flutter now that we have got down to the final few matches, who should you be putting your money on?
In this article, we preview the men's quarterfinals and the women's semis and take a look at whether our pre-tournament predictions for who would win both still stand up to scrutiny, or whether, with all the seeds falling like flies at the tournament so far, it will be a different name engraved on the trophy in a few days time.
Men's Wimbledon Quarterfinals
Roger Federer (Swi) v Kevin Anderson (SA)
Can I make a case for Kevin Anderson causing what would be one of the biggest upsets in modern Wimbledon history at the quarterfinal stage today? In truth, unless the big South African can serve up almost limitless aces, I don't think he has the all round game to get anywhere near Federer. Once again the Swiss legend has moved through the rounds at Wimbledon without even appearing to break sweat. Anderson's power hitting may see him earn a few points, but when Federer starts to return even those serves, I think the South African will find himself in big trouble and for me, there's only one winner here.
Tip – Federer to win – 1/14 with Bet365
Milos Raonic (Can) v John Isner (US)
I think this clash between the two North American players could well be the closest of all five matches in the quarterfinals and one thing is for sure, the balls used in this game are going to take a hell of a beating from two massive servers. My gut feeling is that tie-breaks will be crucial here as I can't see either player making too big a dent into the serve of their opponent and in that respect, I think Raonic is just slightly the better all-round player, despite Isner's improvements in that respect over the past 12 months or so. This could well go to a fifth set tie-breaker, but I am backing Raonic, the 2016 finalist, to use his experience here to get the job done.
Tip – Raonic to win – 4/6 with Bet365
Novak Djokovic (Ser) v Kei Nishikori (Jap)
We have seen glimpses of the old Novak Djokovic at Wimbledon this year after several years where the Serbian former World Number 1 has been a pale shadow of his former brilliant self. The consistency he achieved when at the top isn't yet back in his game, but there are growing periods when he looks back to something like his best. That is an ominous sign for Nishikori, who is a fine player, but who lacks the creativity and genius around the court that Djokovic has at his best. I think this will be closer than many people are predicting with Djokovic such a strong favourite but even so I am backing the Serbian to win here.
Tip – Djokovic to win – 1/8 with Bet365
Rafael Nadal (Spa) v Juan Martin Del Potro (Arg)
The final match of the quarterfinal sees the second seed Rafael Nadal taking on fifth seed Juan Martin Del Potro in what should be a fabulous game. Nadal has enjoyed his best Wimbledon performance for many years this year and he has seldom looked in danger in any of his previous games. Del Potro has endured a tougher time on his way into the quarterfinals, but his combination of powerful serving and massive ground strokes could cause Nadal some real problems, especially on grass. On any other surface Nadal would be a massive favourite here and he is still a big favourite with the bookies, but now Del Potro is fit, I think he has a strong chance here and I'm backing him to cause something of an upset.
Tip – Del Potro to win – 11/5 with Bet365
Men's Quarterfinal Accumulator
You could put all four of my selections above into a single accumulator with Bet365 and if you do then a £10 stake on the fourfold would return £54.20.
Women's Semifinals
The seeds have tumbled in the women's draw and there are no top ten players remaining in the competition as we head into the semifinals, although all remaining players in the tournament were seeded at the start of the event.
After yesterday's quarterfinals, we now know the line up of the women's semis and here's how we see each of them going.
Jelena Ostapenko (Lat) v Angelique Kerber (Ger)
It's 12th seed versus 11th seed in the first semifinal as two previous Grand Slam winners clash in what should be an intriguing match. Ostapenko reached the quarterfinals at Wimbledon last year after winning at Roland Garros and has gone one better this year although she has not yet beat a seeded player on her way to the semifinal. Kerber has had a tougher route defeating two other seeds (Osaka and Kasatkina) as well as the talented Bencic to reach the semifinals. Kerber has been a finalist here back in 2016 and I think her sharpness and tougher matches so far will just about give here the edge in what should be an intriguing semi.
Tip – Kerber to win – 4/7 with Bet365
Julia Goerges (Ger) v Serena Williams (US)
The second semifinal sees 13th seed Julia Goerges of Germany face Serena Williams, who despite having a low World Ranking, was seeded 25th for this event. The American has made a mockery of that seeding by producing some stellar tennis and despite being the lowest seed left in the tournament, she is now the clear favourite to win it. Goerges has the ability to give Williams a fierce test, but the American looked like she moved into a new gear with her quarterfinal win over Giorgi after struggling in the opening set and in truth, I find it hard to believe Goerges can get the win here.
Tip – Williams to win – 2/7 with Bet365
How are my tips going?
Before the tournament began I tipped Roger Federer and Serena Williams to be lifting the trophies at the end of Wimbledon fortnight and I can honestly say I have seen nothing to make me change that opinion. I only hope, like me, you got your bet on when the odds were considerably more favourable than they are now.