This weekend Sebastian Vettel will drive out onto the Hockenheim circuit for the first German Grand Prix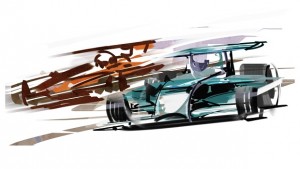 since 2016. He will start the weekend leading the Driver's Championship after a fine performance at Silverstone a couple of weeks ago where he won the British Grand Prix against his great rival Lewis Hamilton.
To cap a good weekend for the Tifosi, Vettel's team mate Kimi Raikkonen also finished in third place to ensure that Ferrari opened up a healthy lead over Mercedes in the Constructor's Championship too.
Now the teams will clash once again at Hockenheim on the relatively newly redesigned circuit and the question everybody is asking is whether with a home crowd set to roar him on, can anybody manage to beat Sebastian Vettel on his home patch?
Before we take a look at the answer to that, let's quickly recap how things stand in the World Championship at present for both the drivers and the constructors.
F1 Driver's Championship Standings (after British Grand Prix)
Sebastian Vettel (Ferrari) 171
Lewis Hamilton (Mercedes) 163
Kimi Raikkonen (Ferrari) 116
Daniel Ricciardo (Red Bull) 106
Valtteri Bottas (Mercedes) 104
Max Verstappen (Red Bull) 93
After Max Verstappen, there is a considerable drop away to the seventh placed driver on the list who is Nico Hulkenberg who has taken 42 points. So it looks very much like it will be these six drivers that are battling it out for top spot in the German Grand Prix this weekend.
F1 Constructor's Championship Standings
Ferrari – 287
Mercedes – 267
Red Bull – 199
Renault – 70
Haas Ferrari – 51
Force India – 49
McLaren – 48
Toro Rosso – 19
Sauber – 16
Williams – 4
Ferrari hold a 20-point lead over Mercedes heading into the weekend, but while Germany may be Vettel's home race, it is also likely the race that Mercedes feel is their home race too and as such, they will likely be expecting big things from both their drivers. Red Bull are still in contention at the top of the table, though 68 points off Mercedes in second and they'd need a sustained run of wins and top performances from their two drivers, plus Ferrari and Mercedes to drop points in several races, in order to claw back the difference between the teams.
Where do we stand in the Formula 1 season?
After the British Grand Prix, that meant that 10 races of the 21 race season had been completed and Germany will see us reach the mid-point of the season. However, the summer break does not fall then as there is one more Grand Prix the following weekend in Hungary before the break.
Following the month's hiatus, the teams then return to action to complete the final nine races of the season in Italy, Singapore, Russia, Japan, United States, Mexico, Brazil and then finally Abu Dhabi for the last race of the season, which takes place across the weekend of the 23rd to the 25th November.
Hockenheim History
The original Hockenheim circuit was originally a much longer circuit at over 4 miles in length and boasted several long and relatively straight runs, which meant that cars were operating at top speed for a greater duration of the race.
However, this did force teams to compromise between speed for the longer straights, and added downforce which would allow them to take the Stadium complex more quickly and save them time there. In addition, the cards running at top speeds for longer periods also meant that more cars would tend to fail during a typical German Grand Prix weekend.
That changed in 1992 when the circuit was extensively redesigned by Hermann Tilke, chiefly to make parts of the course more accessible to TV cameras and also to reduce the strain on the cars to make the race more competitive.
The main changes begin at Turns 2, 3 and 4 which is then followed by the 'parabolika' curve and a hairpin at corner six, which then leads on to the older Stadium Complex part of the track. While some drivers have welcomed the changes to the circuit, others have been critical of it and expressed a preference for the older circuit.
Certainly on the older track, the additional speed that Ferrari seem to have over their main rival would have seen them have a big advantage, but on this new circuit, which requires greater downforce and perhaps a car that is less wearing on its tyres, that may put Mercedes at a slight advantage for the race, though of course, all that theorising can go out of the window once qualifying starts.
In truth, this should be one of the most competitive of the races remaining left in the season with Red Bull also likely to be in with a shout of performing well here. That all bodes well for an exciting weekend in Germany, so let's take a look at how the bookmakers see things.
Odds to win the race (courtesy of Bet365)
Lewis Hamilton – 11/8
Sebastian Vettel – 13/8
Valtteri Bottas – 15/2
Max Verstappen – 9/1
Kimi Raikkonen – 10/1
Daniel Ricciardo – 10/1
1000/1 bar
As you can see by the odds outlined above, the bookies feel only six drivers have a realistic chance of success this weekend and in truth, they are correct. Unless mechanical issues dog all six drivers it is extremely unlikely anyone else other than these six will win the race. So who is our pick?
Our Pick to win the German Grand Prix
I find it somewhat odd that Lewis Hamilton is favourite to win this race when over the last few weeks, he and his team have been out-performed by Ferrari. For me, I think Sebastian Vettel is the big favourite to win and at 13/8, I think he is the clear bet to make here if you want to back someone to win the race.
Indeed, if I wasn't going to back Vettel then I think I'd probably err towards Max Verstappen (9/1) who is also racing on home soil and with Red Bull closing the gap to them and Mercedes and Ferrari, and on a circuit that may well suit their car moreso than Ferrari, I think Verstappen is a solid pick too.