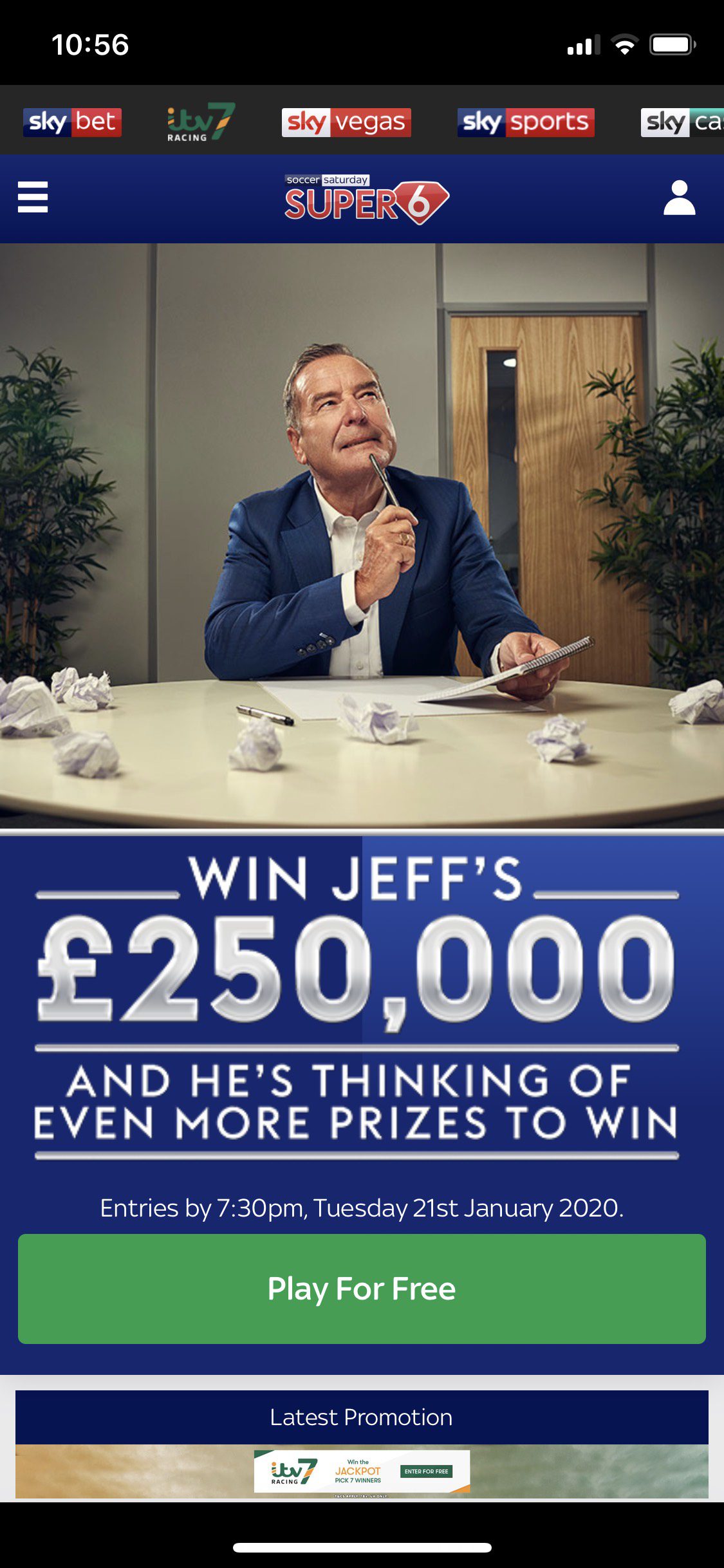 It has been a little while since we covered Sky Sports Super 6 game and in particular how you can increase your chances of landing the standard top prize each game week of £250,000. So having updated that article with some up to date stats and the like, we are now going to explore what is it about Super 6 that makes it so popular, and of course, how you can start to play if you are interested in joining in.
It is worth noting that there are other soccer betting offers available on other sites. The likes of bet365 Sport and Coral all have their own soccer games and/or betting promotions available on the site. However, there is something about Super 6 that does seem to have captured the imagination of the Great British public.

BET365
BONUS CODE: BET247
Get up to €100 in Bet Credits for new customers at bet365
Bet365 Review
Min deposit €5
Up to €100 in Bet Credits
Bet Credits available for use upon settlement of bets to value of qualifying deposit. Min odds, bet and payment method exclusions apply. Returns exclude Bet Credits stake. Time limits and T&Cs apply. The bonus code BET247 can be used during registration, but does not change the offer amount in any way.
You are free to check out the latest bet365 New Player Bonus or Coral Starter Bonus in order to see what each site has to offer to punters, but there's no doubt that Super 6 tends to rule the roost in terms of participation each week. So much so that Sky Sports tried to push the number of players participating in the tournament to around two million earlier in the season with an extensive advertising campaign.
Of course, Super 6 isn't available in the United States just yet, but you can enjoy some fantastic sports betting, and no doubt some fantastic offers and promotions in the state of Indiana. One great offer requires the latest BetRivers Affiliate Code "HOOSIERBONUS" which will help you get signed up on site to enjoy a wide range of sports bets and perhaps one day, sites in Indiana and other states will soon offer their own version of Super 6.
So what is it about Super 6 that makes it so popular and how do you play it? We will answer both these questions below, starting with the latter question first.
How do I play Super 6?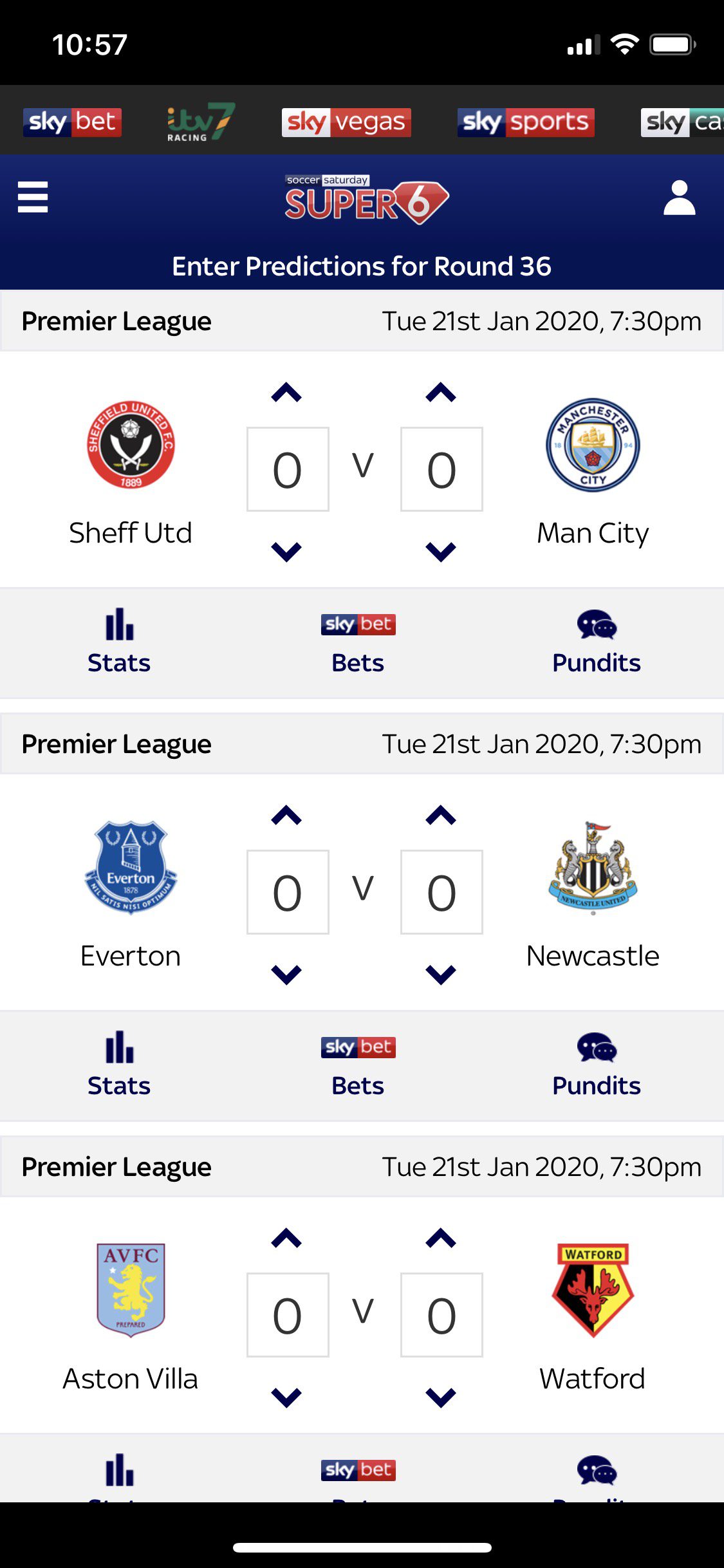 The first thing you need when you want to play Super 6 is a SkyBet account. The reason for this is that to log in to play Super 6, you need to use your SkyBet Log In. You do not have to deposit any cash into the account in order to play, Super 6 is completely free to play every game week, but you do need your log in details to access the game.
Once you have signed up with SkyBet and have your username and password or passcode, then the easiest way to play is via the dedicated Super 6 app that is available for mobile devices. The app is freely downloadable for Android and iOS devices and once installed on your chosen device, you can then log into it using your SkyBet account details.
Once you have logged in to your account you will see a link near the foot of the screen in a Green Box, it will say Enter Predictions if you have not yet entered your predictions (or Edit Predictions, if you have already entered your selections for that game week).
The aim of Super 6 is to predict the correct score of the six games selected for that particular game week. Most weeks, the games come from the Premier League, but on occasion games from the Championship, League One or League Two may be used. In addition, during Champions League weeks, games from the Champions League may also be used to compile a coupon.
You enter your choice of score by using the up and down arrows by the score box for each team. On a smartphone, you may need to scroll down to see the second set of three games on the coupon. Enter your predictions of the score in each game using the arrows.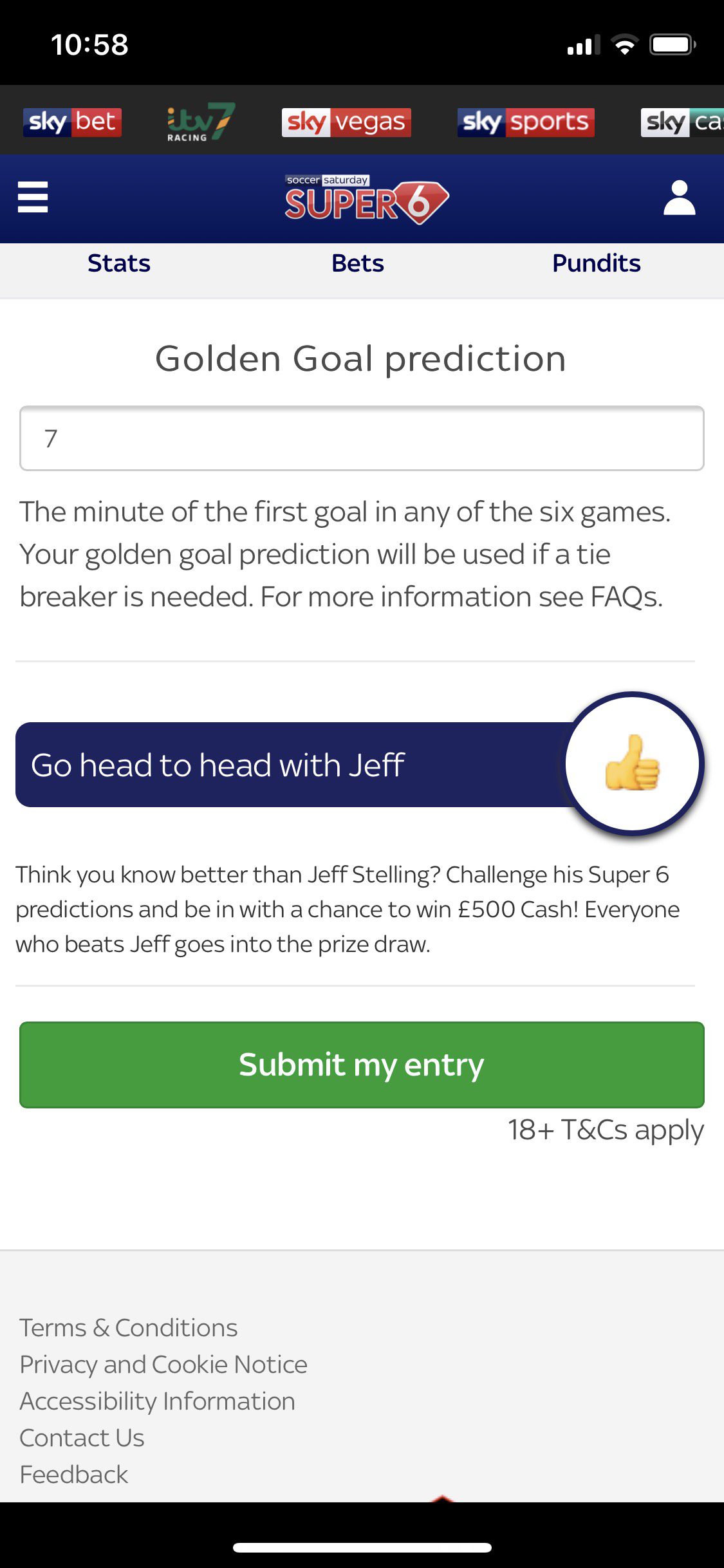 The next thing you need to do is enter your Golden Goal Prediction. The Golden Goal in Super 6 refers to the minute that the first goal of the day, in the six games listed on the coupon, will be scored. This will only be used in the event of a tiebreaker being required to decide the top prize winner of a particular game week.
A relatively new addition to the Super 6 game is the option to Challenge Jeff. Each game week, Gillette Soccer Saturday presenter Jeff Stelling will pick his predictions for each of the six games. If your predictions score higher than Jeff's predictions, but you do not win the top prize, then you will be entered into a draw for that game week with all other players whose scores were better than Mr Stelling's.
Each week ten players will be drawn from those that beat Jeff's score and they will receive a bonus prize of £500. Once again, this part of the game is completely free to enter, so it is always a good idea to click on this to Challenge Jeff each time you enter the game.
Once you have entered your six score predictions, your Golden Goal prediction and clicked the Challenge Jeff button, you simply tap the green button to submit your predictions. You will then see a screen confirming your predictions have been accepted.
You can log in any time before the stated kick off time for that game week and edit your predictions if you see fit. Which is especially useful for any late surprising team news that could affect how a particular game will turn out, for example if a key player is ruled out through injury.
What can you win playing Super 6?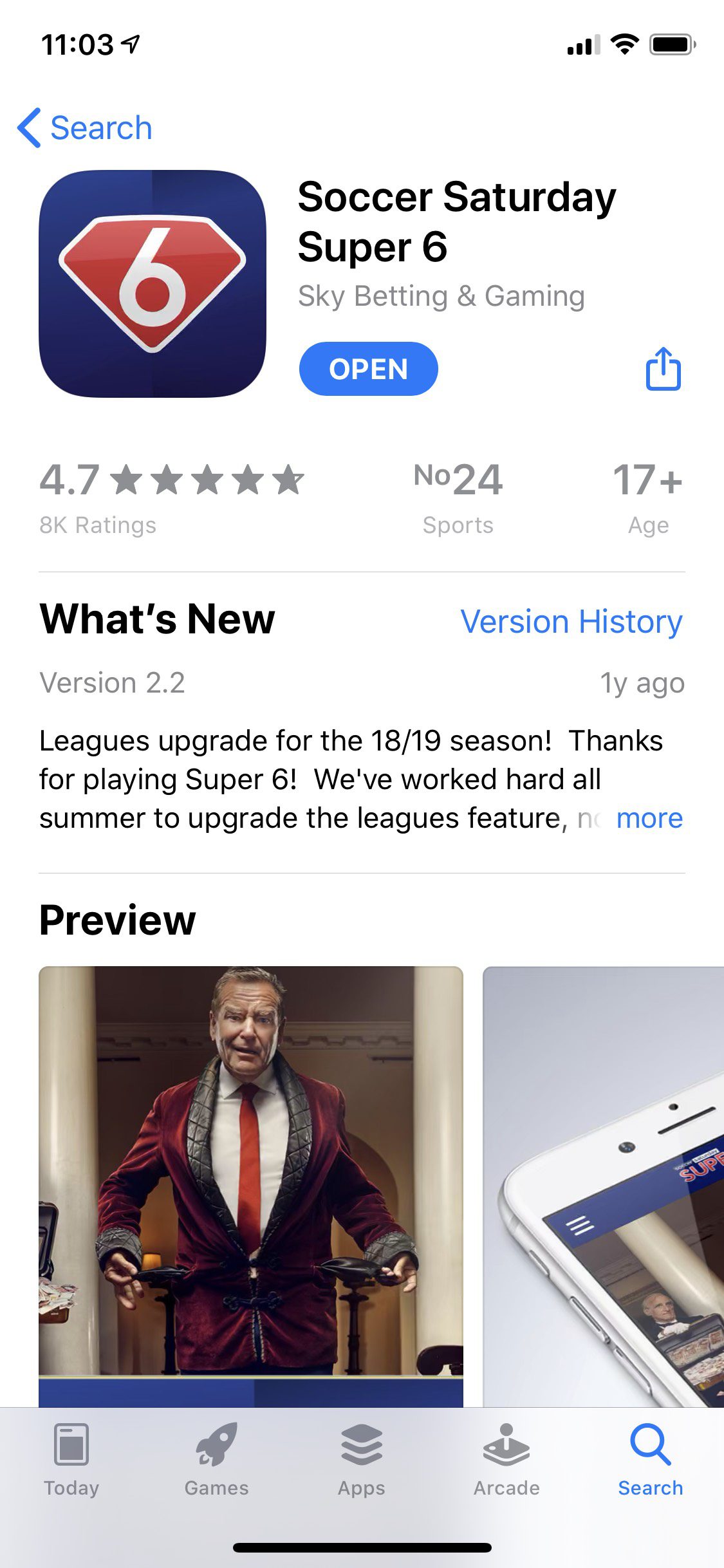 Every time there is a game week on Super 6 then the typical jackpot available for any player that manages to correctly predict the six scores in all six games accurately, is £250,000. Of course, predicting all six scores correctly is very difficult, so the top prize is not awarded to a lucky winner every week.
If for any reason more than one player correctly predicts the score of all six games, then the top prize will go to the player whose Golden Goal prediction was closest to the recorded time of the first goal scored of the day in one of the six games. If players are still tied after this, then the prize will be split between the players remaining tied.
Each week that the £250,000 prize is not won, then there is a consolation Round Competition prize of £5,000 for the player that scores the most points in any game week. If two or more players have the same number of points, then the prize will go to the player who most closely predicts the time of the first goal of the day in the six games with their Golden Goal prediction. If this is a tie, then the prize will be split between the tied players.
In addition to this, there is now a Get 5 Bonus available, for any player that just misses out on the £250,000 Jackpot Prize, but wins the Round Competition by correctly predicting five of the six scorelines correctly. If a player achieves this, then they will win an additional £1,000 on top of their Round Competition prize.
Also, it is worth noting that at various points of the season the competition organisers may decide to offer additional prizes, or increased prize money for a particular game week of Super 6. These will be advertised prior to each round, so it is always worth keeping a close eye on the app, or Sky Sports, for any potentially enhanced rewards available throughout the season.
Why is Super 6 so Popular?
There is no doubt that Super 6 has captured the imagination of punters and soccer fans all over the UK and it is one of the best supported free-to-play games you will find available over the course of the season.
The reason why it is so popular can be condensed into a few simple points:
Super 6 is completely free to play. Although you need a SkyBet account, you do not need to have the account funded, or even to have placed a bet in order to play the game.
Super 6 is simple to play – It is very quick to play too. Players can enter their predictions within a few seconds in the app, which means it is easy for people to play even if they do not have much time available.
Super 6 offers big prize money at no risk to players – There are few games you can play where you can pay nothing, but still win either £5,000 or even £250,000. This means players do not lose anything when they do not have a winning week.
Super 6 is easy to play from anywhere – Whether you use the website, or the downloadable app, it is easy to access the Super 6 game and make your predictions, or edit them, whether you are at home, work or on the move.
Super 6 is heavily featured on Soccer Saturday – Super 6 is heavily featured on Sky Sports flagship Saturday afternoon program with Jeff Stelling and his guests making their predictions prior to the game on the show and then announcing any big money winners at the end of the show. The game also receives plenty of coverage via advertising on the Sky network too.
So why not download the new app and try your hand at Super 6? You have nothing to lose and potentially up to £250,000 to gain every game week of the season!