Are you a fan of both sports betting and casino games such as slots that rely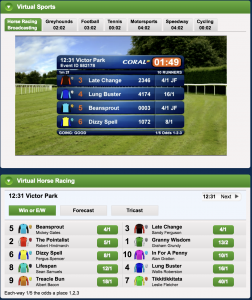 heavily on the element of chance? If you do then you are one of the millions of punters around the globe that enjoys both forms of wagering. But did you know that there exists a way to enjoy sports betting with elements of slot gaming combined?
Welcome to the world of Virtual Sports at Coral Virtuals.
Part of the Coral Sports site, although listed as a separate part in the main tabs, Coral Virtuals are a number of different Virtual Sports that allows you to bet on each event in each sport in a selected number of markets. However, unlike a real sport, the outcome of your chosen event isn't decided by a field of real horses, or two real football teams or similar, but instead worked out using a sophisticated piece of computer software.
What this is, how Virtual Sports work and how Coral and other companies ensure they are a viable betting option for punters is all explained in more detail in the section below.
What are Virtual Sports?
Virtual Sports are computer programs that are designed to emulate a specific sporting event and also a number of betting markets on that event. Although there can be different types of Virtual Sports, they are broadly split into two categories.
Virtual Race Games – Such as Horseracing, Greyhounds, Motorsport, Speedway and Cycling
Virtual Games – Such as Football and Tennis.
Although the actual graphical representation of each sport, the markets available and the types of odds on offer may differ from sport to sport, each sport essentially works in the same way in terms of computer programming.
That is the program will decide on the specific parameters for each game. That may be the number of runners in a race and their relative strength against each other (some runners will be better than others). It may also be the two teams competing in a football match and their relative strengths compared to each other. It is this difference in handicap that allows the software to work out different odds for different markets and ensures each Virtual Sport event is different to the next.
For example, in a Virtual Horse race, this will mean the software deciding how many runners are in the race and then the relative strength of each of the selected horse against each of the other runners. This then allows the software to generate odds for each of the runners across a number of markets. These calculations are worked out in the fraction of a second so that punters can bet on them almost immediately.
These differences between the runners are then used, along with a key random element, to decide the outcome of the race. The random element ensures that each Virtual Sports event is different and that favourites do not win all the time and it ensures that the results of each event give a realistic spread in terms of the value of the winners. So, you will find lower priced selections tend to win more often than longer odds ones, as in the real sporting world.
So as you can see, although Virtual Sports appear to be based on sports betting, the random element of the game means that it is also rather like playing a slot (which is based on a random number generator at the heart of its key programming). Thus making Virtual Sports a perfect crossover option for slot lovers seeking to try sports betting, or sports betting fans who want to try something a little more random.
What Virtual Sports does Coral Virtuals offer and how do they work?
Coral offers a total of seven different Virtual Sports:
Virtual Horse Racing (between 8-16 runners at a choice of three different tracks)
Virtual Greyhounds (6 runners in each race)
Virtual Football (2 randomly selected teams, can be international or club sides)
Virtual Tennis (2 randomly selected players)
Virtual Motorsports (cars) (12 drivers competing over 2 laps)
Virtual Speedway (4 riders competing over 2 laps)
Virtual Cycling (between 6 and 9 riders competing)
Each Virtual Sport takes place over a period of five minutes and begins with a few minutes for betting, when punters can look through the different betting markets available for each event and then place a bet on any they like the look of.
After the betting period ends, the simulation part of the Virtual Sport begins and this is where you get to see the Virtual action unfold on screen. This may in the form of a short race (in the case of race-based sports) or highlights from the game (in soccer) or a single game between two players (in tennis).
Usually the simulation part of the Virtual Sport takes around 90 seconds or so to play through and when it has ended, a summary of the result complete with the winning selections from the available markets prior is displayed. After this a new betting period begins for the next Virtual event in that sport.
What are my chances of winning at Coral's Virtual Sports?
Your chances of winning depend on the type of sport that you bet on, the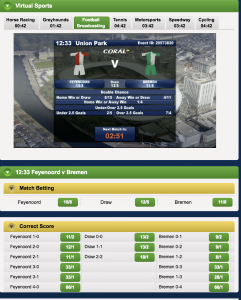 selections that you pick for that sport and of course, how lucky you are. To stand more chance of winning more often, you should select games and bets that have fewer options.
Good examples of this are betting on the Virtual Speedway (which has just four riders) or betting on the result of a Virtual Football or Tennis match (as these can have just a small number of outcomes, three for football and two for tennis).
If you elect to bet on events with more competitors, such as in a Virtual Horse Race or Virtual Motorsports, then it follows with more competitors, you will have less chance of picking the winner each time. This can be mitigated somewhat by picking shorter odds selections, but even so your chances of picking a winner in these events are smaller simply due to the numbers competing.
However, if you prefer longer odds selections and a chance of winning more for your money, but less frequently, then these events tend to offer the better options for you as they are more likely to have much greater odds selections available for you to bet on some markets.
Your chances of winning at Coral Virtual Sports are likely about the same as any other form of online gambling that has a random element included as part of the programming.
So if you fancy trying your hand at Virtual Sports, head on over to Coral Virtuals now, add some cash to your Coral account (don't worry if you haven't yet got one, you can sign up with a fantastic Coral New Player Bonus here) and start to enjoy betting on a brave new world of digitised sports.