Have you ever wondered why some people who enjoy sports betting seem to be so much more successful than others? How can someone be so 'lucky' consistently over a long period of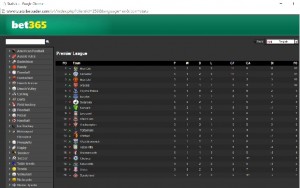 time, when other punters see the vast majority of their bets fail to come in and end up on the losing side?
Well one the key weapons any successful sports betting punter has in their armoury is the ability to research their bets thoroughly to ensure that the bets they place have a greater than usual chance of success. To do this, you need at hand a reliable, regularly updated and in-depth source of key statistics and data.
Now there are plenty of places you can go for this, but if you are placing bets then it is much more relevant to you if that data is geared towards a punter researching their bet. Many top bookmaking sites offer their own stats pack as part of the service, but it has to be said that Bet365 Sports statistics service is perhaps unparalleled in the world of UK sports betting.
In this article, we'll explain how to find the stats pack on the site, what sports are covered in the pack, and the types of statistics you will typically find available for most sports. Lastly we'll give you a clear example on how stats can help you formulate your bets more constructively, to give you a better chance of success each time you place a wager.
Bet365 Stats Packages
The first thing you need to know about Bet365 Stats Packages is where to find them as they may not be immediately apparent on your home screen when you first load up the page on your PC or mobile. There are essentially two ways that you can access the stats packages from the front page of the site.
The first is to locate the small bar-graph icon on the far right hand side of the page header labelled "Home". Highlighting this with your pointed or by clicking on it reveals that this is the Sports Stats link and clicking on it will load up a pop-up window, which is the Stats Package.
The second way to access the Sports Statistics is to scroll down the page to the bottom and here next to the Help section, you will see a more detailed Form & Stats section, which lists many (but not all) of the different types of sports for which the site holds up to date stats.
Regardless of how you access the stats, when clicked a stats pop up window will always open on your screen.
There are just a couple of things to note about the stats package once it has popped onto your screen. The first is that in the top right hand corner, you can adjust the language that the stats are shown in and in the top left corner is a search box that allows you to use search terms to focus in on sports teams or individuals much more quickly, rather than navigating through the menus.
Underneath the search box is a list of all the sports that Bet365 Sports has statistical information on and clicking on a sport will display a sub-menu outlining how the statistics are organised, so you can click on the relevant options to find the specific statistic you are looking for.
What Sports Are Available with Bet365 Stats and How Much Information is Provided?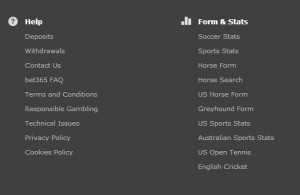 There are 24 different sports available in the Bet365 Stats package, as well as two other options for Winter Sports and the Olympic Games. The 24 individual sports included as part of the package are:  American Football, Australian Rules Football, Badminton, Bandy, Baseball, Basketball, Beach Soccer, Beach Volleyball, Cycling, Darts, Field Hockey, Floorball, Futsal, Handball, Ice Hockey, Motorsport, Pesapallo, Rugby, Snooker, Soccer, Table Tennis, Tennis, Volleyball and Waterpolo.
Not all sports offered by Bet365 Sports are included on the list, some notable omissions include Cricket,  Gaelic Sports, Golf, Greyhounds and perhaps most notably of all Horseracing.
However for those that are included, the level of detail about a specific match, or an individual that you can find is incredibly useful when it comes to formulate a bet.
Just how useful is best illustrated by using an example. So let's say that we wanted to place a bet on a theoretical forthcoming snooker match between Barry Hawkins and Mark Selby (with the data used that being available prior the 14th September 2015).
Finding the match is relatively easy, simply click on the Snooker option and this brings up a list of events underneath the Snooker tab and in the main window to the right, a list of all the big forthcoming matches in snooker are shown. Looking down this list, simply locate the Hawkins v Selby game and click on it.
This then brings up a detailed breakdown of the game and a statistical analysis of each player. You can see the players recent performance against his next opponent and hovering the mouse over the games shown in the "Last Meetings" section brings up a detailed analysis of how that match went.
However, what is particularly useful is that you can also click on the arrow next to the opponents name and see how that player fares against any other snooker player listed, thus giving you the chance to research the player against hundreds of other snooker players.
In addition, you have an indication as to the players recent form with a list of how they have played over their past seven games, as well as a statistical analysis of who they played in their previous seven matches and what the score was in those games.
There is also a historical analysis of the matchup between the two players, indicating how often they have played previously, and how many wins each player has against the other during their career.
This is a very useful and powerful tool which allows you to hone in on the finer points of a match up and allows the user to identify trends in matches between the players which can then be used to help the player decide which of the bets available offers the best value.
So, if for example we wanted to bet on a hypothetical game between Hawkins and Selby, the stats indicate that of the two players, Hawkins is in the best form (86% rating) compared to Selby (67%), history shows that the players have both won four times out of the eight times they have faced each other , but that Selby has won the last two matches they have played.
The stats also show that Selby has never beaten Hawkins in a match that has been played over more than a maximum 11 legs in length, whereas in shorter matches, Selby has won four of the matches to Hawkins two.
What this means is that if you were betting on one of the players to win, the stats show that if the match is going to be played over 11 legs in length, Hawkins is probably a stronger choice to win. Whereas if the match is to be played over a shorter period, Selby historically has the better stats.
What this means is that if the two met in a regular tour event over a best of nine match. Selby would probably have the slight edge, however if they met in a Major event and played a match over 13 or more frames, Hawkins would likely be a better choice.
Flexible Statistics for all Sports
What is extremely useful is that Bet365 Sports stats pack offers a similar level of flexibility across a huge range of markets for each of the sports. The options for soccer, tennis and other sports for example are truly massive and provide a superb resource for punters to research their bets.
So why not join Bet365 Sports now and start to research your bets in more detail and who knows, you could start turning a profit more regularly, just like the top tipsters in the industry today.