If you have joined a site like Sky Poker (click here to ready our review and get the latest Sky Poker no deposit bonus information) then you will be aware that you get a special bonus as a new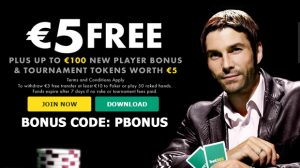 player. These are new player offers and on Sky (like almost every other site) you can only activate one starter bonus for the Sky platform.
What this means is that on Sky's family of sites (and indeed with many other gambling operators), if you sign up using say the Poker site offer, you cannot then claim the Sports Betting, Bingo or Casino site offer too. Once you have opened an account with that company and taken up an introductory offer, you cannot activate another.
However, there is one platform that eschews this trend and that site is Bet365. If you've signed up with your Bet365 Poker bonus code, then you'll already be aware that you have got a great deal. But did you know that you can perfectly legally claim at least three more offers from Bet365's sister sites?
In this article, we'll explain exactly how to do this so you can enjoy the benefits of four fantastic starter bonuses with the Bet365 family of sites, all completely legally and with the full consent of Bet365.
Before we outline the simple process to do this, it helps to have a clear understanding of what your Bet365 account actually is when you sign up, regardless of what site you join Bet365 through.
What you need to understand about your Bet365 account when you sign up
The key thing to note to maximise your starter bonuses at Bet365 is how your account is actually set up. Regardless of what site you join Bet365 through (Sports, Casino, Games, Poker, Vegas or Bingo) you are set up with a Bet365 account that allows you access to all of these sites.  Bet365 In Play and Bet365 Financials are not separate sites, but part of Bet365 Sports service.
That is because rather than just have one funding account, your Bet365 account consists of four different accounts. The first account you sign up and deposit to will be your initial account, but you will also have three other accounts for Bet365's other sites, which will all have a zero balance initially.  The four separate parts of your Bet365 account are as follows:
Bet365 Sports
Bet365 Casino
Bet365 Poker
Bet365 Games/Vegas/Bingo
Each separate account funds the Bet365 site or sites allocated to it. So if you join up via Bet365 Poker, your initial deposit will go into your Bet365 Poker account and you can use that money only for Bet365 Poker.
If you wanted to place a bet with Bet365 Sports, then you'd need to either deposit money or transfer money from Bet365 Poker into your Bet365 Sports account. However, you may want to hold off doing that until we explain how to realise all the bonuses available on each of the four strands of your account.
How Bet365 organise their starter bonuses
Bet365 essentially have four different starter bonuses. One for Bet365 Sports, one for Bet365 Poker, One for Bet365 Casino (with the same offer also available for Bet365 Games and Vegas)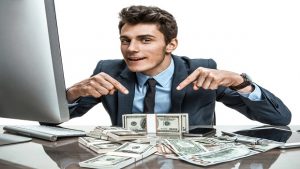 and one for Bet365 Bingo.
What this means is that for each different account, you can activate a starter bonus. So you can activate bonuses for Bet365 Sports, Poker and Casino, plus one other bonus for Games, Vegas or Bingo.
However, it is very easy to deny yourself a chance to access these bonuses if you access the sites at the wrong time and use them before the optimal time to access the starter bonus. Bet365 state that they only allow one bonus to be in operation on an account at any one time, and that is crucial if you wish to activate all bonuses.
That means you have to access each account in a set way and at a set time. Here's how:
How you can legally receive up to four starter bonuses at Bet365 family of sites
Let's assume that you have signed up to Bet365 via their Poker site (although the same steps can be followed regardless of which Bet365 site you sign up with). Let's also assume that you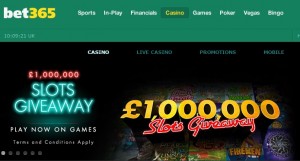 have registered and activated your starter bonus for signing up. So what do you do now?
The first thing you should do is check the terms of your bonus carefully and see how long you have for the bonus to run or to redeem the bonus owed to you in full. In the case of the Poker bonus, this is either when you redeem the bonus in full, or 60 days whichever is shorter.
What this means is that until you redeem the bonus in full, or for the next 60 days, you will have an active bonus on your Bet365 account. This means you can't activate another sign up bonus with another Bet365 site during this period.
You can still deposit to them and use them of course, but if you do, then you will not be able to claim the starter bonus for that site.  That is because the starter bonus is only paid on the first transactions on the site.
Therefore, to activate a second starter bonus, you need to wait until your bonus expires, or is redeemed in full. There is a status bar in the My Account settings at Bet365's family of sites that gives you a clear indication of any bonuses running on your account.
When your bonus is complete, you can then access the next Bet365 site and make a deposit, or better still, transfer cash from your existing Bet365 account into your other account and claim the starter bonus that way.
Once you've claimed the starter bonus for the second site (it does not matter which order you join the sites in), you follow the same process of waiting for the bonus to expire or be redeemed in full before activating the third bonus, then the fourth.
This does mean that you may need to be patient if you sign up with Bet365 Poker but perhaps fancy a few spins on a slot machine. In this case, you can access the side games at Bet365 Poker and play these without a problem, but you can't play the slots at other sites if you want to claim the bonus available with the sites hosting slots (Bet365 Games, Vegas and Casino).
By accessing each Bet365 account strand in this way, it is possible and completely legal to activate several starter bonuses over several months with Bet365, offering you even better value for money when you sign up as a new player.