There's some big news at Bonus Referrer Code and that is that we've added two new bookmakers to our list of ones that we think offer the best deal for UK customers. So let's welcome both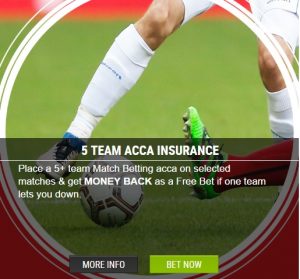 Ladbrokes and William Hill to the site to sit alongside both Bet365 and SkyBet as two of our highest quality providers for UK customers.
So what we are going to do is start by taking a look at a couple of Ladbrokes signature promotions and these will be immediately familiar to you if you have seen the ubiquitous advertisement on TV or at the Cinema starring Chris Kamara, who has his face superimposed over the bodies of a number of fictional characters at his own greasy spoon cafe.
Both of these promotions are based around football accumulator bets and they are different to the type of promotion run on sites like Bet365 Sport, which of course has the famous Euro Soccer Bonus for its accumulator bets.
Ladbrokes 5 Team Acca Insurance
With this promotion all you need to do is place an accumulator bet of at least five selections or more on selected matches on the Match Result market and if one of your chosen selections lets you down, but the other four win, then Ladbrokes will refund your stake as a free bet up to a maximum rebate of £25.
There is a wide selection of games you can add to your bet slip to make up your five selections and any games from the following leagues and competitions are permitted to be amongst your selections.
English Leagues (Premier League, Championship, League One, League Two, FA Cup, Football League Cup, EFL Trophy)
Scottish Leagues (Premiership, Championship, League One, League Two, Scottish FA Cup, Scottish League Cup, selected Challenge Cup Games may also be included)
UEFA Competitions (Champions League and the Europa League)
French Ligue 1
Spanish La Liga BBVA
German Bundesliga 1
Dutch Eredivisie
Italian Serie A
Swedish Allsvenskan
United States Major League Soccer
Selected qualifiers for World Cup 2018
Simply make your choices for your five selection or more acca and place your bet. If you select matches on your coupon only from these competitions (you can of course, mix up selections from many different competitions), then your bet is automatically covered by the 5 Team Acca Insurance offer.
How does the 5 Team Acca Insurance offer work?
This is a very simple offer to follow and it is best understood by means of a simple example:
Let's say you place a £25 bet on the following five team accumulator with Ladbrokes.
Swansea City v Stoke City – Draw at 23/10
West Ham v Everton – Away Win at 23/20
Swindon Town v Scunthorpe – Away Win at 6/4
Real Madrid v Barcelona – Away Win at 2/1
Hertha Berlin v Wolfsburg – Home Win at 7/5
This bet pays out at odds of 126.71/1 so if you win then your £25 bet would return £3167.75 profit, plus your stake money back.
However, let's say that out of those five games, the first four results all win, but the match between Hertha Berlin and Wolfsburg ends in a draw. This means four of your five selections have come in, but one lets you down.
Ordinarily, with a bookmaker this would mean your bet loses, but with Ladbrokes, you would instead receive a free bet to the value of your initial bet (in this case, the maximum £25) which you can use on another bet.
What happens if I place two or more accumulator bets in a day and more than one qualifies for the 5 Team Acca Insurance rebate?
If you place two or more accumulator bets on any given day with Ladbrokes and more than one bet qualifies for the acca insurance rebate, then only the first bet that you placed with the
company that day will qualify for the offer.
Therefore, you can receive a refund of your stake money up to £25 on this offer once per day regardless of many qualifying acca bets you make in a given day.
Edit My Acca
The second promotion, or perhaps better described as a feature, of the Ladbrokes sports betting service is the ability for customers to edit their own acca bets while the games are in progress.
This is a relatively new addition to the football betting service Ladbrokes offers and at the moment, you can only remove selections from your acca bet on an active football accumulator. This will then allow the remaining selections to progress through until the end of the game in a new bet.
How it works is as follows, if you have an accumulator bet and you feel one selection is going to let you down, then you can click use the Edit My Acca function to remove that bet from your wager. What happens is once you have highlighted the selection you want to remove from your bet, Ladbrokes will offer you a Cash Out amount for the remainder of the bet.
If you accept this, then the Cash Out amount offered is placed on your remaining selections as a new bet and the highlighted selection is removed from the bet. The Edit My Acca option is only available on single line multiple bets on sports markets where Ladbrokes can offer the Cash Out function.
Do Ladbrokes offer any other Football-themed promotions?
In addition to the two promotions listed above, Ladbrokes offer a number of short-term promotional offers each day, particularly in the form of Money Back promotions and Daily Price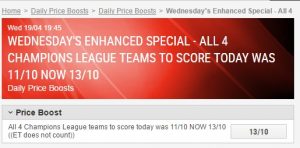 Boosts on selected sports betting markets, including many football matches.
One of their most popular offers is the Money Back promotion on selected markets of top football games, so for example for the two forthcoming FA Cup Semi Final ties, Ladbrokes are offering Money Back on selected markets if Chelsea v Tottenham or Arsenal v Manchester City both finish in a draw after 90 minutes.  The company will also offer this promotion on selected other top games throughout the season. Your cash is refunded as a free bet and the maximum rebate permitted is £25 on this offer, unless otherwise stated.
In addition to these offers Ladbrokes also offer Daily Price boosts on selected markets and acca bets, for example on the day of writing this offer they offered 13/10 on all four Champions League teams competing that night to score a goal. That was an enhanced price boosted from the original odds of 11/10, up to 13/10.
We've only just scratched the surface of the sheer number of offers Ladbrokes have available for customers and not just those with an interest in betting on soccer and we are sure they will be a more than welcome addition to the family of BRC sites.