Since its arrival, initially as a short-term promotion, on the Bet365 Poker site, Twister Poker has grown enormously in popularity and it is now one of the most popular types of game that Bet365
customers compete in.
In this article, we'll explain the subtle differences between playing Twister Poker compared to other types of Sit & Go games, what games are available, the specific skills you'll need to succeed and what to avoid doing if you don't want the opposition to 'blow you away' and take away your bankroll.
Remember, all you need to do to begin playing Twister Poker, or indeed any of the other games at Bet365 Poker, is to sign up today. Get the latest Bet365 poker bonus code by following the link and sign up today to get a cracking new player package, which includes a €5 no deposit bonus to trial the site before you play.
What is Twister Poker?
Twister Poker is a short tournament style poker game where the 'winner takes all'. Each Twister Poker contest sees a total of three players competing against each other to be the last one standing at the table. Each player pays the exact same price to enter the tournament and they are placed at a table randomly with two other players to play.
Each player is given a small stack of chips (500 at Bet365 Poker) with the blinds rising relatively quickly. This means that Twister Poker games tend to be short lived as players are forced into action at the tables more quickly and more often to preserve their chips against increasing blinds and also aggressive opponents.
The actual poker is the same as most other forms of Texas Hold'em, with players being dealt two hole cards and then the usual rounds of betting interspersed with the flop, turn and river cards being shown.
The winner is the player that is the final player at the table holding all the chips having eliminated the other two players.
What that player wins is decided at the start of the game by a spinning wheel (or the Twister). On the wheel is a set amount of prizes which can range from 2x the buy in, up to 1000x the buy in. The amount the winner will win is displayed at the start of the game. It is a random process, but there is more chance that you'll play for smaller multipliers than the rarer large multiplier games.
What stakes Twister Poker is available at Bet365 Poker?
At Bet365 you can elect to play Twister Poker at a variety of different stakes. Currently you can buy in for the following amounts (the minimum and maximum cash prizes you can win at the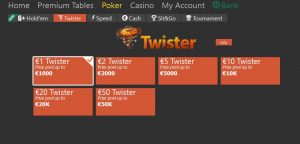 tables is also displayed next to each buy in).
€1 (Minimum Prize €2, Maximum Prize €1,000)
€2 (Minimum Prize €4, Maximum Prize €2,000)
€5 (Minimum Prize €10, Maximum Prize €5,000)
€10 (Minimum Prize €20, Maximum Prize €10,000)
€20 (Minimum Prize €40, Maximum Prize €20,000)
€50 (Minimum Prize €100, Maximum Prize €50,000)
Occasionally, from time to time Bet365 will also run promotions which include Twister Poker as part of the offer and when they do, they can sometimes offer different stakes games for a short period of time, such as when they offered a €0.50 version of Twister Poker as part of a recent promotion.
What skills do I need to thrive at Twister Poker?
The ultimate question is how to play Twister Poker. Given that Twister Poker is a short Sit & Go type of game, the problem most tournament players face is that they have little time to bed themselves into a tournament. A short stack of chips and players who are generally more aggressive who will play more hands more often, means that you need to develop your own aggressive style when playing to avoid losing blinds too often and decreasing the size of your stack.
You do need to be willing to get your chips into the middle on a wider variety of hands and of course, with just two other opponents, lower value hands, such as low ranking pairs or even high cards can still be strong hands.
Analysing how the betting is going is always a sensible approach to developing your strategy. Many players player Twister Poker using a simple formula, fold on weak hands, but if you have a strong hand, go all in. Furthermore, players with fewer chips will often go "All In" in the hope to scare off players from challenging them to try and claim pots. The key is understanding when you have the strength in your hand to challenge these plays most effectively.
Twister Poker is definitely not a game for a calling station. There are times when a call can be a particularly useful attacking move, such as when you hold the nuts and are trying to make the other player believe you have a weaker hand, but in general, this is a game where raising or folding tend to be the stronger options.
The final skill you need is the ability to know when to fold. Even if you have committed a lot of chips to the pot, if you suspect you are behind to another player, it is better to bite the bullet, fold and try and recover your chip stacks in future hands, than go all in against an opponent who probably has you beat.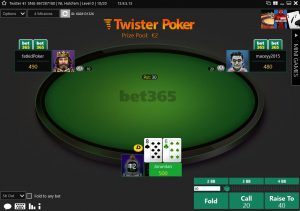 What do I need to avoid doing when playing Twister Poker?
The biggest mistake people make playing Twister Poker is playing to the extreme, by that I mean playing too passively (and as a result, seeing their bankroll eked away by increasing blinds and more aggressive players) or playing too aggressively and finding they have been eliminated due to taking on the others in the game just once too often with a weak hand.
You also want to avoid playing "formulaic" Twister Poker, by making the same bet each time when you have certain types of hands. Mixing up your bets will make it far more difficult to read you and you can then use this to entice them to bet when you want them, or get them to fold when you don't want them to bet.
Does Twister Poker play count towards earning Merit Points at Bet365?
Yes, playing Twister Poker does count towards earning Merit Points at Bet365. So each time you play you will be earning Merit Points towards your total.