The mobile poker scene is rapidly changing and late last year, we looked at the five best mobile poker apps for mobile poker players in the UK in 2013.
Our top five consistent of the likes of Bwin Poker, Bet365 Poker, 3DPKR, PokerStars and our winner, 888 Poker.
However since then a number of new poker apps have been launched and what is more, there looks likely to be a number of brand new poker apps ready to be launched throughout 2014, with some of the biggest names in the UK poker and gambling scene preparing their own apps for both Android and iOS devices.
In this article, we will take a quick look at two of the new apps that are available to download now, as well as peering into the future at a trio of promising new apps that are purportedly set for release some time in 2014.
Poker apps available now for UK mobile poker fans
Full Tilt Rush Poker App (for iPhone/iPad only)
One of the biggest names in online poker, especially across the United States, Full Tilt Poker is now wholly owned by PokerStars (who have their own app, which we reviewed last year).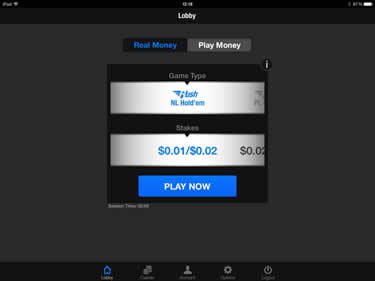 This app is a somewhat unusual one to find as it is not widely advertised by PokerStars and isn't the easiest to find. You need to search for Full Tilt Poker at the app store as a search for poker apps doesn't seem to locate the app.
Another disappointment is that there is no Android version of the app. In May 2013, a spokesman for Full Tilt said that an Android version of the app was still "a good number of months off", and there has been no sign of the Android version since.
The app was originally available several years ago, but was removed from the app store after Black Friday. After PokerStars acquired the rights to the Full Tilt brand name, the app was re-released back into the store, with a somewhat muted fanfare, in 2013.
Unfortunately, the app seems to have undergone little development since then. There are only two different types of game available in the app, Rush No Limit Hold'em and Rush Pot Limit Omaha.
This means if you are a fan of Sit & Go games, traditional cash table games or multi table tournaments, then you won't find anything on this app to whet your appetite.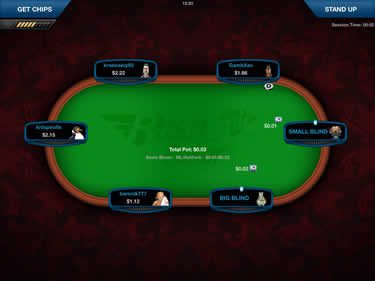 The Full Tilt version of Rush Poker is a decent enough game and has clearly been designed to take advantage of the mobile platform where users may find they have limited time and opportunity to play.
As such, the Rush (speed poker as it is known on many other sites) format of the game works well as more time is spent playing hands with the minimum amount of 'down time' between each hand you play.
If you are a fan of the speed poker variant then Full Tilt Rush poker does offer you plenty of stake options, from $0.01/$0.02 up to $2/$4 for real cash games playing the Texas Hold'em version and between $0.02/$0.05 and $1/$2 for the Pot Limit Omaha version.
However, the overriding feeling of this game is that it has been re-released simply to cash in on the Full Tilt brand name and popularity.
PokerStars, the new owners of the app, already have their own far superior app available and it is apparent that little, if any, development work has been done on the app since it was first released several years ago.
The lack of options reduces the appeal of the app, though Full Tilt do offer new players a chance of a $100 bonus when signing up (though exactly how you activate the bonus from your mobile is not immediately apparent and needs to be made much clearer).
The graphics are a little dated and while the game rattles along at a fairly brisk pace, most poker aficionados will probably find Rush Poker only has limited appeal and as such, the long-term appeal of the app is greatly diminished.
Plus points:
A good introductory offer is available for new customers (including mobile players) from Full Tilt Poker, however how you access this and receive it is not immediately apparent when you join.
The app plays at a nice pace and is relatively quick, even over a less than reliable connection. There's also a good selection of stakes available to appeal to fans of Rush Poker.
Rooms are generally well populated meaning it is relatively easy to find yourself a free space at a table without having to wait for people to join you.
Negatives:
How mobile users can claim the introductory offer needs to be made more explicit and obvious.
There is just not enough other forms of poker game available on the app to keep seasoned players wanting to play. A lack of options severely diminishes the long term appeal of the app for the majority of players who do not want to solely play Rush Poker.
The app kind of feels somewhat 'unloved' compared to PokerStars other app, almost as if it is a cash-in to try and recoup as much cash as possible from the Full Tilt brand name.
There are only three payment options (credit, debit and paysafe cards) . That isn't enough when other operators offer a plethora of choices on how to pay for your poker.
Conclusion: 
Full Tilt was a huge name in the past, even in the UK, but fans of the brand name will likely be sorely disappointed with the app.
It is vastly inferior to PokerStars' own app and offers only one type of poker game and suffers as a result. The app feels somewhat unpolished, unloved and perhaps even hints at a cynical release to try and make more money from the Full Tilt Brand name.  This is a shame as its Rush Poker game is good fun, but it only has limited appeal, especially for those who prefer the other, more popular forms of the game. 
Party Poker App (for iPhone, iPad & Android)
Party Poker was once the largest online poker brand in the world, but since 2006 the company's share of the market has dwindled and it is now the third most popular company (lagging behind PokerStars and Full Tilt Poker).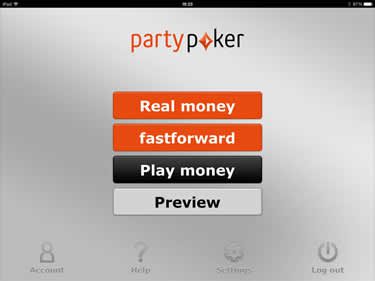 The Android version of the app was released first in late 2012, with the iOS version released a few months later in 2013.
Finding and downloading both apps is relatively easy from the Party Poker website, which when visited on your chosen mobile device, will auto-detect which version of the software you need for your handset or tablet.
Installation and registration with the company is relatively easy and there is a choice of real cash play, or play money games available via the app, though of course, we are only concerned with the options for real cash play.
It's fair to say that those options are somewhat limited with the Party Poker app, which is a little disappointing. Players can either play for cash at cash tables, or the fastforward game, which is a version of Speed poker.  
There are no Sit & Go or MTT options available through the Party Poker app at present.
The upshot of this is that unless you are a poker player who only wants to play on cash table games, or speed poker, then you are not going to find an awful lot to keep you playing with the Party Poker app.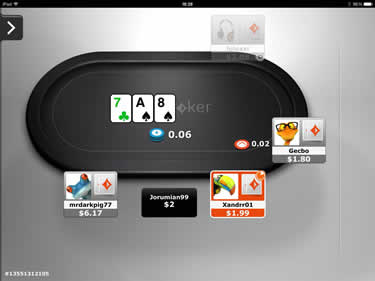 The lack of Sit & Go and MTTs is a serious omission, especially when compared to some of the better apps available for mobile users in the UK, that do contain both cash tables and speed poker, plus a wide variety of MTTs and Sit & Go games.
That is not to say that everything about the Party Poker app is a disappointment. The app is certainly one of the most beautifully presented and it eschews the cliché of the green or blue baize table to bring you a more futuristic look when you play.
There are also a good number of different stakes games available on the cash and fastforward tables to ensure that smaller stakes players through to those who like to play for slightly more on each hand are well catered for.
One notable aspect of the app which may well be of interest to beginners and novice players is that when compiling research for the article and comparing the standard of play on Party Poker with other apps, we found that the standard of play in the different poker rooms available was generally of a higher standard.
This is a double-edged sword of course as it means novice players can find winning hands and improving their bankroll rather difficult against good quality players. However the flip side of that is that by playing against good players, novice players should hopefully develop better poker skills more quickly than playing against lesser opponents.
The Party Poker app is by no means the worst poker app available for UK mobile poker fans, but it is one of the tougher apps when it comes to playing against other players and the lack of Sit & Go and MTTs does go against it. However for fans of cash table games against a generally good standard of opposition, and for those who like a stylish look to their poker app, Party Poker is one of the best choices on the market.
Plus points:
The design of the app is excellent and it looks very stylish. Signing up was quick and easy and the app is very easy to follow for even a beginner user.
The standard of play on the cash tables in particular, was generally good. This can help players improve their poker skills more quickly than by playing against inferior opposition. The downside of this of course, is that it can prove expensive and makes maintaining a bankroll more difficult, especially for a novice.
The optimisation for iPhone 5 works a treat and makes playing the app relatively easy, even when playing on a smaller screen compared to a tablet.
The fastforward option is a good addition for fans of speed poker, or for poker fans who have limited time to play.
Plenty of payment options are available for users.
Negatives:
The lack of Sit & Go and MTT's tables seriously impact how much long term appeal this app will have for fans of these types of poker game. Given that on other sites traffic to these types of game can be huge, this is a real disappointment.
Occasionally, bugs will crop up in the software, such as the betting appearing to be out of sequence on screen and at odds with how the betting is progressing in reality (for example, your bet may appear in front of another player).  While these bugs don't crop up often, when they do they are annoying and somewhat confusing.
Conclusion:
If you are a cash table fan, then Party Poker has everything you need to enjoy mobile poker in the UK.
There's lots of tables and stakes to select from and the game itself is stylishly presented. Unfortunately though, if you like MTTs and Sit & Go games, then there is nothing in the Party Poker app to inspire you to download it.  
This is a shame as otherwise, the Party Poker app works very well indeed and deserves to be enjoyed by a wider poker audience.
Future mobile online poker releases for 2014
One of the most exciting aspects of the mobile poker scene in the UK at present is that it is still evolving.
There are several major players in the UK Poker scene who are yet to release a working mobile app for real cash poker play, but 2014 could be the year when that changes.
Outlined below are three companies who are believed to be in the final stages of developing a real money poker app for UK mobile players. Of course, we'll review each of these products when they become available, but for now, here's a little taster of what you can expect from these apps when they are eventually released, believed to be some time later this year.
Sky Poker App (due spring/summer 2014)
For a good couple of years now, Sky Poker customers have been asking when they will be releasing an app. Indeed, there are several threads in the Community section of the website which have seen customers querying when Sky would release their own mobile app.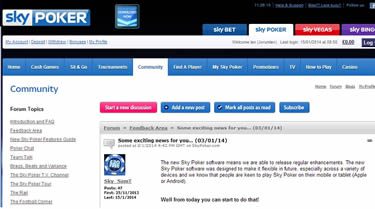 In 2013, customers got the first glimmer of hope that an app was on the way when the Sky Poker customer services team revealed that work on the app was under way and that it would be ready sometime around Christmas 2013.
That date came and went with still no app in sight, however in the months leading up to Christmas, Sky Poker's main site underwent a drastic overhaul in how its tables were presented and the software that runs them was also tweaked.
This change was more than merely cosmetic as it signified an upgrade of software which allowed the games on the site to be far more compatible with mobile devices, than the previous version of the software was.
Then on the 3rd January this year, Sky Poker's Customer Service rep Sam T announced that Sky Poker players could now access Sky Poker from their iOS or Android devices, by visiting the Sky Poker website from their browser and logging into the games that way.
He did stress that this was not yet an app (though this is scheduled to follow once development work is completed later in the year) and that there may still be one or two issues with the software and bugs which players may have to deal with while the software is fine-tuned.
But essentially, Sky Poker players can now use their mobile browser to log into the Sky Poker site and play poker through their mobile, though the experience isn't yet fully released and that there are many more further improvements to be made.
Feedback about the app has shown that there are still several glitches with the software, but it does appear at least that Sky Poker's new app will not only feature cash tables, but also Sit & Go and MTTs.
The expected date of release is though to be some time around Spring/Summer 2014, so Sky Poker fans keep your eyes peeled for the official announcement and of course, when it is released, you can expect the first review of this new poker app right here.
Try something new for the new year! Sign up for an account today and cash in on a Sky Poker free no deposit bonus. 
Ladbrokes Poker App (early 2014)
Ladbrokes released a poker app back in June 2012, although due to the fact their software was heavily based on Flash software, it was not compatible with iOS devices.
Nevertheless, the Android version of the app proved to be popular with reviewers who gave the app almost universally positive reviews.
However, shortly after it was released, Ladbrokes removed the app from the store and have discontinued support and development of the app.
It is believed that the lack of support for iOS played a key role in this decision and it has been rumoured that Ladbrokes are currently developing a brand new app which will be released in early 2014.

The key problem here is that Ladbrokes have had to rework their software from Flash onto a format that is compatible with iOS products, this in itself is a somewhat arduous process for any software developer, but one that is necessary if the new app is to have as broad appeal as possible to both Android and iOS users.
What is particularly exciting about this new app is that the old Ladbrokes app which was mothballed in 2013, was one of the most attractively presented apps available.
The old app only had Ring Games (cash tables) available, but it also had a number of outstanding features, including new UK customers receiving a welcome bonus when making their first deposit and the option of playing for real cash or play money.
Given that there's been little official word from Ladbrokes about the new app, it is hoped that the company will have addressed some of the issues that dogged their first app and that their new app may well be one of the better poker apps to hit the marketplace in 2014.
Zynga Poker – real cash app (release ???)
The biggest name in social poker, Zynga, who have millions of players of their free game on Facebook announced in the summer of 2013 that they were ready to launch their real cash version of the game on Facebook, Zynga Plus Poker.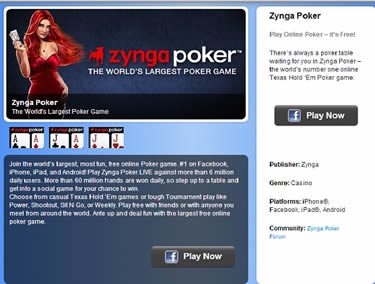 The app has been a success with Facebook fans and has led to industry insiders concluding that the next logical step for Zynga is to look away from their base on the social network site and consider developing an app for iOS and Android devices.
This would allow for mobile gaming both via these networks, and also through Facebook through each mobile device.
Many experts felt that Zynga Plus Poker's launch on Facebook was Zynga testing the water to see if the market was there for the product and the results seem to show that it is.
Zynga already have a play money version of their software available on iPhone and Android and as such, with a purported 6 million daily players, it only seems a matter of time before a real cash version of the game hits the shelves.
Indeed, it would be a foolhardy business decision if the company decides not to do this, given the popularity and growth in the mobile poker market over the past 18 to 24 months.
There's no concrete news on any potential release date for a real cash Zynga Poker app for iPhone/iPad and Android, however we'd be very surprised if one wasn't released at some point during 2014.