Last week, we brought you news that Bet365 Poker was running a series of cheap to enter tournaments as part of its new €200,000 Kart Series of events, which would take place through until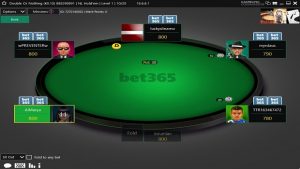 the 12th February 2017.
As part of this article, we brought you a short announcement that alongside this event, another promotion had been released which would run for a longer period of time, through until Sunday 26th February 2017 to be exact.
That promotion is the Premium Pairs offer and in this article, we are going to offer you a little more detail about this offer so that you can make the most of the opportunity to win a share of a guaranteed prize pool of €80,000 throughout the shortest month of the year,
What is the Premium Pairs promotion at Bet365 Poker?
Each day of the promotion from the 30th January 2017, through until Sunday 26th February 2017, there is a €1,000 Freeroll event that players can qualify for. In addition to these daily events, there is also a weekly €10,000 Freeroll and each day there is a Bonus Hour qualifying period, which runs from 23:00 to 23:59 UK Time, during which there will be a €500 Freeroll contested.
To enter any of these freeroll events, players have to earn themselves tournament tickets and they achieve this by completing the specific Missions relevant each of the three different types of freeroll event. Anybody that has competed in any of the similar "missions" themed promotions that have been held on Bet365 Poker over the past 12 months will certainly be familiar with the format.
By completing the different missions available each day and week, you earn tournament tickets for each of the three different freerolls, which you can then enter. All freeroll events are No Limit Hold'em All In Shootouts, which means that you don't actually play through each tournament as each hand all players are placed All In automatically.
How does the Premium Pairs promotion work?
The first thing to do when you want to participate in this offer is head on over to the Premium Pair page of the Bet365 Poker website. Take a look through the missions currently running and then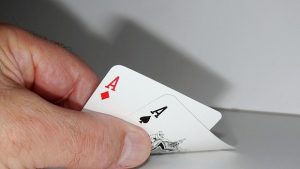 click on the "Start" button for the mission you want to complete. You must do this before you start the mission, otherwise your play at the tables won't count towards you completing the mission.
Remember, there are three different mission types you can complete each of which offers a tournament ticket into a different freeroll event.
€1,000 Daily Premium Pairs Freeroll
To earn a ticket into any of these freeroll events you need to be dealt the required Premium Pair as your hole cards within the daily qualifying period (which runs from 00:00 until 23:59 each day).  The Premium Pairs required for this promotion (and all the others) are outlined below this section as they are the same for each of the three different freeroll events.
You can enter this freeroll a maximum of one time per event and the €1,000 Daily Freeroll takes place each day of the promotion at 20:00 GMT.
If you do not use your ticket for the next available Daily Freeroll, then you can use it on a subsequent event, however you can only have a maximum of one entry into any Daily Freeroll event, multiple entries in this event are not allowed. This ensures that all players competing all of these events have the same chance of winning a cash prize.
€10,000 Weekly Premium Pairs Freeroll
The weekly Premium Pairs freeroll boasts the biggest single tournament cash prize of the promotion of €10,000 per week. There are four events scheduled in the promotion and they take place at the same time each Sunday of the promotion, the 5th, 12th, 19th and 26th of February at 21:00 GMT.
Unlike the Daily Premium Pairs Freeroll, you can enter this event more than once, however the maximum number of entries permitted into each Freeroll event is two.  The qualifying period for this event runs weekly from 00:00 each Monday through until 23:59 the following Sunday.
To earn a ticket into this event, you need to be dealt the Required Premium Pair twice during the qualification period to earn one prize draw ticket. You can complete this mission more than once during the promotional period to earn a second ticket for the next draw.
€500 Bonus Hour Premium Pairs Freeroll
If you want to earn a ticket into the €500 Bonus Hour Premium Pairs freeroll (which takes place at 20:30 GMT daily from the 31st January through until the 26th February) then you need
to be dealt the selected Premium Pair during the designated Bonus Hour at Bet365 Poker.
The Bonus Hour for this promotion is designated as 23:00 through until midnight GMT each day. You can earn multiple tickets for these freeroll events by landing the specified Premium Pair more than once at the tables during the bonus hour period.
These events do permit multiple entries of up to ten tickets per person into each event, which means you can increase your chances of earning a share of the prize pool by earning more tickets during the bonus hour.
What are the Premium Pairs for the duration of this offer?
The good news is that the Premium Pairs for the duration of this offer are the same for all three of the tournaments listed above. They are:
From the 30th January until the 5th February, if you want to enter any of the freerolls listed above then your mission is to be dealt a Premium Pair of Jacks.
From the 6th – 12th February to enter any of the freerolls outlined above the Premium Pair you need to be dealt when completing the relevant mission is a pair of Queens
From the 13th to 19th February, the Premium Pair required to enter any of the tournaments is a pair of Kings
Finally, from the 20th to the 26th February, you need to land the Premium Pair of Aces to receive a freeroll ticket for the relevant tournament listed above.
The final thing to remember is that to enter these events, you need to have ensured you are playing for real cash. You cannot use awarded tickets or bonus money to earn tickets for this promotion.
This is a great opportunity for players to complete relatively simple missions and earn tickets with a chance of earning your share of a total prize pool of €80,000. Someone has to win all that money and perhaps it may be you earning a good sized portion of it if you take part in the Premium Pairs promotion this February.