Since the Poker Boom in the middle of the 2000s, many hundreds of thousands, if not millions of people decided to give the game a try. Sites like Bet365 Poker, PokerStars, Full Tilt, Sky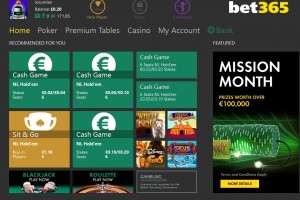 Poker and many others experienced a swell in numbers as people were bitten by the Poker bug.
For many players then and to this day, this is their first experience of playing competitive online poker for real money. It is one thing playing for pretend points on a social media-based game, but when it is your hard-earned cash up for grabs and on the line, that is a whole different ball game.
Indeed many beginners that come from being a 'points millionaire' on social media poker games are somewhat astonished to find that their skills don't necessarily translate when it is real money on the line.
So this article is aimed at beginner players, or those that are struggling to maintain a bankroll but who want to play poker more successfully on a site like Bet365 Poker. We're not going to give you strategic tips on how to play, but we will tell you where to play.
That is because selecting the right games to play at the right level for your bankroll is every bit a crucial strategic decision as the ones you take with your hole cards in your hand and your fingers on the chips at the table.
Aren't all poker games essentially the same?
Absolutely not. Yes, there may be Cash table games, Sit & Go games, Twister Poker, Speed Poker or Multi Table Tournaments on Bet365 that all operate under the same Texas Hold'em Rules, but the different structures of the tournaments mean that you will need to utilise very different skills to be successful in each different format.
It is perfectly feasible (if not, exceedingly common) for a player to be an excellent Sit & Go poker player, but struggle in larger MTT's or find it a challenge to stay profitable at the cash tables or similar. Someone who excels in the Speed Poker games, may find it tough at Sit & Go Poker, or on the slower-paced Cash Tables.
Sure, a good, tight-aggressive all round poker game helps you develop the strategies you need to be successful playing all games, but how you apply the different strategies required in each of the different games, including subtle nuances and differences in how you approach the game, will ultimately define your success.
Unfortunately, there is no "one size fits all" approach to the different varieties of poker and you'll find that to be true as a beginner, very quickly indeed. So to help you stay profitable, it makes sense to target the games you'll have most chance of winning. On the excellent Bet365 Poker site, playing either via a mobile device or on a desktop, here's a list of the top five games at Bet365 Poker where we'd recommend a beginner to start.
The top five games beginners should target at Bet365 Poker
5. Twister Poker (€1 and €2 Games)
Twister Poker is a wonderful way to begin learning about poker strategy. You play against just two other opponents for a prize that can range from 2x your stake, up to 1,000 times your stake. All players have small stacks and the blinds rise relatively quickly, meaning players are forced into action more quickly than in other types of game.
Luck plays a considerable part in hitting the right hands at the right time and with plenty of action, this is a game that beginners will enjoy because they have a 33% chance of winning at the start and with a bit of luck, they can experience a win or two very quickly after playing their first game.
So if you are not the most strategic player, you can still get lucky at Twister Poker and earn a few wins to help bolster your bankroll, while at the same time sharpening your skills and strategies for the games that lie ahead, particularly in the Sit & Go and Multi Table Tournament genre.
4. Premium Cash Tables (€ or £0.02/0.04 Games)
If Twister Poker will hone your Sit & Go game and MTT skills in particular, Cash Game players require a different set of skills and the best way to do this is to head to the Bet365 Premium Cash Tables and play the lowest stakes games outlined above.
You may be tempted to think that lower stakes games mean lower ability players but that is not the case at all and you will have to develop strong strategies to help you start to turn your play profitable. However, for very small stakes, you can spend just a few pounds and gain plenty of experience at the table in this purest form of poker.
3. All the Daily Freeroll Multi Table Tournaments
Every day Bet365 Poker run four Freeroll events that feature thousands of players playing for a guaranteed prize fund of £25 (three events) and £50 (one event). These events are completely free to enter and will often feature thousands of players, giving you the perfect environment in which to hone your Multi Table Tournament skills free of charge.
There is no limit on how many of these events you can play in each day, or how much you could win by finishing in a paying position, all you need to do is ensure you can register up to 30 minutes before the event is scheduled to start and you can participate as often as you like.
2. Double Up Sit & Go Games (€0.10, €0.20, €0.50 buy ins)
If you really fancy the challenge of Sit & Go games on Bet365 Poker, then without doubt the Double Up games in the Sit & Go section are worth a closer look. As a beginner, keep things affordable by targeting the three lowest price games outlined above, honing your skills on the cheapest before moving on to the more expensive games.
These games are great because they start with six players at the table, however if you are one of the last three at the table, regardless of how many chips you hold, you win and you almost double your stake money in the process. These games see 50% of the players emerge as a winner every time, so keep your chances of success on the Sit & Go's high by targeting these games.
1. Premium Steps Tournament
Once you have developed your skills, why not take the challenge offered by the Premium Steps Tournament. Buy in's at the first couple of steps are very cheap and you can even use Merit Points to buy in at Step One and it won't cost you a penny of your bankroll.
This is a progression tournament, similar to Twister Poker, only in this game, if you win, you win a ticket onto the next step of the tournament. Reach Step 9 and win the tournament and you'll take home the prize of €800 guaranteed.
This is a fantastic way to put the skills you've learned on the other four games to the test over a sustained period as you challenge yourself to win the top prize. It isn't easy, but as you improve your poker skills you should find you progress through the tournament more easily.