We always get a little excited at the start of each month, or thereabouts, when Bet365 Poker get ready to announce their newest promotion to replace the one that has previously expired. Well, Bet365 Poker fans this April have been given a treat with the release of not just one, but two outstanding promotions for the coming month.
In this article, we are going to take a quick look at each starting with the promotion that started in early April and is running through until the 1st May, Gold Rush.
Remember, to take advantage of these promotions, you do need to be a member of Bet365. Click here for the latest Bet365 no deposit bonus details on how you can join today and start playing with a nice no deposit required bonus in your account.
Bet365 Poker Gold Rush Promotion
The new Bet365 Gold Rush promotion is one of the popular "missions" based promotions that have been run regularly on the site over the past few months. Indeed over the last six months or so,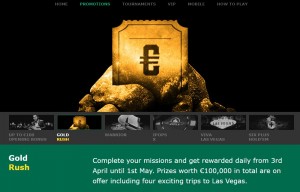 it seems that these promotions in particular have caught the imagination of customers as they have proved immensely popular.
For the Gold Rush promotion, each week there are two different types of mission available. The first is a Daily Mission (which can be completed in total two times during each 24-hour qualification period) and the second is the Weekly Mission that can be completed once during each of the four Mission weeks of the promotion.
The Weekly Mission is the same for each week and that is to Deposit or Transfer £10 or more into your Bet365 Poker account. You can do this once per week and when you do you will receive Two Golden Tickets as a reward. We'll explain more about what the Golden Tickets are for later in the article.
The details of each Daily Mission, the dates the mission is in play and the prizes on offer are outlined in the table below:
| | | | |
| --- | --- | --- | --- |
| Mission Dates | Daily Missions | Golden Tickets Awarded | How often Mission can be completed |
| 3rd – 10th April | Play a total of 50 Cash Game Hands on 6 Plus Hold'em or Texas Hold'em Tables | 1 | Twice per day |
| 10th – 17th April | Receive 10-10, J-J, Q-Q, K-K, A-A as your hole cards on a 6-Plus or Texas Hold'em Table | 1 | Twice per day |
| 17th – 24th April | Play in any of the first 14 iPOPS X events or any corresponding satellite with a buy in worth €1 or more | 1 | Twice per day |
| 24th April – 1st May | Play in a scheduled tournament with a buy in of €0.50 or more | 1 | Twice per day |
For each of the Golden Tickets you earn you can use them to enter a corresponding freeroll event. There are three different freeroll events you can participate in, one freeroll event taking place twice daily events and two weekly freeroll events.
Each day of the promotion there is a €1,000 All In Shootout Freeroll event taking place at 11:00 and 18:00 GMT daily. You can use your daily golden tickets to enter these events.
Every Sunday, there are two different Freeroll events taking place. These are scheduled for the 10th, 17th 24th of April and the 1st May.
The Gold Rush Vegas Freeroll takes place at 17:00 GMT on each of the four Sunday's listed above. The top prize in this event is a fantastic Las Vegas package worth €5,500, which includes flights and accommodation as well as a buy in to a big poker event worth $1,500.
The Gold Rush €5,000 Freeroll takes place at 17:30 GMT on each of the four Sunday's detailed above and this freeroll has a number of cash prizes available, rather than the Las Vegas package.
The only other thing to note about this offer is that if you are intending to try and win one of the fantastic Las Vegas packages available, then you need to be at least 21 years of age. This is due to the legal requirements in the state of Nevada which do not allow anyone under 21 years of age to gamble.
This is a fantastic promotion on Bet365 Poker, but it is not the only offer clamouring for your attention this April. This is because running at the same time is the fantastic Warrior promotion, which we have all the details on below.
Bet365 Poker Warrior Promotion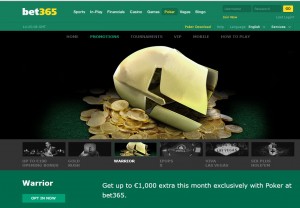 The great news for Bet365 Poker fans is that even if the Gold Rush promotion doesn't quite get you excited, you can still earn yourself up to €1,000 in rewards by playing any type of real cash poker at Bet365, thanks to the brand new Warrior promotion.
Before you start playing however, it is important to note that you need to Opt In to this promotion before you start. Head on over to the promotional page on the Bet365 site and click on the green "Opt In Now" button to ensure that you are registered for the promotion. Once you have done this then you have until the 30th April to work your way through the Warrior Milestones and claim your reward.
You have until 22:59 on the 30th April to play as many real cash games on Bet365 Poker as you can and every time you do, the amount of Total Rake (for Cash Table games) or Tournament Fees (for Sit & Go or Multi Table Tournament games) will be calculated and added to your total.
As the amount of money you pay in these increases over the course of the month, you will pass the different Warrior Milestones and earn yourself increasing bonuses depending on the amount you pay to Bet365. The table below outlines the different rewards available for each milestone.
| | |
| --- | --- |
| Warrior Reward Earned | Total Rake or Tournament Fees required |
| €50 | €500 |
| €100 | €1,000 |
| €150 | €1,500 |
| €250 | €2,500 |
| €400 | €4,000 |
| €650 | €6,500 |
| €1,000 | €10,000 |
Once you have completed earning for a milestone, you will continue earning towards the next milestone, unless you pay more than €10,000 in fees and rake, in which case the maximum bonus will be paid to you of €1,000.
Your bonuses will be credited to your Bet365 Poker account within 24-hours of the end of the promotion on the 30th April.
This is another enjoyable and very accessible offer for Bet365 Poker players which can be used alongside the Gold Rush promotion to maximise your possible bonus earnings on the site over the coming month of April.