Although we mostly focus on the different offerings at the other Bet365 sites, Sports, Games, Vegas, Poker and Casino, there is a sixth site available that also offers some different gambling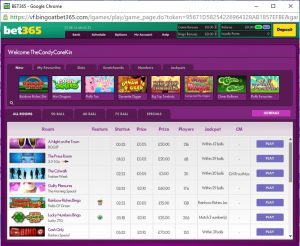 opportunities to what you would find on all the other platforms.
That sites is Bet365 Bingo and in this article we are going to take a closer look at the site and see what it has to offer, both in terms of the bingo games on the site, how they are organised and how they are played, as well as some of the other attractions accessible through Bet365 Bingo that may well be popular with Bet365 Casino, Games or Vegas players in particular.
That's because Bet365 Bingo is more than simply a bingo site and offers its customers a number of other exciting alternatives.
Sign with a great New Player Offer at Bet365 Bingo
If you are looking for a high quality offer to entice you into signing up at the site then the good news is that Bet365 Bingo does offer new customers a very enticing deal when they sign up.
Your Bet365 Bingo account is shared with Bet365 Games and Bet365 Vegas, so funds used on these accounts can be shared between them without having to transfer funds across accounts. However, you any bonus cash you earn can only be used on Bet365 Bingo (and the same with the other two Bet365 sites).
The site offers a Welcome Package to customers which comprises of three different bonus deals for players:
£1,000 worth of Free Bingo
To receive the £1,000 worth of Free Bingo, all you need to do is register a Chat Name with the Bet365 Bingo site and you will receive free entry to the Welcome Party room for the rest of the day, plus for the next seven days of your membership.
During that time you will be able to play for prizes worth a total of at least £1,000 completely free of charge. Any winnings you receive from this offer has to be wagered a total of four times in total before it is free to be withdrawn.
After you have enjoyed your free bingo games, you may decide that you want to play some of the associated slots that you can access direct from Bet365 Bingo. The great news for these players is that there is a £20 slots bonus available for you.
Simply deposit cash into your account and wager £10 either on bingo games or slot games on Bet365 Bingo. When you do, you will receive £20 worth of free bonus cash which you can use playing any of the slots available at Bet365 Bingo.
You have 14 days within which to use your bonus and any winnings from the bonus have to be wagered a total of 20 times before they can be withdrawn.
Simply make a deposit at Bet365 Bingo and you will be eligible for a 200% Bingo Bonus of up to £100. Make your deposit of £10 to £50 at Bet365 Bingo and they will email you a code.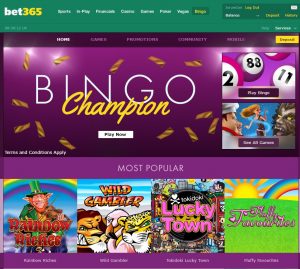 Simply redeem this code (ending BBFTB) on the site and your bonus will be credited to your bonus cash account to use playing bingo games at Bet365 Bingo.
You have 14 days to meet the wagering requirement of playing through the bonus funds four times to release the bonus (although stakes on the Jackpot Joker game will not count towards
redeeming this offer).
You access the bonus funds by playing through your qualifying deposit once on a wide selection of bingo games at Bet365 Bingo. Once played through and used up, your bonus cash will then become available and the 14-day countdown to release the funds by meeting the wagering requirement will begin.
What Bingo games are available to play at Bet365 Bingo?
The first thing to note about the Bingo games on the site is that they are accessed via the Bingo Lobby. Click on the "Open Bingo Lobby" button and this opens a second window which lists the different bingo rooms currently in operation on the site.
In addition to all the different rooms, the cost per ticket of a game is displayed along with the start time, the prize on offer, the total number of players and any jackpots available are also shown. Finally, whether there is a Chat Moderator (CM) in the room is also displayed.
Chat is a key part of the bingo experience as it allows players to socialise with each other before, during and after the game. As the numbers are drawn, your tickets are marked automatically so you'll never miss a number, leaving you free to chat to other members of the site to get to know people.
This feature is a huge hit and is one of the reasons why online bingo is one of the fastest growing leisure pursuits for young women in the 20-45 age range.
What other games can I play via Bet365 Bingo?
In addition to all the bingo games available in the lobby, you can access a number of other top games direct from Bet365 Bingo without having to log our or switch sites. There are a number of different games available including a large number of slot games, four multiplayer games, several different scratchcard games, as well as versions of roulette and blackjack and a number of other fun to play gambling entertainments.
You can play all of these games using the money in your Bet365 Bingo account without having to change sites. This makes it a real boon if you enjoy bingo but also enjoy a few spins on the slots, or perhaps a scratchcard game or two.
Bet365 Bingo Community
In addition to the gambling entertainments available on the site, there is a thriving Bet365 Bingo community section which gives you details about such items as:
Bet365 Bingo Loyalty Scheme and VIP Club
Information on Free Bingo games
Information on free to play Chat Games that Chat Moderators can and will run from time to time in bingo rooms alongside the usual bingo games
There's also a list of players who were some of the recent big winners at Bet365 Bingo.
There are also links to Bet365's accounts on Facebook, Twitter and YouTube which can help people enjoy the site via social media.
Community is a key aspect in all top bingo sites and Bet365 is no different nurturing a keen sense of community spirit within its players to keep them playing at the site.
So if you have never tried the game, why not give Bet365 Bingo a try. Join today and realise your bonus to play for free and then enjoy some outstanding quality bingo and the chance to chat and play alongside fellow players.