Along with football, horse racing is one of the most popular betting options on Bet365 Sport. This is emphasised by the fact that there are a number of top horseracing promotions available on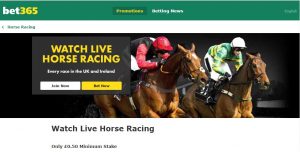 the site and the fact that Bet365 devotes a healthy section of its site to the sport.
So if you have got a Bet365 bonus code burning a hole in your pocket and you fancy a little horseracing action what are your options? Well, of course you can just place a bet on any race offered by the company, or take up one of the promotions regularly available on the site. Either is a great option.
However, you can also enjoy live racing every time you place a bet on a race with Bet365's Live Horseracing Streaming service. owevThis This service is slightly different to the other live streaming events you can find on Bet365 and in this article we'll explain why.
Why isn't horseracing available in the Live Streaming section?
The first thing you'll notice when you visit the Bet365 Live Streaming section is that you won't find any horse races listed here. That's because they are not 'free' streams to view like many of the other sporting streams you can find on the site.
To carry the service, Bet365 has to buy in the televised action of the races from companies like At The Races and Racing UK. However, rather than charge customers to view the streams, the company instead has a smarter way of allowing people to watch these events.
How can I access any UK or Ireland horseracing stream on Bet365?
So, if you want to watch a horse race that is available to be streamed live on Bet365 (which includes all the major meetings in the UK and Ireland) then what you need to do is place a bet on the race you want to watch.
All Bet365 ask is that your bet is of a minimum stake of £0.50 and that it is placed on the race in question. For every bet you place of £0.50 or above on any race Bet365 carries a live stream for, you will be able to watch that race in full, from a couple of minutes before the race starts, until the conclusion of the race.
Your £0.50 or more bet only gives you access to that single race you bet on however. You can't make a single bet of £0.50 or more and then watch all the races from the same meet or available at Bet365 on the same day. Each stream is provided on an individual basis and you need to place a bet on that race in order to watch the stream.
Tell me about the types of bets I can place to access the racing stream
The good news is that you can place any single or multiple bet on a particular race and provided that it is greater than, or equivalent to, a £0.50 win bet, or a £0.25 each way bet, then you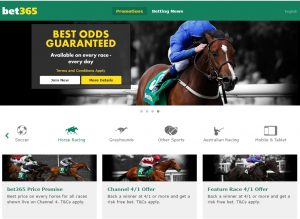 will be able to view the race in full via live streaming.
As such, it is generally wise to avoid multiple bets that cover several races as unless your bet has a wager of £0.50 to win or £0.25 each way, or equivalent, on a specific race, then you may not be able to watch the live stream (for example, if you have placed a £0.50 accumulator bet on selections from three different races).
Who provides the stream for Bet365's horseracing coverage?
Bet365's live streaming service for horseracing is provided by two of the biggest names in the horse racing industry. At The Races and Racing UK, who also provide the live horse racing feeds that are fed into bookmaking shops up and down the country.
As such, you can be sure that the feeds you will see at Bet365 are of the highest quality, although it is wise to ensure you have a strong connection (WiFi broadband is the best option) as well as the latest Flash video installed on your device.
Is the same option available for greyhound racing?
Yes and no and the reason for that is that Bet365's greyhound coverage is provided by three different providers and each has their own rules regarding live streaming.
Any live streamed race offered by RPGTV is free of charge to Bet365 account holders with a credit balance in their account (as all other sporting live streams are).
Any live stream offered by BAGS TV is subject to the same terms and conditions for horseracing streams. That being punters must place a £0.25 each way or £0.50 win bet to gain access to the stream for that race
Finally, for any other greyhound stream, punters must place a bet to the value of £1 or more on the race to view the live stream.
Can I place bets on other sports and watch live streams on Bet365 Sport?
You do not need to place a bet on other sports to watch them via live streaming at Bet365 Sport provided you have a credit balance on your account. If you do, then all other live streams,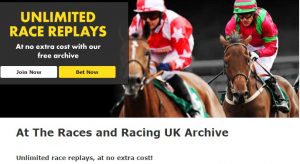 other than the horseracing and greyhound racing outlined above are free to view.
If Bet365 does not carry a stream then even if you place a bet on it, you can't view a live stream of the event. However, you may be able to watch the event via an alternative source (such as online or on satellite or terrestrial TV or similar).
What happens if I missed the live stream of my chosen race but want to watch it anyway?
Of course, sometimes life takes over and even if you intend to watch a horserace and place a bet on the race, the time comes and goes when you should have tuned in to watch and you miss the race.
Fortunately, you can still watch the race a short time later thanks to Bet365 Sport's fantastic racing archive. Here you can find replays of a huge number of races that have taken place over the past few years. Simply search through the available race to find the one you want to watch and you can view a recording of the race free of charge.
If you just want to review the results, then there is a powerful results service database which can be used to research the results of races in the UK and Ireland back to 1994.
Is live streaming on horseracing and greyhound racing available on mobile devices?
Yes, you can view live streaming of horseracing on any Android or iOS smartphone as well as the iPad.  Of course, the service is also fully available to desktop and laptop PC users.