Last week we took a look at how you could work out how much your stake will be for any of the six most popular Full Cover Bets (Trixie, Yankee, Super Yankee (or Canadian), Heinz, Super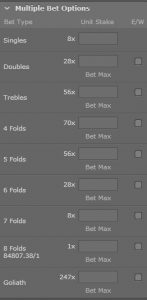 Heinz and Goliath).
Rather than focus on one single bookmaker, the information provided therein is applicable to any bookmaker that offers these bets, so you can use the information on that page (and this) at the likes of SkyBet or Bet365 Sport or indeed any other bookmaker site that offers Full Cover betting, such as BetStars.
In this article, we are going to look at some more multiple selection bets that are on offer at most popular bookmakers, although not all types of bets covered on this page may be offered by all. When this is the case, we will outline which bookmaker offers this type of bets.
Like in last week's article, we are going to use the term "lines" to describe one of the constituent bets of a larger multiple selection bet and all the lines in all these multiple selection bets need to be covered in order for the bet to be placed.
This week we are going to begin with a look at a slight variation in the Full Cover Bets we talked about last week. These bets are known simply as Full Cover Bets with Singles and there is a clue in the title as to what these bets cover.
Full Cover Bets with Singles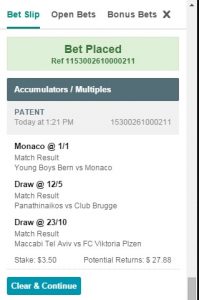 After having discovered the most common types of Full Cover Bets available last week, you can also decide to place a different type of bet. With all of Full Cover Bets mentioned last week, you needed two selections from your bet slip to win in order to generate any form of return. However, Full Cover Bets with Singles offer you the chance to win cash back, even if just one selection wins.
How is this possible? Well quite simply, the Full Cover Bet with Singles bet covers all the same bets for the stated number of selections as a Full Cover Bet, plus each of the selections made as a single bet.
For example, if you pick three selections (A, B and C) then there are four lines in this Full Cover Bet (AB, BC, AC and ABC). With a Full Cover Bet with Singles, this increases to seven because you also back each of the three selections individually.
So your Full Cover Bet with Singles would cover the following – A winning, B winning, C winning, A&B winning, B&C winning, A&C winning and A,B&C winning. That is seven lines in total and as such, if your unit stake was £1, then your three selection Full Cover Bet with Singles would cost £7.
What Full Cover Bets with Singles are available?
Generally speaking there are four of this type of bet generally available with Bookmakers, covering three, four, five and six selections on your bet slip. Bookmakers may offer the option for seven, eight or more selections but remember the more selections you make, the greater the number of lines you need to cover and the higher the cost of the initial bet. In addition, bookies tend to offer only Full Cover options (two selections must win) on bets with seven, eight or more selections, rather than a bet with singles included. These are called "Block" bets.
The table below outlines the most commonly available Full Cover Bets with Singles options, the number of selections and how many lines and the cost per £1 unit stake to place the bet.
| | | |
| --- | --- | --- |
| Full Cover Bet Name | Number of Selections | Number of Lines (Cost per £1 Unit Stake) |
| Patent | 3 | 7 (£7) |
| Lucky 15 | 4 | 15 (£15) |
| Lucky 31 | 5 | 31 (£31) |
| Lucky 63 | 6 | 63 (£63) |
Banker Bets (Bet365 Sport)
Another option available at Bet365 Sport when it comes to multiple selection betting is to place a Banker Bet. This is arguably a far more flexible bet for punters to place than either a Full Cover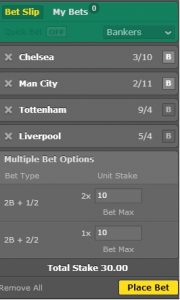 or Full Cover With Singles bet as you can back each part of the Banker Bet individually (or chose not to cover those lines at all).
Banker Bets aren't listed on my bet slip when I've made my selections with Bet365?
No, banker bets are not listed on the standard bet slip, even when you make multiple selections as they are a different type of bet.  To access the Banker Bet options, simply click on the drop down box with the word "Standard" written on it. When you do, you will see the options for "Bankers" listed underneath it. Click on this and that will change your bet slip to the Banker Betting options.
What is a Banker Bet?
A Banker Bet is a multiple selection bet where you are selecting one (or more) of your selections on that slip as a "must win" selection. In order for you to receive any return on your bet, your Banker Bet must win. If your Banker selection does not win, then regardless of what lines you have covered, then all your bets will lose.
To place a banker bet you must select at least one of your choices as the Banker option, though you can pick more if you like. The more Bankers you select, the cheaper it will be for you to cover the various options in the bet based on your number of selections. We'll explain that in a little more detail below as this is how Banker Bets are fundamentally different to Full Cover Bets.
Let's say I want to place a five selection banker bet and I want one of my selections to be the Banker. In a Banker Bet each group of line bets (Banker plus one selection (4 lines), Banker plus two selections (6 lines), Banker plus three selections (4 lines) and Banker plus all four selections (1 line)) is available to be bet on or not. This is different to a Full Cover Bet where you have to back ALL these selections.
With a Banker Bet you can elect, if you wish to bank just one, two, three or all four of these options. The choice is yours. This is what makes this bet so flexible.
With a five selection Banker Bet with one selection as the Banker, backing all the possible winning lines would entail 15 lines in total. This a £1 Banker Bet on all these selections would cost £15.
However, if you subsequently add another of your existing selections as a Banker Bet, thus having two selections that must win for your bet to succeed, then the number of lines you need to cover changes. With two Bankers, you now only need to cover seven bets in total (2 Bankers + 1 out of 3 selections (3 lines), 2 Bankers plus 2/3 selections (3 lines) and 2 Bankers plus all three selections(1 line)).  This means for the same unit stake, this type of five selection Banker Bet would cost you just £7.