If you are looking for a competition this Autumn that will guarantee you a prize, then look no further than Bet365 Poker's Everyone's a Winner promotion.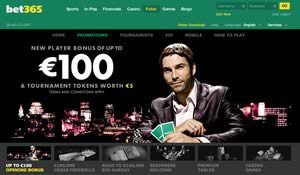 The famous soul band Hot Chocolate may have had a hit with a song of the same name, but there's no doubt that it will be the poker tables of Bet365, rather than Errol Brown's smooth vocals that will be getting Bet365 customers most excited for four weeks between September 14th and October 11th 2015.
Of course, you do need to be a member at Bet365 in order to take part in the promotion, but if you click on the following link, you can get all the latest Bet365 sign up bonus information and enjoy a fantastic new player deal when you sign up.
So how does Everyone's A Winner work? Let's find out:
How the Everyone's A Winner Promotion works
The first thing to note is that like most of the promotions on Bet365 Poker, you do need to Opt In to this promotion. To do this, simply log in to your account and visit the page on the Bet365 Poker site dedicated to the Everyone's A Winner promotion and then click on the green "Opt In Now" button below the title.
Once you have opted in, you can then start to participate in the promotion and this is done simply by playing any type of poker for real cash on the Bet365 Poker site.
Each day there is a total prize fund of €4,000 available to be won in a prize draw and associated freeroll poker events and to be eligible for a prize, you need to earn yourself a prize draw ticket. You earn a ticket by earning coins and for every two coins you earn through your real money play on any poker game on Bet365 Poker, you will earn a ticket into the next daily prize draw.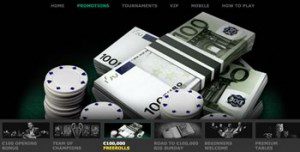 Coins are earned at the rate of one coin for every two merit points earned playing on any of the Bet365 Poker cash games, apart from the Premium Tables. If you play on the Premium Tables then you will earn your coins more quickly as they are earned at the rate of one coin for each Merit Point you earn through your play, but only on Premium Tables.
Merit Points are earned at the rate of 15 for every €1 you pay in tournament fees, or for every €1 you pay in attributed rakes in cash table games.
So, for example, if you earned a total of 10 Merit Points playing Twister Poker on Bet365, then this would earn you 5 coins and you would earn five tickets into the next daily prize draw. However, if you earned a total of 10 Merit Points playing at the Premium Cash Tables, you would earn 10 Coins and thus 10 tickets into the next prize draw.
It is also worth remembering that you can now participate in this promotion across the full range of Bet365 games via mobile, thanks to the updated Bet365 Poker app.
Each qualifying period for a prize draw lasts for 24 hours from midnight until 11:59pm GMT the following day and the maximum number of prize draw tickets you can earn for a single prize draw is 50.
The Freerolls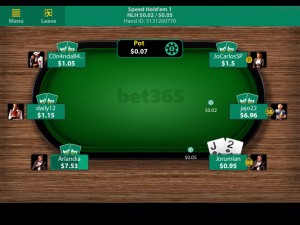 Of course, the more astute amongst you will have realised that the whole point of a prize draw is that not everyone can win a prize and while this is true in terms of prizes award for the cash draw aspect of this promotion, what is certainly true also is that for every prize draw that you collect one or more tickets for, you will receive a guaranteed prize of a freeroll tournament token.
That's because the €4,000 in prizes available is not solely allocated out via the prize draw. Indeed, prizes worth just half that amount €2,000 are allocated in the daily prize draw, with the other half divided between two €1,000 freeroll events that will be played each day of the promotion.
Players can elect to use their free tournament token to participate in either of these tournaments. The first is a €1,000 Freeroll tournament. A typical poker tournament as you would play on Bet365 Poker in which your poker skill, luck and good judgement can be put to good use to hopefully win a prize. .
The second tournament you can elect to participate in is a €1,000 All In Freeroll, which sees every player registered in the tournament placed All-In automatically in each hand. Of course, there is no skill involved in this and you are at the whim of the cards dealt as to whether you progress, but the bonus of this tournament is that you can register for it, and you don't even need to be sat at the table to join in. You can simply check the results later and see if you landed yourself a prize.
What Prizes are available in the €2,000 Daily Prize Draw?
If you earn yourself a ticket into a prize draw, then you give yourself a chance of winning one of 2020 tournament tokens available for the new Premium Steps Sit & Go games that are exclusive to Bet365 Poker.
Players who receive the top 20 prizes out of the draw each day will receive a Step 5 Tournament Token worth €12.50. Players drawn 21st to 70th out of the hat will receive a Step 4 Tournament Token worth €5.50 while those drawn 71st to 170th receive a Step 3 Tournament Token worth €2.50.
If you are drawn 171st to 670th out of the hat on any day, you'll receive a €1.10 value Step 2 tournament token, while players from 671st to 2020th will receive a Step 1 token to the value of €0.50.
If you win a Premium Steps Sit & Go tournament token, you have two months within which to use it, otherwise the prize will expire.
As you earn tickets throughout each day of the promotion on Bet365, the Poker Lobby will display clearly how many coins and tickets you have earned, allowing you to ensure that you are able to take full advantage of the offer each day it runs.
Bet365 Poker have run the Everyone's A Winner promotion successfully earlier in January and it seems that their players are looking for another chance to earn themselves some bonus prizes, simply for playing via desktop or mobile on real cash poker games at Bet365.
Why not sign in today and start playing to give yourself a chance of winning a prize?