It has been a good while since we last took a look and compared the different mobile poker apps available out there at our supported sites. Since we last took a look at these in a bit more detail,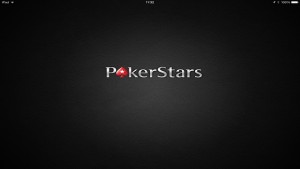 there have been some significant enhancements and improvements made to all three of the different mobile apps available for PokerStars, Bet365 Poker and Sky Poker.
So what is the situation right now? Which of these trio offers UK-based poker fans the best deal when it comes to their mobile service and also, which offers the best all-round mobile service in terms of sports betting, casino gaming, bingo and more?
In this article, we are going to find out by ranking each of the three sites across a number of different criteria and then at the end we will summarise the findings and discover how they rank when it comes to offering UK mobile poker fans and betting enthusiasts, the best possible service from a mobile.
PokerStars Mobile v Bet365 Mobile v Sky Poker Mobile – Who Wins?
Availability to devices
PokerStars – Android and iOS mobile apps available
Bet365 Poker – Android and iOS mobile apps available, no download browser service available (learn more about Bet365 no deposit bonus offers)
Sky Poker Mobile – iOS mobile app available, Android and other users can play via no download browser service
As you can see, all of our featured sites offered access to their mobile services via a number of different iOS devices (iPhone, iPad) as well as Android tablets and mobile phones. However that is all that PokerStars currently offers to mobile users. Bet365 allows phone users on other devices the chance to play via their no download browser service. Sky Poker does not have an Android app available, but Android users (and other non-iOS phone users) can access the site via their browser service too – if you haven't yet, don't forget you can get £10 free no deposit from Sky Poker for joining up at the site.
It's a close run thing here but simply for the fact that they have apps for both major operating systems, plus a no download service for other devices, Bet365 comes out on top, just ahead of Sky Poker with PokerStars trailing in third.
Ranking:
Bet365 Poker (3 Points)
Sky Poker (2 Points)
PokerStars (1 Point)
Sign up offer
PokerStars – Deposit £10 and get £20 Free or 100% First Deposit Bonus up to £400
Bet365 Poker – €5 free in Tournament Tokens, 100% Deposit bonus up to £100
Sky Poker – £10 free in Tournament Tokens, 200% Deposit bonus up to £500
All the opening offers from our partner sites here offer great value for money. With Sky and Bet365 you get to trial the site using their own money before you even risk a penny of your own cash,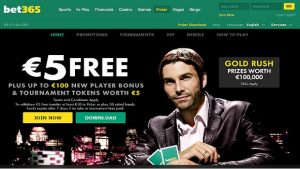 which is always a sign of a top quality site. PokerStars doesn't offer this but it does offer a choice of introductory offers depending on your own preference.
Despite this, I think this is the weakest of the three offers as the value for PokerStars isn't quite the same as that for the other two sites and in terms of comparison of Sky Poker to Bet365, it is clear that Sky is the winner with a larger initial no deposit bonus, plus a larger deposit bonus and a higher percentage of your deposit paid as a bonus.
Ranking: 1. Sky Poker (3 points), 2. Bet365 Poker (2 Points), 3. PokerStars (1 Point)
Poker promotions
PokerStars – There's a decent variety of poker promotions that the site offers and these are changed relatively frequently and cover a variety of different poker types as well as promotion types. However one bug bear is that some of the "Special Offers" listed on the page of the same name, are nothing of the kind, just information on the different types of poker available.
Bet365 Poker – Bet365 offers a regular mix of promotions on the site, some available all year round, others that run and are changed on average once a month. These monthly promotions are very popular and offer outstanding value to the average Bet365 Poker player, as well as the chance to win both cash and other prizes.
Sky Poker – Sky Poker offers a mix of shorter term (usually monthly) promotions, alongside a healthy number of longer term promotions and rewards schemes offered across the year. The monthly promotions are often linked to special poker events, or occasionally sporting events and the site also has offered linked with other Sky-affiliated sites (such as Sky Casino)
Once again, I think PokerStars lets itself down here. A look at the Special Offers page seems to show a huge amount of promotions, but many of these special offers simply aren't. However, looking at the promotions pages on the SkyBet and Bet365 shows a similar range of offers, but I think the better long term value is just shaded by Bet365, but it is a very close call.
Rankings: 1. Bet365 (3 points), 2. Sky Poker (2 points), 3. PokerStars (1 point)
Variety of poker game available
PokerStars – PokerStars is one of the foremost names in the world when it comes to poker and has been an established player in the industry for many years. It has a wealth of different games available to its customers, including some types of games that cannot be found on other sites. In addition, the site continues to upgrade its service offering new games (such as the new Knockout Poker game that has just been released on the site).
Bet365 Poker – Offers a solid choice of games for mobile players including Cash Tables, Sit & Go games and MTT's. There is also a decent choice of freeroll games, Twister Poker and Speed Poker.
Sky Poker – Sky Poker offers a somewhat smaller choice of games including a limited number of freeroll games each day, Cash Table games, Sit & Go games plus Multi Table Tournament poker. The site does offer some unique games though such as Spin Up Cash Tables and Bounty Hunter games.
Well after not impressing in the first three categories, PokerStars redeems itself here with a fantastic choice of games. Neither Bet365 or Sky are shabby when it comes to a variety of poker games to play, so you won't miss out if you join these sites, but PokerStars is the biggest name globally for a reason.
Rankings: 1. PokerStars (3 points), 2. Bet365 Poker (2 points), 3. Sky Poker (1 point)
Suitability for novice UK players
PokerStars – Isn't based in the UK and uses the dollar as its primary currency. This is a site that attracts many poker players from around the world of all abilities and can be a very tough breeding ground for new players to learn the ropes.
Bet365 Poker – Was originally based in Stoke-on-Trent but has moved head offices to Gibraltar. It uses the Euro as its main currency due to a strong presence in Europe. The site attracts players of all abilities especially from across Europe.
Sky Poker – Based in the UK and with the pound as its main currency. Sky Poker is a UK-based site featuring players of all abilities from across the UK.
When it comes to offering novice UK-based players the best options, Sky Poker is the clear winner here as the UK-based site offers softer opponents and uses the British currency. Bet365 is second as it uses the Euro and also offers a mix of softer opponents with the occasional shark thrown in. PokerStars can be easier due to its popularity attracting plenty of fish, but this is where the very talented hang out and with the US Dollar as the primary currency, it isn't the most UK-friendly.
Rankings: 1. Sky Poker (3 Points), 2. Bet365 Poker (2 Points), 3. PokerStars (1 Point)
Sister sites availability and convenience
PokerStars – Since being taken over by Amaya, PokerStars now offers customers a rudimentary Casino and sports betting service (BetStars).
Bet365 Poker – Bet365 offers a huge range of Betting services alongside its Poker client including Bet365 Sport, Bet365 Casino, Bet365 Games, Bet365 Vegas and Bet365 Bingo. In addition, players at Bet365 can realise starter bonuses with all these sites provided they meet the qualification criteria.
Sky Poker – Sky Poker is part of the Sky family of gambling sites that includes SkyBet, Sky Vegas, Sky Casino and Sky Bingo. You can also use your Sky log in to access other free to play Sky games such as Fantasy Football and the Super 6 and Six-A-Side prediction games.
Given that PokerStars is a newcomer to both casino gaming and sports betting, their affiliated sites are lagging a little behind what is on offer at Sky and Bet365, although the sites have both improved markedly since they were first released. Sky offers a great service and the ability to use your log in to access other Sky products is great. However, Bet365 is the clear winner here with a number of outstanding sites and the fact you can activate a starter bonus on each, something you cannot do with either BetStars or Sky.
Rankings: 1. Bet365 Poker (3 Points), 2. Sky Poker (2 points), 3. PokerStars (1 Point)
Summary
After collating the scores, the final table is thus:
Bet365 Poker (15 Points)
Sky Poker (13 Points)
PokerStars (8 Points)
Therefore, we can see that Bet365 Poker is just about the best service you can select as a mobile customer out of our three top providers, pipping Sky Poker Mobile to the title.  PokerStars has a fantastic poker service, but needs to improve its other two services in order to match the competition in the UK mobile gambling industry.