We are the first to admit that when it comes to sports betting, poker, casino gaming and bingo, Bet365 has a combination of sites that is pretty difficult to beat in terms of quality, value for money and usability for the customer.
However, one area where the site really could do with a little extra work, is in communicating exactly what is available on each site, especially in the ever-developing area of mobile gaming.
For a while now there has been some confusion over what Bet365 sites you can access from a range of devices, whether a site has an app for iOS and/or Android devices or even Windows handsets.
So in this article, we are going to delve into the world of Bet365 Mobile services and bring you the latest news across the full range of Bet365 mobile products, including the great value On The Move Bonus.
Remember, you do need to be a Bet365 customer to use all these services to their full potential. Click here to join the site today and get the latest Bet365 Poker bonus code to sign up and start your journey at one of the world's biggest and best online gambling platforms.
How can I connect to Bet365 mobile services?
Let's make this section abundantly clear. There are two ways in which you can connect to the range of Bet365 services available via a mobile device.
If a site has a freely downloadable app for your device, then you can download the app either from the Bet365 site, or the App Store, and access the site using this software.
If there is no app available, then you can visit the Bet365 Mobile-compatible website on your browser. The site's address is bet365.com. It is recommended that iOS (Apple) users use Safari to access the site this way, while other users can use a different browser (Internet Explore, Chrome or Firefox). The software will auto-detect what handset you are using and ensure the correct version for your device is loaded.
Of the two methods to access the range of Bet365 services, the app is arguably the quickest and most convenient method because each of the available app has been programmed to take advantage of the different qualities of that particular machines. The Bet365 Poker app for iPad, for example, has been optimised to work on that device.
What devices can I get Bet365 services on?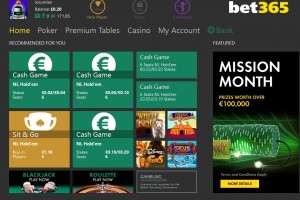 One of the best things about Bet365's mobile services is that they are available for more devices than simply iOS (Apple) and Android devices.
Apple, Windows and Android devices have a choice of apps available across the Bet365 sites, while they can also access the mobile version of the site from a browser as detailed above.
However, other devices such as BlackBerry and Nokia devices and can all gain access to the Bet365 site via the mobile app. Indeed Bet365 state that provided that your device has a browser and you can connect either to WiFi or a suitable 3G/4G service, you should be able to access the mobile-compatible version of the website.
Apple (iOS) devices
You can access all Bet365 services from the Safari mobile browser.
There are also downloadable apps available for the following:
Bet365 Sport
Bet365 Poker
Bet365 Casino
Bet365 Vegas
Bet365 Bingo
Bet365 Live Casino
You can also access other Bet365 platforms, such as Bet365 Financials, Bet365 In Play, Bet365 Vegas and Bet365 Games through these apps.
The apps are available to download from the App Store.
Android devices
Like iOS devices, if you own an Android compatible smartphone or tablet then you can access the full range of Bet365 sites from your mobile browser (Chrome, Mozilla or Firefox are good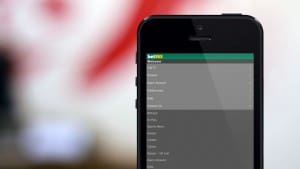 choices).
In addition, the following apps are available for Android devices:
Bet365 Sport
Bet365 Casino
Bet365 Poker
Bet365 Vegas
As you can see, there is no Android compatible app for Bet365 Bingo or Bet365 Live Casino at the moment, although these features can be accessed from the web browser.
The apps for Android devices are available to download direct from the Bet365 website, as they are not stocked in the Google Play store.
Other mobile devices
There is a Bet365 Sport Windows app available for download.
All other devices can access multiple Bet365 sites by visiting the mobile compatible website in a browser.
As you can see, the different types of methods of access to the varying Bet365 sites is somewhat confused with different options open for different types of handset. Therefore it is easy to not quite fully grasp what is available on Bet365 for the mobile user.
A good rule of thumb however is that if a Bet365 service is not available as an app, then it should be available on your device via a mobile browser.
What is the On The Move Bonus?

One of the best things about getting Bet365 Sport on your mobile is that when you do, you can gain access to another outstanding offer. This is the On The Move bonus and it is Bet365's simple way of welcoming you to the world of mobile sports betting.
To access this bonus, all you need to do is log into your Bet365 Sports account on your choice of mobile device (tablet or smartphone are both fine for the offer) and scroll through the sports betting options and place your first bet of at least £1 up to a maximum of £50.
When you do, Bet365 will send you an email with a special offer code embedded within it. Copy down this email and go back into the Account section of the site and find the box where it asks you to enter the offer code. Copy and paste the code into here and click the Activate button.
This will then credit you with a 100% Free Bet On The Move bonus based on the amount of your first mobile bet. So if you placed a £10 bet first with your mobile, then you'll get a £10 bet absolutely free. The maximum free bet you can earn is £50 and the minimum is £1.
What better way to enjoy your mobile sports betting than with this simple and easy to realise offer from Bet365 mobile?
Can I Live Stream sports events to my mobile or tablet?
The good news is that if you have an iPad, iPhone or Android device, then you can watch live streaming of live sports events including football, tennis, basketball, snooker, cricket and darts on your device.
In order to watch these events you either need a funded account or to have placed a bet in the preceding 24 hours of the event.
You can also watch live racing on iPad, iPhone and Android devices, provided you have placed a qualifying bet of at least £0.50 to win or £0.25 each way on one of the runners in the race.
Bet365 have radically improved their service to mobile customers in recent times and that is reflected in the far improved services available for more mobile customers today. Why not grab your mobile device and give it a try now?