Back in February 2015, we brought you news that Bet365 had been busy giving their hugely popular Euro Soccer Bonus a major overhaul and that they had made a number of improvements to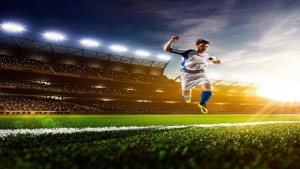 the promotion.
However, while bringing you that news, we didn't really touch on just why this is one of the very best offers you can find available anywhere online, not just in terms of value for accumulator punters, but in terms of value for any betting offer on any betting site.
Quite simply, there is no offer available that could offer you the potential rewards that the Euro Soccer Bonus could give you if you hit the right accumulator.
So in this article, we're going to explain just why this fantastic bonus, available all year round during the football season, is without doubt one of the very best promotions you can find anywhere on the Internet today.
Remember, to access the potentially huge benefits of the Euro Soccer Bonus, you need to be a Bet365 Sports customer. Click here for the latest Bet365 bonus code information and details on how you could receive up to an additional £200 bonus when you join today.
What Accumulator promotions are generally available?
If you are a punter that likes an accumulator bet, then there are a large number of offers available from betting sites precisely for this type of bet.
However, the vast majority of them are insurance-based promotions, which mean that if one (or occasionally two or three) of your selections on your accumulator let you down, then depending on the number of selections you made, you will receive your stake money back as a free bet.
Now these are good offers if you value getting your stake money back, which is always a nice when you have a near miss, but Bet365 have taken a different tack. It seems that Bet365 believe that most accumulator fans, who like low risk/high reward betting, would rather have the chance of winning a much larger amount from their bet than even the odds predicted.
This is why the Euro Soccer Bonus was developed and why it offers accumulator punters the chance of an unbelievable payout.
What makes the Euro Soccer Bonus different?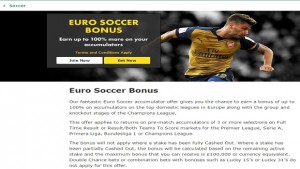 The first thing to note about the Euro Soccer Bonus is that it is not an insurance offer. If your bet loses, then you will lose your stake. However, that is true of almost any bet and it is certainly not a disincentive to make the bet with Bet365, because the potential rewards could be so much greater.
The Euro Soccer bonus is only paid out when a punter managed to land a successful accumulator bet of three or more selections using two betting markets, with selections only taken from five different European-based football competitions.
The two betting markets you can make bets in to qualify for the bonus are the Full Time Result or the Result/Both Teams to Score markets.
The five competitions you can select fixtures from to make the selections on the two markets above are: The FA Premier League, Serie A (Italy), Bundesliga (Germany), La Liga (Spain) and the UEFA Champions League (Group stages onwards only).
The amount of your bonus is calculated as a percentage of your winnings based on the odds of each of your selections and the total number of selections you make. The more selections you make in your successful accumulator bet on Bet365, then provided all those selections are from the leagues and markets listed above, the bigger the bonus you will be paid.
The table below lists how much bonus will be paid to you depending on how many successful selections are on your coupon:
| | |
| --- | --- |
| Accumulator Bet Type | Bonus (%age of winnings paid as bonus) |
| Trebles | 5% |
| 4-fold | 10% |
| 5-fold | 10% |
| 6-fold | 20% |
| 7-fold | 30% |
| 8-fold | 40% |
| 9-fold | 50% |
| 10-fold | 60% |
| 11-fold | 70% |
| 12-fold | 80% |
| 13-fold | 90% |
| 14-fold or more | 100% |
The maximum bonus payable is limited to a maximum payout of £100,000.
Can you explain how the Euro Soccer Bonus is paid out on a winning acca bet?
The easiest way to show you how a Bet365 Euro Soccer Bonus is calculated is to use a couple of examples.
Example 1: Magic Matt places a Bet365 Accumulator bet with the company using six selections from the Full Time Result market from matches played in the Premier League and Serie A. He places a £10 stake on the accumulator at total combined odds of 125/1. His six selections are all winners, so how much would he receive back?
In this example, from his odds alone, Magic Matt would receive back £1250 in winnings, plus his £10 stake for a total return of £1260 for his successful sixfold accumulator.
However, given that his selections automatically qualify him for the Euro Soccer Bonus, Matt would also receive a 20% bonus on top of his winnings as part of the offer. 20% of £1250 is £250, so Matt would receive back an additional £250 on top of his winnings, for a total return of £1,500 in winnings plus his £10 stake back.
Example 2: Lucky Lavinia places a £2 14-fold accumulator bet using selections from both the Full Time Result and Result/Both Teams to Score market from selections from La Liga, the Bundesliga, the Premier League and Serie A. Her 14-selection acca comes in at odds of 44,500/1.  How much would she receive back from this bet?
In this second example, Lavinia is certainly a lucky lady. Based on the odds alone, her successful 14-fold acca with Bet365 would give her a return of £89,000 in winnings alone, plus her £2 stake back.
However, seeing as her 14-fold acca qualified for the Euro Soccer Bonus, she would also receive a massive 100% bonus on her winnings. This means, she would DOUBLE the amount she has won, from £89,000, receiving another £89,000 as the Euro Soccer Bonus, for a payout of £178,000, plus her £2 stake back.
What happens if I Cash Out or Partially Cash Out an acca that could qualify for a Euro Soccer Bonus payout?
If you decide to cash out or partially cash out an accumulator bet that qualifiers for the Euro Soccer Bonus if successful, then what happens depend on whether you cash out fully, or partially cash out your stake.
If you cash out the bet in full, then you will not be eligible for a bonus if your selections go on to win.
If you partially cash out a bet, and the remaining stake on the bet wins, then you will still be eligible for a Euro Soccer Bonus, but only based on the portion of the bet that was riding on the outcome at the time the bet ended. Any cashout out portion of your stake will not receive a Euro Soccer Bonus.
What are the key things I need to remember when placing a Euro Soccer Bonus accumulator?
This really is a fantastic offer for punters and can be used time and time again throughout the football season to give you a chance of massively boosting your winnings. However, there are some key things to remember when placing this bet, namely:
Only use selections from the five stated leagues and two started betting markets on matches in those leagues. If you add a selection that does not meet this criteria then your accumulator bet won't be eligible for the bonus (such as adding a fixture from a competition outside the five listed).
There is no need to click any box to claim the offer. All qualifying Euro Soccer Bonus bets placed with Bet365 are automatically entered into the promotion.
Remember, only Champions League games from the Group Stages onwards qualify for the bonus. Qualification games before the league stages do not count.
If you are lucky to win a bonus in excess of £100,000 on top of your winnings, then the bonus amount is capped at a maximum of £100,000.
With so much possible with a successful bet, why not take the challenge and see if you can boost your accumulator winnings with Bet365 this week?