When it comes to Sky no deposit bonuses, we have everything covered at Bonus Referrer Code. While we think these offers are a good enough reason to consider joining the site, for some of you who are still on the fence, then perhaps this preview of the different football-themed promotions for the start of the 2014-2015 Premier League season may persuade you.
In a previous article, we looked at some of the SkyBet Soccer Specials that were available over the end of season period. This article expands on these special bets (many of which are still available and will continue to be so throughout the season) to look at soccer related bets and promotions on Sky Bet as well as soccer-themed promotions on Sky Poker.
So if you are a football fan seeking the lowdown on what is available on Sky Poker for the start of the new Premier League season, then this is the article for you.
Sky Poker Premiership Promotion
For further details about this exciting promotion from Sky Poker then I strongly advise you to take a look at this article from last week about the Sky Poker Premiership Promotion in more detail.
To summarise however, the new Sky Poker Premiership Promotion sees seven weeks of top quality poker action where players who opt in (using the code PREMIER) can play for a different Premier League 'team' of poker players each week, accruing points for their team by playing in real cash games.
The more Sky Poker Rewards points a team earns via its members, the higher up the table they finish. The top five each week earn a share of the weekly £10,000 prize. The winners sharing £4,000, 2nd and 3rd £2,000 apiece and 4th and 5th £1,000 each.
Only players on each of the winning teams who earned over 50 Sky Poker Points will earn a share of the winning amount. So if you are allocated to Manchester United 'The Red Devils' and they finish first and you are one of 40 players to earn 50 Sky Poker points or more, you'll earn £100 for your efforts.
Teams are reallocated after each qualifying week and you can even earn free bets of £5 if your team wins their Premier League matches during any of the stated weeks.
We fully expect Sky Poker to run a number of other football-related poker promotions over the coming weeks of the season, so keep your eyes peeled for any further offers available on the site by checking back to Bonus Referrer Code frequently.
Sky Super 6 Promotion
Did you know that each weekend, you can use your SkyBet or Sky Poker log in information to participate in a completely free competition, which gives you the chance to win £250,000 in cash, or a consolation prize of £5,000 if you are the top scorer in any week?
Each week, as part of the popular Gillette Soccer Saturday programme, host Jeff Stelling and his guests pore over the weekend's top games and make predictions as to what the score of each game will be.
The Super 6 game is simply following their lead. Sky experts select six games from the weekend and competitors log into the site and predict what the correct score of the six selected games will be. Get all six games right and you could be celebrating a win of £250,000.
If nobody correctly predicts the correct score of all six games, the consolation prize of £5,000 (plus a little more if Jeff Stelling is feeling a little generous) is awarded to the player who has correctly predicted the most number of correct scores that week. The tiebreaker is used to separate a number of players who predict the same number of games accurately.
Best of all, the Super 6 is completely free to enter for all Sky Bet and Sky Poker customers and you can access the site using your existing log in, or you can download an app onto your mobile (available for Apple and Android devices) that gives you direct access to the Super 6 game on-the-go.
Sky Bet Club – Transfer Fund
Are you looking for an innovative way to earn £5,000 for yourself plus a transfer kitty of £250,000 for your supported club? Then you need to participate in the Sky Bet Club Transfer Fund promotion.
Simply log in using your Sky Bet/Poker log in details and select which team you are a supporter of (only Football League clubs are eligible). What happens then is that every £1 bet you make with SkyBet will earn you a transfer token.
These tokens are then placed into a prize draw that will take place after 8th December at 5.00pm when the competition will finish.
The more transfer tokens you earn, the more chances you will have in the prize draw. If your name is the one that comes out of the hat, you will earn £5,000 for yourself, plus £250,000 for your club to spend on transfers.
Sky Bet Club – Weekly £5 Free Bet
If you are a regular punter and spend more than £25 a week on bets, then the Sky Bet Club may well be of real interest to you thanks to their £5 Free Bet promotion.
Simply wager £25 across any sports market with Sky Poker up until Midnight Sunday every week and if you do, then Sky Poker will give you a free £5 bet the following week.
If you continue to bet £25 worth of bets each week, then you will continue to receive £5 free bets as part of the Sky Bet Club.
However, if you miss a week as a member of Sky Bet Club, your membership is terminated. However, you can rejoin, though for your first week, you will have to stake £40 in bets in order to get back into the club and to start receiving the free bet offers once again.
If you qualify for a £5 free bet, then you will receive it in your Sky Bet account by 7pm on Monday night.
Sky Sports Fantasy Football
Finally, you can also use your Sky Poker or Sky Bet log in to participate in Sky Sports popular Fantasy Football game, completely free of charge, with a whole host of different prizes up for grabs based on the different leagues you can play in.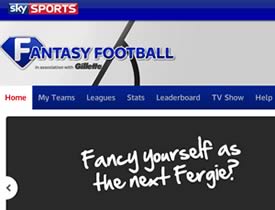 Playing Fantasy Football with Sky is great fun to play and absorbing, and you can enter two teams into the game, giving you double the chance of success.
Simply pick your team of 11 players from all the Premier League's clubs, with a budget of £75m to spend on your team.
Each week your players will earn you fantasy points and the more points your players win, the higher up the table you will climb each week.
With many different leagues available to play in, you can opt in to as many as you like with either or both of your teams to see if you can win any of the prizes available.
With so many football-based promotions across Sky Poker and SkyBet, it is an outstanding choice if you like any football-related promotions for poker or sports betting.