Are you a member of the popular SkyBet site? If not then you should really check out the latest Sky no deposit bonus offer on these pages to ensure you sign up. Whether you are a fan of betting, or a keen poker player, the next two weeks could see you in with a chance to win your share of £5,000 thanks to Sky Bet Club's Freerolls on Sky Poker.
We'll explain a little more about the freerolls a bit later in the article, but for now, let's begin by examining how you become part of Sky Bet Club, so you can participate in this and any future offers.
Sky Bet Club explained
In order to be eligible for the two remaining £2,500 guaranteed Sky Bet Club freerolls on Sky Poker, you need to be a full member of the Sky Bet Club. If you have spent most of your time on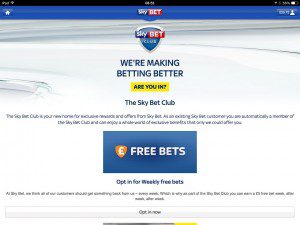 Sky Poker and have not ventured across to the sister Sky Bet site, then you may well be wondering what Sky Bet Club is.
Sky Bet Club is a promotion available to all punters who have a Sky Bet account (and if you own a Sky Poker account, then you already have a Sky Bet account as part of that sign up process). The first thing you need to do in order to become a member of Sky Bet Club is to opt in to the offer by clicking on the opt in button on that page of the website.
Once you have opted in, all you then need to do is place bets totalling £25 or more across the qualifying week. There are certain parameters about your bets (they must be on markets of even money or better).
After you have placed your first £25 worth of bets, your entry into Sky Bet Club will be confirmed and then to remain a part of Sky Bet Club, you need to place another £25 worth of bets, at even money or better, in the next qualifying week and so on.
Each week you make £25 worth of qualifying bets, you remain in the Sky Bet Club, however if you do not make the required amount of bets in any week, your membership lapses and to rejoin Sky Bet Club you must place £40 worth of bets in any subsequent week to rejoin. Once you have rejoined, then your weekly bet spend reverts back to £25 a week to remain in the club.
So why would you want to be a member of Sky Bet Club? Well if you are a member then each week you receive a completely free £5 bet which you can use on any sporting market of your choice. For every week you remain a member, you receive a free £5 bet. This promotion is ongoing, meaning that you can potentially earn £5 free bets every week until the promotion ends.
You can bet on a whole host of different events with Sky Bet. The site is famous for its Price Boost promotions which offers enhanced odds for certain bets each day, while its Premier League and Champions League betting in particular is also very in depth. There is also excellent horse racing betting, plus the chance to play in special promotions, such as Sky Sports Fantasy Football and Super 6. The £250,000 soccer prediction game run in conjunction with Gillette Soccer Saturday.
If you are someone who regularly bets around £25 per week on a range of sports, then the Sky Bet Club is a fantastic offer as it essentially gives you £5 free every week with which you can place a bet and whatever you win, you can keep (minus your stake money).
And now, if you are a Sky Bet Club member, you can participate in another great promotion free of charge, the Sky Bet Club poker freerolls.
Sky Bet Club's poker freerolls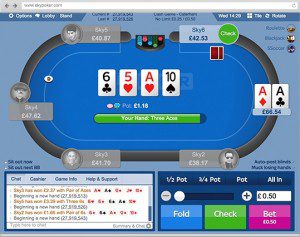 While there may be some Sky Poker players wondering how Sky Bet Club works, there may also be some Sky Bet Club members wondering how the poker side of things works. The good news is that it is extremely easy to follow, even if you are a novice poker player.
Your Sky Bet account gives you access to all the sites on the Sky platform, including Sky Poker. If you log into Sky Poker using your Sky Bet log in, and you are a member of Sky Bet Club, then you when you have bet your £25 for the week, you will receive an email from Sky Poker, outlining what the password is for this week's tournament.
All you need to do is use the password to register for the Sky Bet Club freeroll coming up this Sunday (26th April). You can then use a second password (also received via email once you have made your qualifying bets) for the freeroll that is due to be contested on the 3rd April.
Once registered, simply tune in to the Sky Bet Club freeroll tournament lobby around five minutes before the tournament is due to start and click on the join tables. When the tournament starts, you will be allocated randomly to a table and you will be then playing in a multi-table tournament.
The great news is, if you can manage to avoid being eliminated in the event and reach the final few tables, then you could be in with a chance of winning a share of the £2,500 guaranteed prize fund. If you manage to earn a place at the last table, then you'll be looking at a big prize money.
Each of the freerolls starts at 19:00 GMT on each Sunday of the next two weeks, register and remember to log back in just before 7pm to take your seat at the table and play for big money.
If you are a novice poker player, do use the many different items on Sky Poker's website to help you get to grips with the game and remember, it doesn't matter if you win or lose, as it has not cost you a penny more than you would have spent anyway to earn your seat at the table.