In the summer, one of the big promotions Bet365 Poker ran was the Summer Rivers promotion. This was a promotion based on the river card dealt to players when playing cash poker on the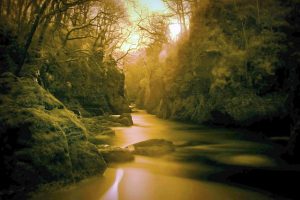 site. Players collected these cards to try and make a qualifying hand of three cards to earn a prize.
Well the good news is that although this promotion only finished a couple of weeks ago, Bet365 have announced that a similar promotion will return with immediate effect. From midnight on the 12th September, through to 16:59 on the 2nd October, the exciting new Golden Rivers promotion is under way.
Of course, you need to be a Bet365 customer to participate in the promotion. Snap up the latet Bet365 Poker bonus code by reading through our detailed review of the site and for information on how to sign up and claim a superb new player bonus.
So once you are signed up and ready to play, what does the Golden Rivers promotion have in store for you?
How does the Golden Rivers promotion work?
The Golden Rivers promotion is only available on selected cash game tables at Bet365 Poker on the dates outlined above. When the promotion is active, there will be an icon displayed in the top right hand corner of the screen to signify that this table is part of the promotion.
Once you are sat down at one of these cash games and playing at the table then as part of the promotion you have the chance to 'collect' 50 river cards. What this means is that every hand you are part of down to the point where the river card is shown, that river card is added to your collection.
Each hand you play through to the river will see you collect another river card to add to your collection. You can have a maximum of 50 river cards in your collection at any one time and when you receive a card that takes it beyond the maximum 50 then the oldest river card you are dealt is removed from your collection.
The aim of the promotion is to achieve one of the prize winning combinations within that selection of 50 cards. Of course, if you have more than one winning combination in that  50 card selection then you can win several prizes (provided you played at the stakes to trigger the prize).
For example; say you play at a table and you stay in the hand until the river card is shown and that card is the Queen of Hearts. The Queen of Hearts will then be added to your Golden River collection as your first card. On a subsequent hand, you stay in until the river card is shown again and this time it is the King of Spades. Now this card is added to your collection so you now have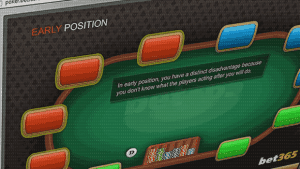 two cards in your collection, and so your collection grows.
What are the winning combinations I need to make from my river card collection?
The table below outlines what each Golden River Combination is, the stakes at which each prize is available and the prize that will be awarded if you can achieve that particular hand within your Golden River Collection.
| | | |
| --- | --- | --- |
| Golden River Card Combinations | Stakes | Prize |
| Straight Flush | €0.05/€0.10 or above | €1,000 All In Shootout Freeroll Token |
| Straight | €0.05/€0.10 or above | €1,000 All In Shootout Freeroll Token |
| Three of a Kind | €0.05/€0.10 or above | €1,000 All In Shootout Freeroll Token |
| Perfect Three of a Kind | €0.05/€0.10 or €0.10/€0.20 | €5,000 Golden Rivers Freeroll |
| Perfect Three of a Kind | €0.25/€0.50 or above | €25,000 Golden Rivers Freeroll |
A 'Perfect Three of a Kind' is a hand of three cards of the exact same value and also of the same suit. Remember, as this collection will include cards from different hands, it is possible (indeed likely) you will be dealt the same card at least twice. Land that same card three times within 50 river card shows and you will earn one of the Perfect Three of a Kind prizes.
To clarify, a straight flush or straight is a total of five cards that match this criteria, whereas the Three of a Kind and Perfect Three of a Kind are collections of three cards.
Are there any important terms and conditions for the offer?
You can only earn river cards by playing at the indicated Golden Rivers tables that are part of the offer. This includes both No Limit Hold'em cash tables and also Six Plus Hold'em cash tables.
If you earn a ticket into the daily €1,000 All In Freeroll then this tournament takes place each day of the promotion at 17:00 GMT. You do not have to use a tournament ticket in the next available freeroll, but they will expire once the promotion has ended on the 2nd October.
The two larger freeroll events take place on the 2nd October after the promotion has ended. The €25,000 Golden Rivers Freeroll tournament kicks things off at 17:00 GMT on the 2nd of October, with the €5,000 Golden Rivers Freeroll seeing cards in the air fifteen minutes later at 17.15 GMT.
It is of course possible to play in both of these events, should you qualify for both, by multi-tabling at Bet365.
As part of the prizes on offer for the end of promotion freerolls and daily freerolls, tournament tickets may be offered to players. Any of these prizes allocated to players will expire 60 days after they have been allocated to a winning player.
You can earn multiple entries into each of the freeroll events, the daily, €5,000 and €25,000 events all allow players to enter a maximum of ten tickets into each draw, giving them additional chances to win through and claim a prize.
This is a very easy offer to participate in and it allows Bet365 customers the chance to enjoy freerolls every day, plus the chance to compete for €30,000 worth of prizes on the final day of the promotion. Why not take up the Golden Rivers challenge today and see if you can collect a combo that could lead you to a fabulous freeroll win?