There is a good reason why gambling portals such as bet365 Sport have extensive coverage of responsible gambling.
NHS UK figures revealed that the number of people seeking help from the NHS for gambling addiction had increased by 79%, from 775 in 2021, to 1389 in 2023.
While those figures are a tiny percentage of the total users of gambling services across the UK, it is still a trend that has many within the industry concerned.
They want people to manage their gambling better!

BET365

BONUS CODE: BET247

Get up to €100 in Bet Credits for new customers at bet365

Bet365 Review

Min deposit €5 Up to €100 in Bet Credits

Bet Credits available for use upon settlement of bets to value of qualifying deposit. Min odds, bet and payment method exclusions apply. Returns exclude Bet Credits stake. Time limits and T&Cs apply. The bonus code BET247 can be used during registration, but does not change the offer amount in any way.
Why Betting Sites Promote Responsible Gambling
Contrary to popular belief, betting sites and gambling portals want customers to bet responsibly with them.
That is why you will find links to many different help and support services on sites like bet365, which even has a section dedicated to responsible, safer gambling.
The days when betting companies would unscrupulously exploit gamblers with problems and bad habits are over.
If found guilty of such practices, companies can expect huge fines to be levied on them by the industry regulators.
Financially it makes sense for them to promote responsible gambling too, especially over the longer term.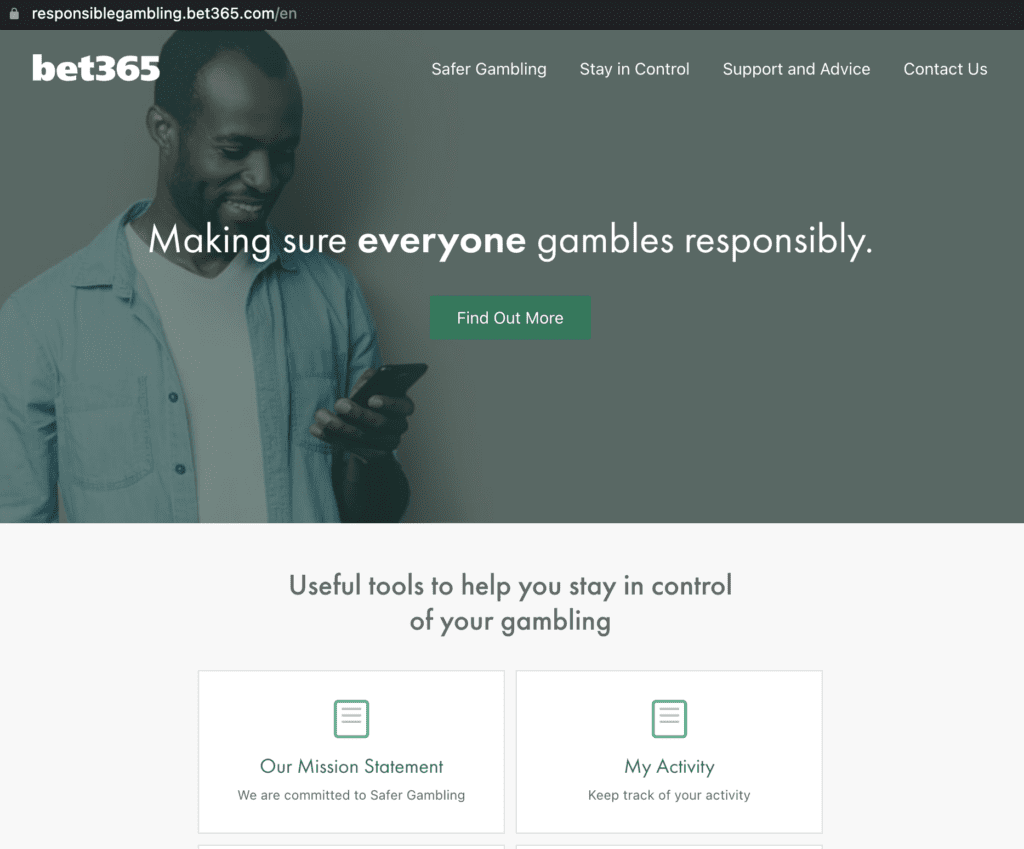 Why Problem Gambling Doesn't Pay Well For Betting Sites
Let's sat a betting site has a problem gambler, aged 30, who foolishly bets and loses £10,000 of money they don't have within the space of a few weeks.
The gambler then goes into therapy, recovers and is switched off gambling for the rest of their life.
The site in question then runs the risk of a significant fine, often measured in millions of pounds, if they are found to have acted towards this at-risk gambler improperly.
Even if the site is exonerated, there will be those who criticise the company, saying they could have done more to identify and stop the gambler in question.
That's not publicity any company would want, and it would cost a lot more than £10,000 to put that right.
Example 2 – Responsible Gambling
Compare this with another more-typical 30-year-old who is in a good job and gambles responsibly. On average she makes bets of around £50 per week, or £200 a month with the company.
Now let's assume that this is a regular customer, who stays with the company for their betting hobby for the next 10 years.
That would mean in a single year the company would take £2,400 in stakes, which over ten years equates to £24,000 minus of course any winnings the company pays out.
Then imagine similar numbers from the thousands of other responsible gamblers out there and it is easy to see why sites are profitable. But it also explains why they do not want people to bet irresponsibly.
While betting sites are promoting responsible gambling heavily, the onus is still on the individual to ensure they wager the right way.
So what are the warning signs that you may not be?
Warning Signs That You May Not Be Betting Responsibly
Outlined below are some of the signs that an individual is not gambling responsibly. Are you worried that you could be starting to gamble irresponsibly? Check this list and see if you are doing any of the following when you bet:
Betting more than you can afford to lose.
Do you have a budget for betting, but often exceed that each month? Are you using cash earmarked for other purposes to bet with? Do you not budget for your bets to ensure what you spend is affordable?
Underestimating how much you are betting each day/week/month.
Record how many times you interact with a betting site each day to place or follow bets. Is this amount of time considerably more than you expected?
Misrepresenting how much you spend to friends and family members.
Do you deliberately under-represent how much time you spend betting? Will you often tell people you spend less on betting than you actually do? Are you over-exaggerating your wins, and under-representing the value of your losses?

Feeling a 'need' to place a bet.
This is when you get an overpowering need to place a bet, simply because you have not placed one recently.
Trying to win bets to recoup money that you have previously lost.
Chasing your losses. This is NEVER a good sign of a responsible punter.
Seeking additional sources of cash, loans, credit cards etc, with the intention of gambling with it.
Do you feel a need to secure more cash to place another bet over what you can afford? Do you feel the bet will surely be a winner if you can just place it by borrowing the cash from somewhere? Have you taken out a credit card with the primary purpose of gambling?
Opening accounts with more betting sites simply to access Welcome Bonus offers or incase you are stopped from betting with other providers.
Welcome bonuses offer an easy way to get more cash to bet with, even if it comes with a wagering requirement. Are you signing up with betting sites simply to access more betting funds through bonuses? Or to ensure you can keep betting if one site stops you from betting due to responsible gaming concerns?
Keeping your gambling habits a secret from those around you.
Does your family know full details about how much you bet, when you bet and how often you engage with betting? Have they ever shown any concern about the amount you bet? Or do you keep your gambling habits a secret from those around you?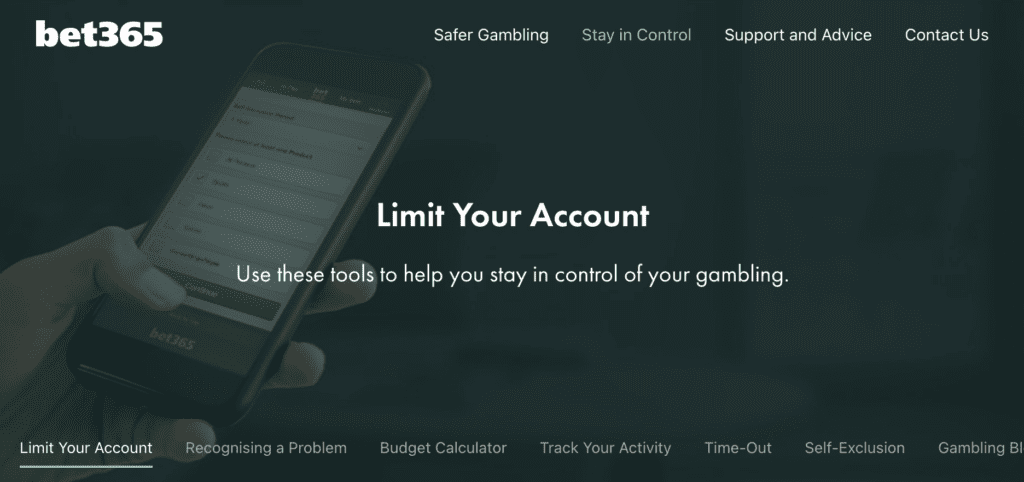 You find yourself betting on obscure sports events, simply because you feel the need to have a bet, or that you feel the next bet will be a winner.
Do you find yourself betting on a Latvian 3rd division game simply to sate your need for a bet? Do you bet on sporting events on which you know nothing about simply to have a bet? Don't start believing the myths about gambling!
Using any winnings you may land simply to place more, or greater value bets, with the betting site.
When you win a bet, do you simply use the cash to place more? Do you never share the benefits of a win with your friends or family? Does any cash in your betting account always remain in your account? Are winnings never withdrawn to be used for something else?
You find yourself spending an increasing amount of time each day perusing betting sites looking for the next bet.
Is opening your betting account on your phone the first thing you do on a break at work? Do you sneak off to the toilet to check on a bet, or place another? Are you logged into betting sites constantly throughout the day?
You are regularly finding yourself short of money before the next payday.
Do you dread those last few days before the next payday? Is that because you've spent more gambling than you should have done? Is your partner concerned why you are running out of money when you should not be?
You are becoming worried about any aspect of your gambling.
I have purposely left this item to last because if you are worried about any part of your gambling, then it is likely you have recognised you are not gambling responsibly.
Now is the time to step back and seek the help you need from gambling help organisations such as Gamcare, BeGambleAware or others.

Recognising the problem exists is the first step to dealing with it effectively.
Responsible gambling used to be something of a taboo subject for betting sites. That is not the case anymore. There are tools and other features of a site to help users gamble responsibly. It is a smart move to utilise them.
Having a bet should be fun and the moment it is not, is when it is time to stop and take a step back.