If there is a sport that is guaranteed to offer you plenty of betting opportunities throughout the year, then golf is as good a choice as any. The expansion of the major tours to include winter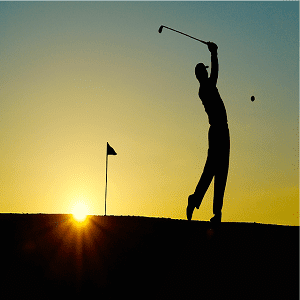 months stints in Florida and Southern hemisphere countries, added to the FEDEX Cup and Race to Dubai playoffs mean that golf is now essentially a year round sport.
Of course, that means as a Bet365 customer (and if you aren't one, click on the following link to grab the latest Bet365 bonus code to get signed up today), then you have a great choice of golf bets all year round.
Most common are bets on which player will win the latest tournament being contested, but when tournaments are in progress, there are a number of other golf bets available and these are considerable less well understood.
In this article, we are going to take a look at a trio of these bets and explain exactly how they work and what you are betting on to explore exactly why they offer a fantastic alternative to simply betting either on a player to win the tournament, or to finish in the paying places with an each way bet.
Golf betting doesn't solely have to be about who wins the tournament, there are a huge number of bets available at Bet365 when a tournament gets underway, usually on a Thursday each week. Let's take a look at the first of these types of bets; the 3-ball bet.
3 Ball Betting
As you will likely be aware if you follow golf closely, in most tournaments players play the first two rounds of the tournament in groups of three, then after the cut, the players who made the cut then play in pairs for the final two rounds. You would assume that 3-ball betting would likely be a bet on which of the three players in the opening two round threesome matches would be the best scoring player on each day.
However that is not always the case.
Sometimes, these bets can see golfers from different groups pitched against each other to provide a grouping where the ability levels are more evenly matched and thus the betting odds are more evenly spread across the three players.
At other times, it will be the three players playing together that are given odds and placed in a theoretical competition with each other to see who will win. This can be on the opening two rounds, but also in the latter rounds, if a tournament has been delayed by weather, or sees groups of three players playing together, rather than groups of two.
In this bet, all you are betting on is which player out of the three named golfers posts the lowest score in that round out of that group. If your player beats the other two golfers in that round in terms of net score, then your bet wins, regardless of where that player stands in the tournament.
In terms of betting, these markets can be quite volatile and even in groups where one player is judged to be significantly weaker than the other two players, on some rounds that seemingly lower ability player (usually with longer odds) will end up scoring lowest out of the three golfers.
There are equivalent bets available on tournaments where the final round sees groups of two players, when you can bet on which player out of the pair will score the lowest. However, this is not the only bet which can pitch two players against each other.
Best Legal Online Casino Alternatives
PRIZE PICKS
+ 25% Instant Deposit Match
Use Code: PREDICT for a free entry to win $50
Daily Fantasy, Simplified.
Simply choose over or under on your favorite players to play
No sharks, no salary caps, no BS
Turn the game on and follow along with live player tracking to watch how you're doing
Legal in 26 states + Canada
18-Hole Match Ups
In 18-hole match up betting,  two players in the field (often starting at different tee times and in different playing groups) are pitted against each other in a theoretical match up and given odds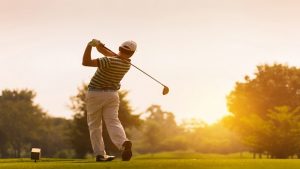 on who will score the lowest round out of the two players on that day.
Usually, when Bet365 does this, it will try to pit golfers of a similar ability together to ensure that the odds on offer are around the even money mark or thereabouts.
Punters can then bet on which of the two golfers will perform the best in the stated round over the 18 holes. If you back your golfer and they shoot the lowest score between them and the golfer listed as being against them by the sports betting company, then your bet wins.
Although no handicap is involved, these bets do share a lot of similarities with Handicap bets where two teams are given a positive or minus handicap to try and offer odds around even money on each option. In golf, no handicap is required because the sports book can put together golfers of a very similar ability level from the field.
4th Round Six Shooter
In this bet, the sports book doesn't select a group of two golfers, but instead a group of six (in truth, there can be any number of golfers included in these bets, depending on the size of the tournament).  Golfers of a similar ability, albeit playing in different groups and at different times, are grouped together and as a punter, you can bet on which one of the six scores the lowest out of the group in the named round.
This bet tends to offer a greater variety of odds for punters than either of the two bets outlined above and means that there is a bigger chance of a greater return on your bet by backing one of the outside options from the group.
Your selection is only competing against other players in their group, they don't need to beat any other players score, simply the score of the five other players listed as competing against them in the group of golfers.
This is a very good bet if you enjoy a greater variety of odds to choose from and with golf being a generally volatile sport, you can often find longer odds selections being the ones that pay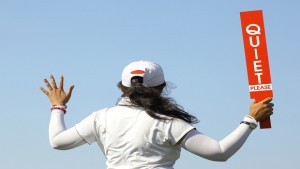 out at the end of a round.
Futures Betting
Another betting market for golf fans to enjoy is the Futures betting market and in terms of golf, that tends to mean betting on the outright winner of the next four Major championships of the year (the US Masters, The US Open, The British Open and the USPGA Championship) plus other events such as the FEDEX Cup or Road To Dubai Winner, the Ryder Cup/Solheim Cup winner and which players will top the money lists.
There is also betting available on who will top the LPGA Money List as well as those in the male events.
With a plethora of bets available on golf across the year, it is easy to see why punters love Bet365's excellent and comprehensive betting service for golf.