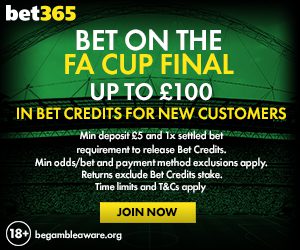 This Saturday two of the giants of English football, Chelsea and Manchester United will go head to head at the iconic Wembley Stadium to decide which of the two teams will be declared the 2017-2018 FA Cup winners.
Of course, the FA Cup Final is always a massive betting opportunity for punters and we're delighted that we can rely on bet365 Sport on offering us a great selection of betting on this huge sporting event which will attract an audience of hundreds of millions globally.
Before we take a look at what we feel are the best bets with bet365 for this big sporting event and the culmination of the Premier League season, let's take a quick look at both of the teams that qualified for a shot at the trophy and how both will probably line up at kick off.
FA Cup Final Preview
Chelsea
Under manager Antonio Conte, Chelsea have not endured the best season following on from their Premier League success last year. Defeated by Barcelona in the Champions League knockout stage, Chelsea also lost a total of 10 Premier League games across the course of the 38-game season to finish in 5th position in the table and outside of the Champions League qualification places.
Conte's future at the club is also under considerable scrutiny after a disappointing league campaign and there is already a growing feeling that regardless of the result on Saturday, this could well be the final game in charge for the softly-spoken Italian, with a return back to Italy being strongly mooted in the press.
In the FA Cup though, Chelsea have survived a couple of scary moments, particularly early in the competition against Norwich City, to reach Wembley. Victory on Saturday would be Chelsea's eighth FA Cup success and would move them into joint-third with Spurs as the most successful team in FA Cup history. Saturday will be the clubs 13th Wembley final in their history and a win would make up for losing last year's final 2-1 to Arsenal.
Chelsea's Road to Wembley
3rd Round – (A) v Norwich City – D 0-0
3rd Round Replay – (H) v Norwich City – D 1-1 – Batshuayi 55 (won 5-3 on pens)
4th Round – (H) v Newcastle – W 3-0 – Batshuayi 31, 44, Marcos Alonso 72
5th Round – (H) v Hull City – W 4-0 – Willian 2,32, Pedro 27, Giroud 42
Quarterfinals – (A) v Leicester – W 2-1 (aet) – Morata 42, Pedro 105
Semifinals – (N) v Southampton – W 2-0 – Giroud 46, Morata 82
What team will Antonio Conte select?
Over the last few games of the season, Antonio Conte has rotated his squad heavily in an attempt to keep players fresh, presumably for this game and with this being the final and the last game of the season, I would expect the Italian to pick his strongest team available.
For me, that would mean him reverting away from a back four and moving back to an adaptable 3-4-2-1 formation that was a hallmark of his team when he won the Premier League title last season. As such, I'd expect him to name the following team
Willy Caballero (G)
Victor Moses (DMr)
Marcos Alonso (DMl)
Cesar Azpilicueta (Dc)
Gary Cahill (Dc)
Andreas Christensen (Dc)
Ngolo Kante (Mc)
Cesc Fabregas (Mc)
Olivier Giroud (Ac)
Eden Hazard (AMc)
Willian (AMc)
Possible changes could see Courtois come in to replace Caballero in goal, though the Argentinean has kept goal in all of Chelsea's FA Cup Final games so far. Michael Rudiger could also come into defence, most likely for Cahill or Christensen, while Tiemoue Bakayoko could replace Fabregas in midfield if Conte wants to opt for a more defensive outlook in midfield.
Star Man – Eden Hazard
Although I feel Willian's value to Chelsea is greatly undervalued at times, Eden Hazard is without doubt the London club's most gifted and naturally talented player. He is guilty of disappearing in big games at times, but he is due to put on a top quality performance on a big stage and Wembley could well offer him that chance. If Manchester United can't stop his influence, then Chelsea stand a good chance of success here.
Manchester United
Although United have improved significantly in the Premier League this season after a fifth placed finish last year, Jose Mourinho's team were still a very distant second to winners Manchester City and after being eliminated surprisingly by Sevilla in the Champions League quarterfinals, their last chance of silverware this season is the FA Cup Final.
A victory at Wembley would see Manchester United join Arsenal as the most successful team in FA Cup history with 13 wins apiece, both of which would have come from 20 finals. It would also be United's second FA Cup success in two seasons after they also won the 2016 final when they defeated Crystal Palace 2-1 after extra time.
While Jose Mourinho's future at Old Trafford isn't under threat or real scrutiny, the Portuguese manager will know that to have even enjoyed a moderately successful season for United fans would see him requiring to win the game on Saturday and give United fans their third cup victory in successive seasons after the FA Cup in 2016 and the Europa League in 2017.  The Red Devils have made relatively smooth progress through to Wembley conceding just one goal on route to the final.
Manchester United's Road to Wembley
3rd Round – (H) v Derby County – W 2-0 – Lingard 84, Lukaku 90
4th Round – (A) v Yeovil Town – W 4-0 – Rashford 41, Herrera 61, Lingard 89, Lukaku 90
5th Round – (A) v Huddersfield – W 2-0 – Lukaku 3, 55
Quarterfinals – (H) v Brighton – W 2-0 – Lukaku 37, Matic 83
Semifinals – (N) – Tottenham – W 2-1 – Sanchez 24, Herrera 62
What team will Jose Mourinho select?
Although Sergio Romero has played in four of the five FA Cup ties so far, Jose Mourinho signalled his intent to start with David De Gea in goal by resting the Spaniard for the final league game with Watford. Indeed many of the players that started that game may struggle to hold on to their place for the final with a number of key stars rested for that fixture.
The biggest decision Mourinho faces is in central defence where he will likely go with Chris Smalling but any out of Eric Bailly, Phil Jones or Victor Lindelof could get the shout to play. There's also a worry up front with injury concerns over Belgian striker Romelu Lukaku, who is a doubt to be fit to play, although the rumours seem to suggest the Belgian should just about make it. If he does then I'd expect United to name the following team in a 4-3-3 formation.
David De Gea (G)
Antonio Valencia (Dr)
Ashley Young (Dl)
Chris Smalling (Dc)
Phil Jones (Dc)
Nemanja Matic (Mc)
Ander Herrera (Mc)
Paul Pogba (Mc)
Romelu Lukaku (Ac)
Alexis Sanchez (AMr)
Jesse Lingard (AMl)
If Lukaku is not fit to play then I would expect Marcus Rashford to step into the side in his place from the bench.
Star Man – Paul Pogba
The United midfielder has enjoyed an up and down season, at times he has been almost a liability in midfield for United and at others, he has been an inspirational, creative figure. His manager does seem to be getting more consistency from the midfielder of late but he is still some way from his best at the moment. If Pogba fires on all cylinders and gets working well with Sanchez and Lukaku, United will be a massive threat and look solid favourites to win on Saturday.
Our FA Cup Final Tips with bet365
Full Time Result – Manchester United (2.70)
At present United are 2.70 with bet365 to win on Saturday in normal time and I think that is a sensible bet. Of the two teams, they are in better form have been far more consistent and they have a real strength as a team unit that Chelsea just don't have at the present moment.
Correct Score – Manchester United 2 – 1 Chelsea (11.00 with bet365)
Although I expect United to win, I do feel Chelsea will get a goal and as such, I think the sensible scoreline here is a 2-1 win for United as both teams do not tend to ship many goals. It was also the scoreline when the teams met back in the Premier League at Old Trafford earlier this season.
First Goalscorer – Alexis Sanchez (7.50 with bet365)
I envisage this game going with United taking the lad, Chelsea levelling before United snatching a second half winner. While Lukaku is the obvious choice, Sanchez has a brilliant record at Wembley as he proved for Arsenal and in the semi-final for United against Spurs and I think he is the best bet of the two, especially with Lukaku not yet confirmed as fit for the game.