During the course of the football season, especially as you reach the latter stages of some of the big club tournaments such as the Champions League and the Premier League, big matches start to

take place with greater frequency and increasing importance.
Of course, for sports betting sites, these games are a real boon as they draw plenty of interest from punters eager to have a bet on the outcome. As such, many betting sites tend to offer a little extra value on these key games and Bet365 Sport is certainly no different.
We're not talking about any of their current promotions here, such as the Bore Draw Money Back offer or the Euro Soccer Bonus, but instead an offer that is run only for the biggest games during the season. The risk-free Bet365 In-Play Bet Offer.
Let's learn a little more about this offer and how you can take full advantage of it when it is available on the site.
What is Bet365's In-Play Bet Offer and how can I take up the promotion?
The first thing to note about the In-Play Bet Offer from Bet365 is that it is not readily available on the site at all times like the other promotions mentioned above. Bet365 only announce the offer will run a couple of days in advance of a big football match taking place.
Typically these matches are in the Premier League (usually clashes between the biggest teams in the division) or key matches in the Champions League in midweek. In the case of the offer being made available for Champions League games, there is usually one offer available for Tuesday games and another 24-hours later for Wednesday games.
However, Bet365 may elect to run this offer for matches outside of these competitions, such as el Clasico between Real Madrid and Barcelona, or perhaps a major cup final such as the FA Cup Final, the Capital One Cup Final or the Europa League Final.
Whatever the games that Bet365 select to be available for the offer, the offer generally takes exactly the same format regardless of which competition the match is being played in.
How is the Bet365 In-Play Bet Offer structured?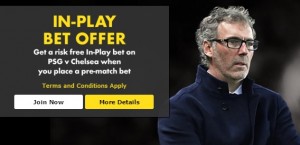 There is a simple process you can follow in order to access the In-Play Bet Offer with Bet365, once a match has been highlighted as being subject to the offer.
Step 1 – Once a match has been selected for the offer, log in to your Bet365 account and navigate to that match. You then need to place a pre-match bet on any of the available markets for that game up to a value of £50. You can place a larger bet than £50 if you prefer, but your In-Play Bet offer only covers you for a maximum bet of £50.
Step 2 – Sit back and wait until the selected game starts and then once again log into your Bet365 account, this time bringing up the In Play betting option. Locate the game that you bet on earlier in the Pre Match market and then place an In Play bet on the game up to the value of your pre match bet. So if you bet £50 or more pre match, you can make an In Play bet of up to £50.
Step 3 – Once the outcome of your In Play bet has been decided, then either of the following will happen. If your first In Play bet wins, then you will be paid out in full and the cash will be added to your account. If your first In Play bet loses, then Bet365 will refund you your stake on your first In Play bet (up to the value of your pre match bet or a maximum refund of £50).
So for example, for the forthcoming Arsenal v Barcelona Champions League clash for which Bet365 are running this offer, you can place a pre match bet of £50 on Arsenal to win the game. You can then wait for the game to start and then place another £50 bet on an In Play market of your choice, say Arsenal being the next team to score.
If your In Play bet wins, you'll receive your winnings, if it loses, you'll receive your £50 In Play bet back as a free bet, even if your pre-match bet wins.
How often is the offer available?
Bet365 tend to offer this promotion when there are big Champions League games taking place. This is usually from the Group Stages of the competition onwards and there is usually
one offer for a game on a Tuesday night, followed by another offer for a game on Wednesday night.
On weekends where there is a huge Premier League clash, or a major final, Bet365 may also run this offer for these events, although it is at the companies discretion as to which matches they will offer the risk free In-Play Betting Offer for.
As a general rule of thumb, the bigger the games taking place at the weekend and if it is a key Champions League week, then the more likely it is that Bet365 will be running the promotion.
The announcement for the promotion however only takes place a few days or even hours before the game is played, so it is always advisable to check back to Bet365 a few days before an event is taking place (or in the 24-hours before a match kicks off) to see if the offer is available.
Why is my First In-Play bet risk free?
What punters really like about this offer is that it is truly an offer where the punter cannot lose; at least in terms of their first In Play bet.
The reason for this is simple, as part of the offer, Bet365 are effectively stating that either your first In Play bet on the game will win, or you will get your money back. At the very worst in this scenario, you will end up with your stake back. At best, your bet will win and you'll make some money.
However, remember too that you do need to place a pre-match bet in order to claim this offer and for this to be genuinely profitable, the money you make from the bet will need to cover not just your In Play bet, but also your Pre Match bet too.
For example, if you place a Pre Match bet of £20 on Arsenal to win (4/1) and a £10 In Play bet on Lionel Messi scoring the opening goal at even money. If both your bets lose, then you receive your £10 In Play Stake back, but you lose your £20 pre match bet, so you are £20 down.
However, if your Lionel Messi In Play bet wins, you would receive back £20 (£10 profit) but if your pre match bet loses, you are still down £10 on the deal.
A more positive scenario is if your pre match bet wins and your In Play bet loses. Here you would win £100 for your pre match bet, plus you would receive £10 back from your In Play bet. £30 wagered so you have made £80 profit.
If both bets win however then you would be well up on the deal as you would effectively take home £120, for a total stake of £30, ensuring £90 profit.
As such, it is a sensible choice to approach this offer with a view to backing two winnable bets. It may seem like your In Play bet winning may not be significant, but in terms of overall profitability, it is best that both bets win so you don't need to trigger the offer.