It may be one of the less well-known parts of the Bet365 Sport site, but if you click on the Newspaper icon in the top right hand corner of the screen on the home page of Bet365 Sport you will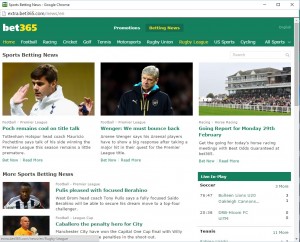 discover that there is a comprehensive sports news service available on the website and app.
The good news is that you don't have to be a Bet365 customer in order to enjoy this feature. Simply clicking on the icon will load up the page whether you are logged into the site or not. However, to fully enjoy all the features and to take advantage of the sports bets mentioned within the news pages, you do need a Bet365 Sport account. Click here for the latest Bet365 bonus information and details on how you can sign up.
Let us now learn a little more about this under-appreciated aspect of the Bet365 Sport site and explain how punters can use it to get even more from their betting with the site.
What is Bet365 Sports Betting News feature?
As the name suggests, this is a feature of the site which brings sports fans the latest news from across a wide range of different sports.
A quick look at the tabs across the top of the page (as well as the ones available from the drop down 'All Sports' menu, reveals that the Bet365 Sports Betting News feature carries news from the following sports:
Football, Racing, Cricket, Golf, Tennis, Motorsports, Rugby Union, Rugby League, US Sports, Cycling, Boxing, Darts, Snooker, Australian Rules Football as well as a section on Press Releases (the last five of these are located under the All Sports tab).
Clicking on one of the tabs for a specific sport will bring up the latest news stories to do with each sport. However, one thing to note is that the default settings will tend to load up the stories that are most likely to be of interest in your particular geographic area. So if you access the site from England for example and click on the Football tab, you'll bring up football news chiefly about Premier League clubs.
However, when the Football tab page loads up, in addition to the major stories on the page, you can filter stories by using the sub-menu of links at the top of the page. These links are based on different types of competition in that particular sporting sphere and the stories on the page are sorted by (in the case of Football):
Premier League, Championship, FA Cup, League Cup (Capital One Cup), International Football (including World Cup, European Championships and Friendly games), UEFA Competitions (Champions League & Europa League), Serie A, La Liga, Bundesliga, Australian Football, Scottish Football and Other Leagues.
The last four items in this list are located under the "More" tab on the right hand side of the page.
Of course, for each different sport, there will be different types of competitions listed under each tab and you would simply filter through these in the same way as you would on the football option.
How can I use these news items from a Sports Betting perspective?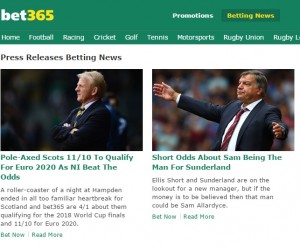 The first thing to understand here is that there are essentially two different types of news articles available on the Bet365 Sports Betting News service and that of the two, only one is likely to be of real value when it comes to sports betting.
The first type of article is a "review" article, where a major sporting event has happened and following that event, a news story has been written to summarise what happened in that event and any future implications leading from it.
These types of articles don't really offer a sports betting punter much scope for sports betting, although they can be useful for gleaming information off. For example, you could read in a report that a player is injured in a soccer game and thus may miss a crucial match the following week. In which case, this can help inform you regarding any bets you wish to make on that event.
The second type of sports article that are much more useful to sports betting punters is the 'preview' type of story where the news item brings you details and information about the build up to a big sporting event.
These news items can be hugely beneficial to sports betting fans because they contain useful information that can be used to help you formulate a bet. Using football once again as an example, you may read that several players are out injured and suspended from one game, or that a sickness bug swept through the camp during the week, or that a manager is under pressure from the board to get results.
All this information prior to a game can help you postulate what could happen. If a team is missing key players, or the majority of its players are unlikely to be at peak fitness, then this will impact their chances of winning that game. Hence, you can look for bets that you feel best fit this likelihood.
Bet365 Sports News Service even helps you with this process
One of the nicest touches with the site is that if there is a preview of a key sporting event and there is information pertaining to one or more of the participants, if this information links back nicely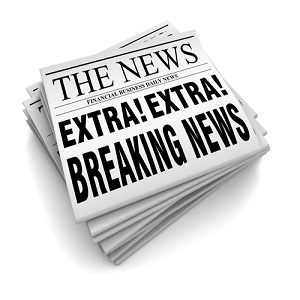 to a particular betting market, then Bet365 will insert a link in the article which you can use to get back to the Sports Betting site and place the bet.
For example, if a preview of a match between Manchester United and Chelsea reveals that Manchester United will be missing key men in the match and that Chelsea will be boosted by the return of their main striker, there may will be a link in this article to the Anytime Goalscorer market with a chance to bet on that Chelsea striker to score.
This then allows you to read an article, formulate a bet and then use the link provided to place the bet quickly and easily from within the article. A simple, yet very effective way to bet.
Depth of coverage
While the Bet365 Sports News service perhaps doesn't contain as much information as a dedicated sports news service like BBC Sport,  the amount of information that it does provide and in particular, its relevance to sports betting markets, make it a very useful tool punters can use to help formulate their bets.
The coverage does tend to be about the larger sporting events and indeed, the coverage for these is usually markedly better than for lesser events, but in truth, that is the same whatever sports news site you would care to use.
Considering the News service is simply an add-on to the main Sports Betting site, it is a very useful, easy to navigate and well-designed tool that can be of immense benefit to the punter seeking all the key information for their bets on one site.