One of the most recent additions to the PokerStars Sports betting site has been the inclusion of eSports alongside all the other sports now offered by the fledgling betting site. If you are not familiar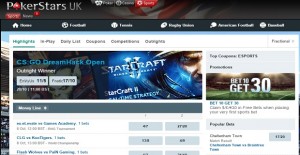 with eSports then some of the terms and bets available may be confusing to you, but not to worry as by the time you finish reading this article, you'll know a lot more.
Here's our guide to enjoyable and hopefully profitable eSports betting on PokerStars Sports.
What are eSports?
If you have ever played an online game on your games console against players from all over the world, such as on Call of Duty, FIFA Soccer or similar, then you are playing an eSport. The term simply refers to competitive gaming via a PC or games console against other players either over the Internet, or on a Local Area Network.
At the highest levels though, eSports games tend to be a certain type of game. Where teams of players or individuals compete against each other in Battle Arena type games, or Player Vs Player combat games. The most popular eSports games at the highest level are the likes of StarCraft 2, Defense of the Ancients 2 (DOTA 2 – shown below), Counter Strike: Global Offensive (CS:GO) and League of Legends (LoL).
What 'level' of sporting endeavour are we talking about? Well far from being a purely amateur past-time, in the growing eSports market there are now professional players, earning large amounts of money as part of high-profile eSports teams that contest a number of tournaments across the globe every week throughout the year.
These tourna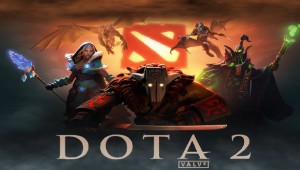 ments often have prize funds in excess of tens and frequently hundreds of thousands of dollars and in some cases, such as the current League of Legends World Championships, that runs into the millions of dollars.
So much so that there is now talk that eSports professionals will now be drugs tested and there is even talk that eSports could at some point be included in the Olympic Games (or more likely, the Winter Olympics).
The truth is although it is an emerging market, eSports is very big business for players, especially in the Far East, but the appeal is growing rapidly in US and European markets too and as the games become more popular and streamed by services such as Twitch, so does the clamour for punters to be able to bet on them.
What markets are generally available with PokerStars eSports betting?
As an emerging market, the eSports industry isn't quite as well regulated or defined for sports books as the likes of the football or horse racing industry and as such, at the moment PokerStars Sport tends to offer a range of relatively simple bets on which of the two competitors in an eSports event will emerge as the victor.
For example, for the current 2015 League of Legends World Championships taking place across Europe at the time of writing, you can bet on a large number of matches in this event, but only on which of the two teams will win their respective match up.
It is important to stress at this point that PokerStars Sports are by no means alone in sticking with this simple form of betting. Almost all other sites that offer eSports betting will offer this type of match betting as their predominant bet.
There are other sites where other types of bet may be available, but they tend to be specialist eSports betting sites, such as Unikrn, rather than general sports betting sites.
Is eSports betting legit?
If you are a punter who has yet to come across eSports gaming at this level, you will no doubt be wondering whether eSports gaming is truly legitimate as a betting market. After all, most of us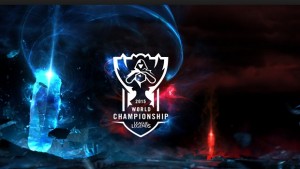 have played a console game, started poorly and then effectively 'thrown in the towel' and either rage-quit the game, or deliberately played poorly.
However, at this level of eSports, doing so is not an option. These eSports teams and players are playing at such a high level and have reputations to uphold, as well as a sponsor, which means that these players must give 100% in their efforts all of the time, regardless of how hopeless the situation may seem.
As a result, eSports are as legitimate a subject for a bet as any other sport you would like to bet on.
One thing to note is that even though many eSports bets are between two teams or individuals, there may be a large discrepancy in ability and skill between each team, which can mean it is not unusual to see prices of 1/10 for one team to win, while the other may be a 5/1 shot. However there are an equal number of evenly contested match ups where both teams are about the even money mark too.
Is placing an eSports bet on PokerStars Sports the same as when placing a usual sports bet?
Absolutely, simply click on the odds of the bet you wish to make and then simply enter your chosen stake and click the Place Bet button. Once you've done this, your eSports bet is now placed and you can now await the outcome of the match to see if you win.
Remember, you can tune in to Twitch TV to see the outcome of many of the top eSports match ups if you are keen to learn a little more.
The eSports betting industry is fast-emerging and will only continue to grow in popularity in the coming years. As such, getting to grips with eSports betting now is a great idea and at PokerStars Sports, you have everything you need to introduce you to this 21st Century form of betting successfully.