Is it a bird? Is it a plane? No, it's another fantastic promotion from Bet365 Casino and this one is offering an out of this world prize pool of £500,000 all to be won from the 27th February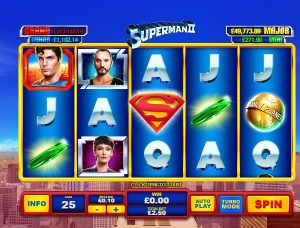 through to the 26th March 2017. The promotion is the £500,000 Super Cash Dash and if you are not yet a member at Bet365 Casino, why not sign up today with the latest Bet365 Bonus Code to participate in this exciting new offer?
If you do then you'll join millions of other customers, many of whom will be participating in this great value promotion from the end of February through until the last week in March.
Before we learn a little more about the £500,000 Super Cash Dash promotion, let's learn a little about how this offer, which features the opportunity to play some of the newest games at Bet365 Casino, has come about and in particular, how Bet365 has been updating one of its most popular progressive slots series.
The Marvel Superheroes Progressive is changing…
A few months ago, the popular Marvel Super Heroes progressive jackpot series of slots was earmarked to be replaced. This series features a number of different slots featuring many of the most popular Super Heroes from the Marvel Universe. However, it was an older series of games and there was a need to update and upgrade the slots on offer as part of this particular progressive fund.
So what has happened is that the Ages of the Gods series of slots has become part of the Marvel Superheroes progressive jackpot series and over time, the slots that were part of the Marvel progressive series will be withdrawn. That process has already begun.
However, there is a real thirst for superhero themed slots and to offset the loss of several super hero slots, Bet365 Casino has introduced a number of other games, including a brand new series of progressive slots based on the 1960's Batman TV series.
Alongside that, over the past few weeks, Bet365 Casino has also seen the release of a large number of brand new super hero slots. These new games are the first in a series of slots that will make up a brand new DC Progressive jackpot series of slots.
New releases include a trio of Superman themed slots, Superman The Movie, Superman II and Man of Steel, plus a Green Lantern slot. That means along with the six new Batman progressive games, there are a total of 10 brand new DC Universe progressive slots you can try out.
Add to that the new Ages of the Gods progressive jackpot game and you have all the ingredients for a rather exciting promotion and that is precisely what Bet365 Casino has put together to encourage its customers to give these new games a try.
The £500,000 Super Cash Dash Promotion
Over the next four weeks, Bet365 Casino is running a series of prize draws, one per week, with a prize draw fund of £100,000 for the first three draws and £200,000 for the fourth and final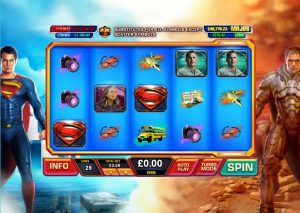 draw. To earn a ticket into a prize draw, you simply need to wager £10 cash on the Featured or Double Ticket slots active for the duration of the promotion.
Featured Slots
The featured slots remain the same throughout the four-week duration of the promotion and these games are:
Green Lantern
Man of Steel
Superman the Movie
Superman II
Age of the Gods
Plenty o' Fortune
Wager £10 on any of these slots during the promotion and you will receive a prize draw ticket into the next prize draw.
Double Ticket Games
The only time this changes is when one of the slots above is selected as one of the weekly Double Ticket Games. When this happens, if you wager £10 on that particular slot, then you will earn two prize draw tickets into the next prize draw.
The Double Ticket games change weekly and the four Double Ticket games selected for each promotional week of the offer are as follows:
27th Feb to 5th March – Superman the Movie
6th to 12th March – Superman II
13th to 19th March – Green Lantern
20th to 26th March – Age of the Gods
So for example, if you play the Superman II slot at any time from the 27th Feb to 5th March or from 13th to 26th March, you will earn 1 prize draw ticket per £10 wagered. However from the 6th to the 12th March, you will earn 2 prize draw tickets per £10 wagered on that slot.
How do the prize draws work and what prizes are available?
There are a total of four prize draws and there is a specific promotional period for each prize draw. The promotional periods are the same as the timescales outlined for the Double Ticket games above, so for example, the first promotional period runs from the 27th February until the 5th March inclusive. The first prize draw is then made on the 6th March.
Each prize draw takes place on a Monday, so the four draws are made on the 6th, 13th, 20th and 27th March.
In terms of prizes, there is a total of 5,691 prizes available for each of the first three prize draws (£100,000 prize fund for each) and there are 11,382 prizes available for the fourth draw (prize fund of £200,000)
The prizes available in each of the first three draws break down as follows:
2 x £5,000 prizes
9 x £1,000 prizes
20 x £500 prizes
60 x £100 prizes
100 x £50 prizes
500 x £20 prizes
5,000 x £5 prizes
In the final draw, the number of prizes on offer is doubled, so there will be 4 prizes of £5,000, 18 prizes of £1,000 and so on.
One important thing to note is that there is no limit on the number of tickets you can enter into this prize draw and no limit on the number of prizes you can win in a single draw, or across the entire promotion. Every ticket that you enter into a draw could be a winner.
So what better reason do you need to try out some of the brand new games available at Bet365 Casino, than to earn yourself tickets to stand a chance of a £5,000 top prize over the next few weeks? You don't even need to be a super hero to participate, just a regular Bet365 customer!