The end of one popular promotion at Bet365 Poker is usually an exciting time as not only does it signal the last chance for players to win a prize in these popular events, but it also heralds the start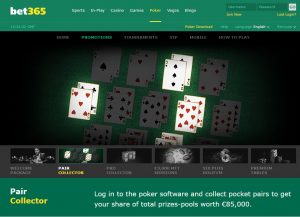 of a brand new promotion or two for the next month or so. Once again, Bet365 Poker have delivered the goods for March in the shape of their Pair Collector and Pro Collector promotions.
With this offer Bet365 have taken the unusual step to offer two different types of promotion, one aimed more at the general Bet365 Poker player and one aimed more at the players that play on the site a lot more frequently. So what are these new promotions, how do they work and are they any good? Let's take a closer look at each and find out.
What is Bet365 Poker's Pair Collector Promotion?
The Pair Collector promotion is open to any Bet365 customer that decided to opt in to the mission by clicking on the Start button in the Missions section of the site. The aim of the mission is to collect different pocket pairs of cards by playing in real cash games at Bet365 Poker. There are two types of missions available:
Daily Mission – This is where you have a 24-hour period where you need to be dealt four different Pocket Pairs on the No Limit Hold'em Cash Tables. If you complete this mission, then you receive a Tournament Ticket to the next €1,000 Pair Collector 'All In' Shootout Freeroll. These are held each day from 27th February through until the 25th March at 20:00 GMT. They then continue through from the 25th March to the 2nd April at 19:00 GMT.
Weekly Mission – Weekly Missions are completed, as the name suggests, over a qualifying week which runs from Midnight on Sunday each week, through until 20:59 the following Sunday. To complete a Weekly Mission you need to play at the No Limit Texas Hold'em Cash tables and be dealt eight unique pocket pairs over the course of the week. When you achieve this you receive one tournament ticket for entry into a €10,000 Pair Collector All In Shootout Freeroll, which takes place on the 5th, 12th, 19th of March at 21:00 GMT and at 20:00 GMT on the 26th March and 2nd
In addition, if you collect eight unique pocket pairs for the weekly mission and then go on to collect another two pocket pairs, for ten in total, Bet365 Poker will reward you with an additional tournament token for the weekly €10,000 Pair Collector All In Shootout Freeroll. This means that you could enter this event twice to give you double the chance of earning a cash prize.
As always, it is prudent to ensure that when you have earned a tournament ticket for either the daily or weekly freeroll event, that you head over to enter the event immediately as any tickets not used will expire in time.
A unique pocket pair is identified as being two cards of the same rank, but the suit is irrelevant. So for example, if you were dealt the seven of hearts and the seven of spades, that would count as a unique pocket pair, however if later on in the qualification period you were dealt the seven of clubs and seven of hearts, this would not be a unique pair as the rank of the cards is the same as that of a pair you have already been dealt.
This is a very simple promotion which cash game players can participate in at all levels. There's no limit on what tables you need to play at, so even if you are a smaller stakes player, or a higher roller, you can still participate in this offer and collect those unique pairs to give yourself a chance at winning some extra cash.
How does The Pro Collector Promotion differ?
The Pro Collector promotion is very different to the Pair Collector as it is a bit more involved and will likely require players to spend more time on the site to complete the different tasks that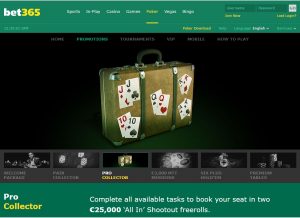 form the core of this promotion. As such, it is probably better suited to players at Bet365 Poker who spend a high proportion of their playing time on the site.
As with the Pair Collection promotion, you have to click on the Start Mission button in the Missions section of the site to state you are participating.
What this offer entails is completing one single mission, comprising of eight separate tasks over the five week duration of the promotion. If you complete four tasks of the eight, you will unlock one €25,000 Pro Collector One Tournament Ticket for entry into one freeroll and if you complete all eight, you will unlock an additional €25,000 Pro Collector Two Tournament Ticket, which offers entry into the second freeroll.
The Mission is structured into the individual tasks as outlined in the table below:
| | | |
| --- | --- | --- |
| Task No | Requirement of Task | Reward |
| 1 | Be dealt Ace-King Ten Times | Unlock Task 2 |
| 2 | Be dealt any of 10-10, J-J, Q-Q, K-K or A-A 20 times in total | Unlock Task 3 |
| 3 | Be dealt any of the following 10 Times – J-J or Q-Q | Unlock Task 4 |
| 4 | Be dealt any of the following 10 times – K-K or A-A | €25,000 Pro Collector One Tournament Ticket and Unlock Task 5 |
| 5 | Be Dealt A-K 15 times | Unlock Task 6 |
| 6 | Be dealt any of Q-Q, K-K or A-A 15 times | Unlock Task 7 |
| 7 | Be dealt K-K 10 times | Unlock Task 8 |
| 8 | Be dealt A-A 10 times | €25,000 Pro Collector Two Tournament Ticket |
There are two separate freerolls for this event. The €25,000 Pro Collector One Freeroll takes place at 19:00 GMT on Sunday 2nd April and is open to all players who completed Task Number 4 or beyond.
The second freeroll is the €25,000 Pro Collector Two Freeroll which sees cards in the air at 19:15 GMT on Sunday 2nd April and is open only to players who manage to complete all eight tasks in the promotion. Both freeroll events are single entry events only and the Mission can only be completed once.
Furthermore, for the tasks to be completed, players must be playing at the No Limit Texas Hold'em cash tables with stakes of €0.05/€0.10 or their British Pound equivalent, or greater. Smaller stakes cash tables are not eligible for this promotion.
Between these two promotions, Bet365 are offering all players, whether they are casual players, or hardened poker experts, the chance to enjoy some great value poker and the chance of some big money prizes throughout March and into April. Why not sign up today with the latest Bet365 bonus code and join in?