Bet365 Bonus Code 2016
The Bet365 Bonus Code for October 2016 is PBONUS (good for all bet365 products)
Current bonuses at bet365 below. bet365 bonus code details last updated October 2016.
Casino Welcome Bonus: For players not from the UK, Bet365 Casino also offers three bonus choices:

Standard Opening Offer: 100% bonus up to $200. Minimum deposit/transfer of $20. Use offer code BONUS100.
Slots Only Opening Bonus: 200% bonus up to$400 redeemable on slot games. Minimum deposit/transfer of $20. Use offer code SLOTS200.
VIP Opening Bonus: 50% bonus up to $1,000. Minimum deposit/transfer of $400. Use offer code VIP500.

UK Casino Welcome Bonus: Players from the UK who make a deposit with Bet365 Casino will have a choice of three bonus options:

Standard Opening Offer: 100% bonus up to £100. Minimum deposit/transfer of £10. Use offer code BONUS100.
Slots Only Opening Bonus: 200% bonus up to £200 redeemable on slot games. Minimum deposit/transfer of £10. Use offer code SLOTS200.
VIP Opening Bonus: 50% bonus up to £500. Minimum deposit/transfer of £200. Use offer code VIP500.

Sports Welcome Bonus: Sportsbook bonuses tend to be skimpy, but not at bet365. You can get a 100% deposit (yes 100%) with a maximum bonus of up to $100. Play-through is only three times your deposit plus the bonus. Request an offer code from bet365 from your account to receive this bonus.
Poker No Deposit Bonus: New players (those who have not yet made a nickname in the bet365 Poker room) from the UK get €5 absolutely free, no deposit or code required. Download the software and make a poker name and your account will be credited within 2 days.
Poker Welcome Bonus: Bet365 offers players making their first deposit or transfer into their poker wallet a 100% bonus with a bonus cap of €100 in addition to €5 worth of tournament tokens with a minimum deposit of €10. The bonus clears at about 17% and has very little in the way of restrictive terms and conditions. No offer code required.
Vegas Welcome Bonus: The brand new Bet365 Vegas features a host of games not found on the Bet365 Casino or Games sites. Players wishing to try it out will receive a 100% deposit bonus up to a maximum of £100. Many games are perfectly optimised for mobile play.
Games Welcome Bonus: At Bet365 Games you can receive a 150% bonus of up to £150 on your first deposit or transfer. Qualifying deposits must be between £10 and £100 and once you have received your bonus you have 60 days within which to lift the withdrawal requirements that are 20x your bonus and deposit combined.
Bet365 Bonus Code
| Product | Signup Bonus Offer | Bet365 Bonus Code |
| --- | --- | --- |
| Bet365 Sports | £200 Bonus | PBONUS |
| Bet365 Casino | £100 Bonus | PBONUS |
| Bet365 Poker | €5 Free + €100 Bonus | PBONUS |
| Bet365 Vegas | £100 Bonus | PBONUS |
bet365 Bonus codes and bet365 offer codes – What's the difference?
Using a bonus code at bet365 is simple. The initial bonus code shouldn't be confused with "offer codes" that you'll receive from bet365 later.
The bet365 bonus code is just something you enter when making your account at bet365, as shown below: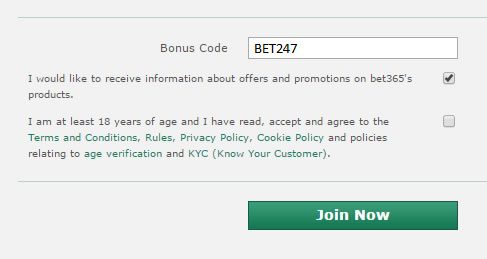 bet365 uses the bonus code – ours is PBONUS – to know how you found bet365. It's basically just for their internal marketing purposes. The bonuscode doesn't have any other impact on your account. You only need to use the bet365 bonus code once, at signup, and then you're done with it forever.
So how do bet365 offer codes work, and are they any different from bonus codes?
Offer codes are separate codes that you'll receive directly from bet365. These are the codes you'll use to claim specific bonuses offered by bet365. Offer codes are always changing – each promotion is accompanied by a unique offer code.
If you ever need to request an offer code, simply log in to your bet365 and you'll be able to request one right from there. Offer codes will always be available directly from bet365 support and are almost always available simply by logging into your account and requesting the code by clicking a link.
Deposits vs transfers at bet365
Remember – for bet365 bonuses, the standard policy is that a transfer from another part of your bet365 wallet is the same as making a deposit. So you can claim most of these bonuses (if not all) just by moving money back and forth between your bet365 accounts.
Bet365 Promotions News and Notes: 27th October 2016
There's lots of great sport to enjoy over the coming week at Bet365 Sport including England's tour of Bangladesh continuing with the second and final test taking place in Mirpur ahead of the England team moving on to India. There's also plenty of other big sporting events to bet on in the next seven days as we'll explore in more detail later.
With a new promotion on the horizon at Bet365 Poker, we turn our attention this week to the Premium Steps tournament, available throughout the year on the site and which offers players of all abilities a perfect chance to enjoy high quality tournament poker at an affordable price.
First off however, we'll bring you details on how you can receive back 20% of what the house takes as a result of your play at Bet365 Casino this coming Saturday 29th October as part of the sites excellent and recurring On The House bonus.
Bet365 Casino
How would you like to cut your losses by 20% guaranteed this weekend on Bet365 Casino? Well if you have decided to Opt In to their On The House offer, then that is effectively what you will do when you play on the site on Saturday 29th October.
Once you have opted in then all you need to do is log into your Bet365 Casino account at any time from 00:00 until 23:59 on this coming Saturday, deposit at least £50 into your account (this can also be a transfer from another Bet365 account) and then play at least 50 hands or spins on a wide choice of games at the Casino.
Whatever the Casino takes as a result of your play in that 24 hour period on Saturday, if you have opted in to the offer, then you will receive back a rebate of 20% of your total losses, up to a maximum rebate of £200.
Your rebate comes with a wagering requirement of 20x the total amount before it can be withdrawn  The minimum rebate that can be claimed is £25 and there are some games, Live Baccarat, Live HiLo and Live Roulette which are excluded from the offer.
Once you have received your rebate from Bet365 Casino for this offer, then you have 14 days within which to meet the wagering requirement, after which the bonus will expire and the funds will no longer be available in your account.
The On The House offer is usually available every Saturday during the month, so it is an offer that is regularly repeated and which should be available for players to take full advantage of over the course of the year.
Bet365 Poker
With a brand new promotion set to start on Bet365 Poker next week (which of course we will bring you all the details of), now may be a good time to remind you of one of the most popular long-term offers on the Bet365 Poker site.
That is the sites Premium Steps promotion, which offers players the opportunity to pass through up to nine steps of poker tournaments against two other players at each table, in a hope to win through and claim the €800 top prize.
If you are a customer that has recently joined Bet365 Poker, then you will find that you have a few tournament tokens in your account to try out this promotion and we strongly urge you do as it is a fantastic way to experience one of the top features of the site as well as getting you used to playing against two other opponents.
This will be particularly handy if you intend to play games such as the hugely popular Twister Poker or any of the Heads Up games available in the Sit & Go section.
With Premium Steps you can even start at Step One by using Merit Points instead of cash to buy into the competition. 100 Merit Points can be used in place of €0.50  to enter the first step of the tournament which means that essentially it is free to enter at this level.
You can of course buy into events further along the steps, but the cost of entering these events increases in size with each additional step you skip.
At each step, if you win at the table against two other players, you win a ticket to the next step in the tournament. If you finish second, you win a ticket to the previous step in the tournament, finish third and you don't win a thing and will have to try again.
Win the Step 9 event and you take home the top prize of €800. This offer is available to play every day at Bet365 Poker throughout the year and offers players of all bankroll sizes the chance to work their way through a competition to try and win the top prize.
Bet365 Sport
If you are looking for some excellent sports betting opportunities this weekend and for the week ahead at Bet365 Sport, then there are some huge sporting events you can bet on across the next seven days.
Starting on Friday 28th October, England and Bangladesh clash in Mirpur for the second test of the two game series. England won an enthralling encounter by 22 runs on the final day of the first test earlier this week and they'll be hoping to at least wrap up a series win, if not a 2-0 victory ahead of their trip to India that follows in November.
Also this weekend, the Formula 1 caravan heads south from Austin Texas, scene of Lewis Hamilton's much needed win last weekend, to Mexico City where the elite teams will competing for dominance in the Mexican Grand Prix. Hamilton needs to win again and hope team mate Nico Rosberg doesn't enjoy a top four finish if he is to get himself back into the Driver's Championship with just two races remaining after Mexico.
It is also a hugely important week ahead for many of the top Premier League teams with another round of fixtures this weekend. Big games include Arsenal's trip to struggling Sunderland,  Manchester United taking on Burnley, Spurs facing last years champions Leicester City, Manchester City facing a tricky trip to West Bromwich Albion, while Liverpool take on Crystal Palace at Selhurst Park.
There's also two key games on Sunday which see Everton face West Ham United and Southampton take on Chelsea, followed by Stoke v Swansea City on Monday night.
Then on Tuesday, Wednesday and Thursday, the teams are in Champions League and Europa League action again with Manchester City facing a return clash with Barcelona, Tottenham tackling Bayer Leverkusen and Leicester set for a tricky trip to Copenhagen in the Champions League.
In the Europa League, Manchester United face a daunting trip to Fenerbahce, while Southampton will hope avenge their unfortunate defeat in the San Siro by defeating Inter Milan at home in their return fixture.
You can bet on all these huge sporting events and many more each week at Bet365 Sport.
Bet365 social
See what people are saying about Bet365:
Nice £10.80 return off a 90p bet 😀 All cause I don't like having an odd number in @bet365

— Phil Burrows (@Phil__1902) August 23, 2016
Yes, boom, btts first half on the bet365 risk free. Get the fuck in.

— Michael Rowley (@Leachimblue) August 14, 2016
https://twitter.com/Jake_Selvest/status/764850976897507328
https://twitter.com/MazzaBosszee/status/764850131313238020
Popular slots games at Bet365
Those who appreciate a deep library of online slots will surely find many, many games to enjoy at Bet365. Across its Bet365 Vegas, Bet365 Games, and Bet365 Casino sites, the selection can seem nearly endless. Here are just a few that are worth a look:
Monty Python's Spamalot
Jackpot Giant
Bet365 answers
What are the ways I can play poker on mobile at Bet365?
Though for awhile Bet365 Poker was only accessible via mobile on iPhone or iPad, there is now an app available for Android smartphones and tablets as well.
Using your iPhone or iPad, you can play Bet365 Poker either by logging in to the Bet365 Poker mobile site direct from your preferred mobile browser or by visiting the App Store and downloading the Bet365 mobile app. On Android devices, Bet365 can be also accessed from both an app or using a mobile browser such as Chrome.
If you prefer to use Bet365 Poker mobile in a browser, when you have logged into the website via WiFi or 3G/4G, you can create a quick link to the site on your home screen which means you can click on it and log into the site as you would an app.
You can use your existing username to log into Bet365 Poker via mobile and you can select from cash table games (including premium tables), as well as Sprint Poker. A recent upgrade has also seen the site add a whole host of other games too, including Twister Poker ($1, $2, $5 and $10 tables), a myriad of Sit & Go games plus a huge number of Multi Table Tournaments, including satellites and freerolls.
There are many different buy in costs and blind levels available on Bet365 Mobile Poker to suit the bankroll of most players, from the micro stakes player, up to games more suited to the real high rollers.
How can I play casino games at Bet365 on mobile devices?
There are two ways you can play the many different types of casino games available on Bet365 through your mobile device.
You can access Bet365's casino games (as well as the casino games found on the Vegas and Games sites) from iPad, iPhone and Android devices. The sites may also work with other compatible devices.
Once you have selected your device, you can access casino games in two ways.
Firstly, if you have an iPhone or iPad, you can download the Bet365 app from the App Store. This has a direct link to the Bet365 Casino from within the app, allowing you to play a wide choice of casino games from your mobile device at the touch of a button.
If you have an Android device (or prefer to play via a browser from your iPad or iPhone) then you can access the Bet365 Casino (as well as the Bet365 Games and Bet365 Vegas sites) from your mobile browser. Logging in to the Bet365 website from your mobile browser will automatically load up the mobile-compatible version and you will then be able to browse the full range of casino games from Bet365 available via mobile.
Alternatively, you can also download the Bet365 Android app.
In September 2016, Bet365 upgraded their mobile app service for Bet365 Casino, offering customers a faster and more user-friendly gaming experience, so much so that we highly recommend using the new app over the older app, or the HTML mobile-compatible sites to enjoy the best quality gaming on Bet365 Casino.
Remember, Bet365 offers casino games at Bet365 Casino, Bet365 Vegas and also Bet365 Games.
Are Bet365 live casino games available on phones or tablets?
If you have an iPhone, iPad, or Android smartphone or tablet then you can play live casino games via your mobile phone or tablet with Bet365 Live Casino.
To play live casino games with a human dealer and live video feed via your Apple device, simply download the Live Casino app from the App Store. You can log into this using your usual Bet365 details and if you have cash available in your Casino, Games, or Vegas account, then you can wager this on the games available, though a minimum bet level may apply.
Gamers have a choice of live versions of baccarat, roulette, Hi-Lo and blackjack (including Unlimited Live Blackjack) to choose from with a number of different dealers to select from too. You can access some live games too on the new Bet365 Casino app, released in September 2016.
What are my mobile poker options at Bet365?
If you wish to play mobile poker at Bet365, you can do so using an Apple device like an iPhone or iPad as well as using an Android-based smartphone or tablet.
Once there, you can log in and select from a large number of different cash table games (including premium cash tables), Sprint Poker games, Sit & Go games, Multi Table Tournaments, Freerolls, Satellites and Twister Poker with many different blind levels or buy in costs available in each to suit all budgets.
All the most popular Bet365 tournaments and features are now available via the mobile thanks to a much improved app, which was recently upgraded to incorporate many significant new improvements.
What is a banker bet on Bet365?
A banker bet on Bet365 is a multiple bet where you identify one or more part of the bet that must win (the 'banker' bet or bets) in order for the remainder of the bet to become active.
If you wish to place a banker bet you must have a minimum of two other selections in the bet that are not banker bets, therefore, you must make a minimum of three selections in order for a banker bet to be available on the betting slip.
When you have made your selections, you can then select which of your choices you want as banker bets. This can be one selection, or more if you have made more selections on your bet slip.
Your banker bets must win in order for the other bets to come active.
Depending on how many other selections you make, you can then perm your banker bet with the other selections in a number of ways.
For example, if I was to place a bet on which teams would win the World Cup, the Spanish, Italian and English League titles in 2014 and I picked Germany, Real Madrid, Juventus and Chelsea.
I would select Germany as my banker bet and then I can back any of the following bets:
1B + 1/3 – This is three single bets which pairs the banker bet (Germany) with each of the other three teams to make three double bets (Germany & Real Madrid, Germany & Juventus and Germany and Chelsea).
1B + 2/3 – This is three treble bets which pairs the banker bet (Germany) with two of the three selections on my slip (Germany plus Real Madrid & Juventus, Germany plus Real Madrid & Chelsea and Germany plus Juventus and Chelsea).
1B + 3/3 – This is an accumulator bet which means that I am backing my banker bet plus each of the other options to win.
You can opt to back ALL of these selections but this will mean placing seven bets at your original stake. So if you placed £10 on each selection, the total bet cost would be £70. (£30 for the 1B + 1/3, £30 for the 1B + 2/3 and £10 for the 1B + 3/3).
If you make more selections on a slip, then you can select more than one selection as a banker bet, provided there are enough non-banker bet options to make sufficient bets from.
For more information, be sure to read our guide to Bet365 Sports Banker Bets.
How do I make a multiple bet on Bet365?
Making a multiple bet on Bet365 is very simple. All you need to do is add the selections to your betting slip that you want to back. This is achieved by clicking on the odds next to your chosen selection.
When you have added two or more selections to your slip, underneath your selections will be a tab called Multiple Bet Options.
Clicking on this will expand the tab to show you all the different multiple betting options that you have available, together with the odds of success on your chosen bet.
All you need to do is locate which type of multiple bet you wish to make, this can include accumulator bets, doubles, trebles, and several multiple bets, which will see you place many individual bets as part of a single larger bet as in a Super Yankee (26 bets) or Permed Patent (70 bets) or similar.
Once you have found the multiple bet you wish to make, simply enter your chosen unit stake for each of the bets your multiple will make. It is important to note here that bets with multiple betting lines, will require a stake for each bet.
Therefore, if you make five selections on a bet and want to place a five-fold accumulator, this is just one betting line and as such, you will place just one betting unit. Therefore if you place £10 as your unit stake on this bet, it will cost you £10.
However, if you place a Permed Patent (70 bets) on your five selections and place a Unit Stake of £10, this will actually cost you £700 (£10 x 70 bets = £700).
The good news is you can see the cost of your multiple bet as soon as you add it to the coupon and if it is too expensive, you can easily remove it.
When you have placed the bet you wish to make at the right unit stake, simply click the yellow Place Bet button and you will have placed your multiple bet.
What ways can I deposit money to Bet365 and have it clear instantly?
Bet365 offer a number of ways you can deposit funds into your account which will allow you instant access to your cash.
Provided that you have funds available, each of the named ways below will allow you to deposit cash into your choice of Bet365 account and have it ready to use immediately.
Debit card (such as Maestro or Visa)
Credit card  (such as Visa or Mastercard)
Neteller
Skrill
Skrill 1-Tap
PayPal
InstaDebit
Click2Pay
Ukash
paysafecard
Entropay
Paying by bank wire will take 2-10 banking days, fast bank transfer takes between 1-3 days, while cheque takes between 5 and 28 banking days to clear.
How does Bet365 make a profit?
As a company, the Bet365 family of sites makes a profit from its gambling operations, however how each part of the site makes a profit is different.
On the Sports, In Play and Financials sites, Bet365 makes its profits by ensuring that the odds it offers on its markets are balanced enough so that it can make a profit on the market in question. The company uses specialist programs to calculate the odds of each individual market and to track the bets made to ensure that they offer a fair degree of profitability.
Of course, any betting site makes its money from punters who make wagers that lose. This simple fact combined with controlling the odds of markets carefully allows these arms of the company to post a profit.
On the Casino, Games and Vegas sites, Bet365 makes a profit by a phenomenon called the "house edge." The house edge is the built-in advantage to all casino games, which mean that over time, the house is more likely to make a profit. The smaller the house edge on any particular game or bet, then the smaller that profit will be.
Casino games vary wildly in what they offer as house edge with some slots and games having a very high house edge (20 percent or greater) and some offering a house edge that is just 1 or 2 percent.
The house edge on each game ensures that over time the casino will make a small profit on each game, but the sheer number of games Bet365 offers via its Casino, Vegas and Games sites mean that this accumulates into a larger profit.
In Bet365 Poker, players pay a 'rake' to the casino when they play cash table games and contribute money to the pot. This rake is the money the casino takes for hosting the game. In sit & go and multi table tournament games, the rake is paid alongside the buy in fee and is usually around 10 percent of the buy in fee.
By using each of these methods, all facets of the Bet365 platform contribute profits each day towards the company's annual profits.
Does Bet365 offer self-exclusion? Can you reverse Bet365 self-exclusion?
Yes, Bet365 offer customers the option to self-exclude themselves from any part, or all of the site for periods of 6 months, 1 year, 2 years, or 5 years.
You can select specific areas of the site which you do not wish to access (such as Sports or Poker) and access will be denied for the stated period to these parts of the site.
Once you have selected this option in your account section or by contacting a member of the Bet365 team, you are not able to reverse the decision to self-exclude yourself from a part of the site until the period of time stated by the exclusion has elapsed.
Can I control my betting or deposit limits at Bet365?
You are able to control your deposit limits at Bet365.
With this facility, you are able to select a maximum amount you will be allowed to deposit into your account within a 24-hour or 7-day period.
Once these levels have been set you can revise them downwards, though the change will not take affect until 24-hours after you have made the request to alter the deposit limits.
All bets offered by Bet365 Sport have a maximum bet level that the company will not accept bets over. You can see what this level is by clicking on the Bet Max tab underneath the stake box. You cannot place a bet over the stated maximum for that market with Bet365.
What are Bet365 Poker merit points worth?
The merit points system in Bet365 Poker is the basis on which the VIP system works. You earn merit points at the rate of 15 for every £1 in attributed tournament fees or rake at Bet365 Poker.
Over time, if you accrue enough merit points within a stated time period (one month) you can trade them in for a cash reward. You need 7,500 merit points to earn the lowest cash reward of $50.
The more merit points you earn in a month, the higher up the VIP system you climb through four levels starting at Bronze then on to Silver, Gold and finally Platinum. The rewards on offer at each level increase as you progress.
You can also trade in merit points for tournament tokens as well as cash.
How do I watch Bet365 streaming?
Bet365 offer an extensive live streaming service for sports enthusiasts and it is completely free (apart from horse racing) for customers to use provided that they have placed a bet within the past 24-hours, or have got funds in their account.
The easiest way to watch any of the available live streams on Bet365 is to click on the Live Streaming tab on the home page. This will bring up the live streaming menu, which lists all the different sporting events that the site is offering.
This list can be sorted by sporting events or date, allowing you to quickly find the stream you want to watch.
You can also access live streaming easily from the In Play section of the site.
The only difference to this for a sport is for horse racing. Here, if you place a bet of 50p or more on any horse race in the UK and Ireland, you are able to watch the stream of that race for free via Bet365.
To do so, log into the site a few minutes before the race is due to start, select the race you placed your bet on and when available, an option to watch the live stream will appear. Click on this and you can watch the race live from your mobile or PC at no extra cost.
Who owns Bet365?
Bet365 are owned by the Coates family, with founder Denise Coates maintaining a 50.1 percent ownership of the company and the rest of the shares are owned by her brother John and her father Peter.
It was Peter Coates who began the family's long ties with the betting industry in the 1970s when he was a successful high street bookmaker. Peter Coates ran the company until the mid-1990s, when his daughter Denise took control.
In 2000, from a portakabin in the heart of Stoke-on-Trent, Denise Coates developed the first Bet365 website and betting platform. Taking out a £15m loan against their successful betting shop business, they launched the first Bet365 website and betting platform in March 2001.
The family set up oversaw huge growth for the fledgling company and now Bet365 is one of the world's largest online gambling platforms, with a turnover on sports betting alone of £12.2 billion in March 2012.
The company now employs over 2,100 people and is still based in Stoke-on-Trent. Peter Coates is also now the owner of the local Premier League football club, Stoke City.
Bet365 country guides
bet365 Canada
Like most major operators, bet365 does accept players from Canada – a position shared by PokerStars, 888, and a number of other companies.
Online gambling law is a matter of debate in Canada, and the issue of sports betting is likewise an active political issue. Players who are interested in wagering online from Canada – whether on sport, casino, or some other product – should keep a close eye on local and federal developments, as a number of provinces, including Alberta and Quebec, are currently investigating the issue and may propose relevant policies soon.
bet365 United States 
Bet365 does not accept players from the United States. To the best of our knowledge, the brand never accepted any customers from America, but lacking an official record makes it difficult to state such things definitively.
WIll bet365 open up to America at some point? If sports betting legalization becomes a reality in the United States, we believe that bet365 would be quite interested and would pursue the market aggressively. If the company has no history in the US to worry about, they would seem an attractive partner and potential heavyweight player.
bet365 United Kingdom
By most measures, bet365 is the most popular sports betting site online in the highly-competitive market that is the United Kingdom.
Bet365 is fully licensed by the UKGC and has maintained a sizeable base of operations within the country for a number of years. This history with the United Kingdom provides bet365 with a credibility when entering new jurisdictions.
Bet365 company profile
Company overview
Bet365 is the biggest UK-based online sports betting site, offering markets across dozens of sports and events to over 18 million gamblers in 200 countries worldwide. The company was formed in 2000, and grew as an offshoot of a family betting shops chain, as technical opportunities emerged at the outset of the online gambling industry.
Today, Bet365 is one of the most recognisable online sports gambling brands in the world, with turnover in excess of £20 billion annually from its sports betting, casino and other online operations.
Bet365 provides much of its gambling services online. But with industry movements towards mobile gambling, pioneered in part by the Bet365 team, the company now also reaches millions of customers on mobile and tablet devices, providing access to a comprehensive range of sports betting markets on the go. The platform is available in up to 17 different languages, serving a truly international market of betting customers.
Bet365 runs high profile marketing campaigns in the UK, including those featuring actor Ray Winstone. Aside from the high street chains who have online operations, like Ladbrokes and William Hill, brand recognition is highest with Bet365 than most other operators in the UK, providing a distinct edge when it comes to increasing market share.
A British-based and tax domiciled company, Bet365 has achieved strong growth in revenue and customer numbers virtually year on year since it was founded in 2000, and today contributes hundreds of millions of pounds in tax to the UK, and endless value to the city of Stoke where it serves as the largest private employer in the region.
Its headquarters in Stoke-on-Trent is home to roughly 80% of the company's staff, with a further office now open in the UK off-shore territory of Gibraltar.
What Bet365 provides
Bet365 offers markets on sports ranging from American Football to Volleyball, and everything in between. You can choose to bet ahead of the event, or bet on results in live-time through In-Play betting markets – one of the company's most successful innovations, in terms of customer service and driving betting revenues.
The company quotes a huge range of markets, allowing gamblers to drill down deeper into specific outcomes across the sporting events they cover. With live streaming available for customers across a plethora of major sporting events, there's no need to leave the site for any of the action.
Mobile and tablet customers can access Bet365 through their free app, available for Android and iOS platforms among others, to ensure their sports betting platform is accessible to as wide a range of customers as possible. The same also applies to those looking to access the Bet365 poker, casino, bingo, financial, or games betting markets, which are also available through these apps.

There are a range of different bets available, and the online and mobile platforms allow you to quickly combine bets, calculate odds and potential winnings, and even to see incremental changes in the odds in real time, as the market jostles to settle on a price.
The Bet365 platform is easy to use, and offers a fast, reliable, secure experience for gamblers, in no doubt a contributing factor to the success of the business in recent years. In 2010, the company was recognised as having the Best Website Performance, winning this named award at the EGR Awards against stiff competition from competing online gambling businesses.

For those who prefer casino or Vegas-style games to sports betting, Bet365 also caters to this market, with its online casino, virtual sports, poker, bingo and financial sub-sites. Bet365 has proven to be hugely successful across these platforms, with over £20bn in total monies wagered last year. With revenues on the rise, the company looks set to continue to innovate, developing new products and improving their online and mobile platforms to remain at the forefront of the UK sports betting market.
Company timeline
2000 Founded By Denise Coates with 12 staff. The company was founded with 12 staff in 2000, the team getting to work on creating the first version of the Bet365 site. £15 million in loan borrowed from the Royal Bank of Scotland, to fund the idea and the building of the first phase of the Bet365 website.
2001 First Bet365 site launched,introducing Bet365 to the online sports betting market.
2002 First download casino software released, as Bet365 diversify in response to new opportunities. Players are able to download and wager on a range of fixed odds casino games for the first time, introducing the Bet365 brand to a new market.
2003 Over £370 million in bets processed in 2003 through Bet365 online, comprising revenues across sports and casino legs of the operation.
2004 'Games division' launched, with 3 new fixed odds games and the release of the first Bet365 poker client. Bet365 now a recognisable brand across several different online gambling verticals.
2005 Bet365 is translated into 8 languages to target new markets: Spanish, German, Italian, Danish, Swedish, Norwegian, Traditional Chinese and Simplified Chinese.
2006 Live streaming service launches, providing live sporting events to Bet365 customers.
2007 Streamed over 1000 live sporting events.
2008 Employees grow to 600, as new bingo site launches. Stoke City FC, Bet365's local team and fully-owned subsidiary, reach the Premier League.
2009 Workforce up to 900, as financial betting division is launched.
2010 £5.4bn in sports betting wagers taken. In house mobile site released in 17 translated languages.
2011 With 1900 staff, Bet365 is the biggest private employer in Stoke.
2012 Wagers rise to over £12 billion, as the company relaunches its bingo site.
2013 With over 10 million customers, £1bn in gross revenues, 2,500 staff, and a new HQ commissioned to accommodate growth in staff numbers, Bet365 continues to build from its strong position.
Financial history
Bet365 was founded with a £15 million loan from the Royal Bank of Scotland, secured against the value of the family betting shop business. Established by father Peter Coates in 1974, the business was handed over to daughter Denise Coates in 1995, who spotted the opportunity for online gambling in 2000.
These funds were used to develop the first version of the site, with a small team of 12 staff on board to take the new Bet365 platform to market. By 2003, the company had started to gain serious traction in UK and international markets, with wagers in excess of £370 million through its online sportsbook providing the platform for the company to grow to the next level.
As the company continued to grow, it was clear that the future lay more profitably with the online and mobile legs of the business, than in the original high street betting business that stood before it and provided the collateral for the original loan from the Royal Bank of Scotland. The decision was taken to sell the family betting shops chain, which was sold to Coral for £40 million in 2005.
The family used the money raised from the sale to pay down the remainder of the original £15 million loan, putting Bet365 on a debt-free footing and consolidating the financial position ahead of the next phase of the company's growth.
By 2010, wagers were up to over £5.4 billion, and the company workforce was expanded to 900, and by 2011, total revenues from the Bet365 betting operation hit £12 billion for the first time, as the company grew to become a major player in the UK online gambling market.
In 2013, the company drove operating profits forward by 13%, up to £148 million, although this was offset to a large extent by losses in excess of £30 million within Stoke City FC, the company's football business. The workforce also grew by 19% in 2013, accounting for increased expenditure as the company started to fortify for a bigger future.
Bet365 paid corporation tax in 2013 of around £30 million to the UK treasury, along with significant contributions through employee and property taxes, earning the company praise from all quarters, including senior politicians like Tristram Hunt MP.
As of its 2014 published accounts, Bet365 was in rude financial health. Companies House accounts show Bet365 Group Ltd., the parent company for all Bet365 gambling operations, held some £539 million in cash, covering liabilities of £347 million. The company had a net worth of £400 million, and assets of around £650 million. Clearly, Bet365 is in sound financial health, and strongly positioned to move forward into new gambling markets.
Bet365 sets aside roughly £100 million per year, which is held in the Bet365 foundation on behalf of good causes. The money goes to support around 20 different charities, which benefit causes in the UK and across the world. Bet365 remains a privately held company, with shares of 50.1% still retained by the Coates family, who are thought to be worth in excess of £1.2 billion.
Awards and acclaim
Bet365 has received more than a fair share of industry recommendations, awards and acclaim, in recognition of the quality of the gambling experience on offer. This is no small achievement, given the competition and sophistication of businesses operating within online and mobile gambling markets. Yet under the direction of Denise and John Coates, the Bet365 team continues to win awards, particularly for its In-Play betting functionality, year after year.
EGR Awards 2011, 2012, 2013, 2014 – "In-Play Sports Operator of the Year", awarded to the best In-Play real-time betting operator on the market, Bet365 has scooped this award for the last four consecutive years.
EGR Awards 2011, 2013, 2014 – "Sports Betting Operator of the Year", winning this award for three out the last four years cements Bet365 as one of the leading sports betting brands in the industry.
EGR Awards 2010 – "Operator of the Year", the prestigious award for the best all-round online gaming site of the year.
EGR Awards 2010 – "Casino Operator of the Year", awarded in recognition of the Bet365 online casino function, a clear winner in 2010.
EGR Awards 2010 – "Best Website Performance", awarded based on the tech-side experience, this award was in recognition of technical achievements, website speed and performance.
Charitable endeavours
Charity is an important part of corporate social responsibility for any successful company, and Bet365 have maintained a strong sense of ethos throughout their growth to this day. While the company is now a truly international operation spanning 200 different countries, it has remained headquartered in Stoke, where it all began for the Bet365 team.
As a gambling business, Bet365 are in the minority in choosing to pay a higher rate of tax to the UK treasury rather than moving offshore, running in to the hundreds of millions in corporation tax annually aside from the various other significant contributions to the public purse. Competing businesses choose to domicile offshore for tax purposes, yet Bet365 chooses to go above and beyond to support the UK coffers, at a significant personal disadvantage to the company and its shareholders.
Bet365 has been a major investor in local football club Stoke City FC, and has helped pioneer the club's journey to top flight football in the English Premier League. The biggest private employer in the city, Bet365 continues to be an important part of the communities it touches, and is committed to investment in Stoke and the wider Stoke-on-Trent region.
In 2014, in response to profits doubling, Bet365 invested further in a charitable fund, aimed at helping give back to the wider community. With some £100m devoted to the fund, Bet365 has been able to help make a significant difference to lives across the UK and further afield. Some of the causes supported include research into cancer and cancer treatments, and relief for victims of natural disasters in the Philippines.
Bet365 has won the praise of local Labour MP Tristram Hunt, who recognised the company as a major local success story, and an asset to the community. "I regard bet365 as one of Stoke-on-Trent's premier corporations. Part of its great value is bringing skilled graduates into the economy. They provide the sustainable, high quality employment we want. They invest huge amounts in the city. We're very privileged to have the Coates family investing so much in the city."
Snapshot of key executives
Bet365 is still, at its core, a family business. Despite turnover in the double-digit billions annually, there is still a direct link at a senior level to the family betting shops business that started things off in 1974, some 26 years before the web business was established. As the business has grown, it has retained this distinctive family feel, and many of the original employees of the web business still hold senior roles within the company today.
Denise Coates: Denise Coates was the founder of Bet365, borrowing £15 million against the value of the family betting shop businesses to develop a proprietary online betting platform that would go on to become one of the biggest players in the market. Denise founded the site in a cabin in 2000, then sold the betting shops business in 2005 to raise £40 million. Now, with the £15 million paid down, the business has grown to revenues of over £12 billion, and is now one of the largest operators of online sports gambling in the world.
Denise Coates is one of the best-paid female executives in the world. In 2013, she was rewarded with a compensation package worth almost £5.5 million, a few million shy of the chief executive of Burberry, the highest paid female executive in the world, while taking dividends of around £15.2 million for the year. In 2014, the Coates family became the UK's first betting billionaires, thanks to the success of their Bet365 business, with Denise become the 1,092nd richest person in the world.
Peter Coates: Peter Coates, father of Denise Coates, is the present-day Chairman, and original founder of the family betting shop business in 1974. This business was to go on to provide collateral for early funding requirements, before being sold to Coral in in 2005. Peter handed over day to day executive duties to Denise on her appointment as managing director in 1995. His son John Coates is co-chief executive of Bet365 alongside Denise, who still to this day retains a 50.1% share in the business.
Peter Coates is the present chairman of Stoke City FC, and spends much of his time performing this role. He is sometimes characterised as the steering hand behind the business – a perception he himself is ready to refute, with full operational control of the business being handed to Denise back in 1995.
Martin Davies: Martin Davies is the head of technology at Bet365, responsible for ensuring the site and its services are being delivered effectively and that the technical side of the operation runs smoothly. Martin Davies joined the company back in 2001 as a fledgling business. Coming in as the head of IT, Martin was promoted in 2007 to his current role, overseeing all technological aspects of bet365.
John Coates: Son of Peter and Denise's brother, John Coates is the joint chief executive of the business. John keeps an even lower public profile than Denise, herself media-shy, to focus on the operations of the business.
The future of Bet365
Bet365 already operates in a huge range of markets worldwide, but that's not to say the company has done growing, or that it won't pursue new avenues for growth across its online and mobile gambling verticals.
The recent development of a new, larger headquarters is a statement of intent for a company that has clear designs on growing its staff numbers, growing its reach and driving upwards its revenues and operating profits year on year. Bet365 will remain in the UK and in Stoke in years to come, with no sign the company is looking to depart from its principled stand in support of the UK and the local economy in Stoke.
Mobile is expected to continue to drive growth for the company, as an increasing number of players switch over to mobile from desktop gambling, and new players are introduced through greater accessibility on mobile and tablet devices.
As an international business, Bet365 has identified strategic markets for expansion and growth worldwide, and given the company's track record and substantial resources, the odds on them achieving these results are incredibly short.
The management team at Bet365 will continue to remain close-knit, and no doubt largely out of the public eye, as has been the case since formation in 2000. Some commentators have suggested the family-nature of the business gives Bet365 a distinct advantage over some of its listed competitors, helping centralise the decision-making process to keep the company agile.
Management will need to leverage this position as they move forward to continue to stay one step ahead of its huge, well-resourced rivals, in the competition for increased growth in this highly competitive global market.
The company has said that while Stoke City FC have reached the Premier League, they are keen to ensure the club becomes less reliant on support from the betting side of the business, and more self-sufficient financially.
Given the financial rewards for any club operating in the top division of English football, and particularly in light of new bumper TV licensing deals, this looks set to be achievable, provided the club can replicate the success of their parent company in terms of results on the field. Stoke City FC will continue to be served by Peter Coates as chairman, with the club looking to remain in the Premier League and hopefully continue to improve their league performance year on year.
Bet365 already has a strong foothold in the UK markets for online and mobile gambling, and its international reach is continuing to expand, thanks to targeted strategic efforts from the top. Having come a long way from a Portakabin in a car park in Stoke back in 2000, the company is keen to build on its early successes as the market for gambling online and on mobile internationally matures.