Alongside Sky Poker's exciting new promotion, the £200,000 Summer Series event, Sky Poker customers have another reason to be cheerful when it comes to playing on the site this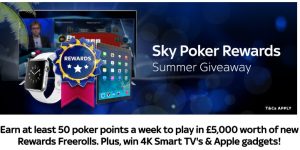 summer. That's because for the next four weeks, you can earn numerous cash rewards, plus a number of exciting technology prizes thanks to the new look Summer Giveaway Rewards Freeroll.
If you are already a member of Sky Poker who has been enjoying the Rewards Freeroll events, you'll know that your loyalty to the site is rewarded by entry into these events. However, for the next four weeks from Monday 4th July through until Friday 29th July, there is the chance to earn even more from these tournaments.
What do I need to do to earn entry into a Rewards Freeroll event?
To earn entry into all freeroll events in any given week, all you need to do is play on Sky Poker's real cash games in the week preceding the freeroll events and earn 50 Sky Poker points during that qualifying week.
If you earn fewer than 50 points in a qualifying week, then you will not be eligible to participate in the freeroll events. However, if you earn 50 points or more in the next week, then you will be eligible for all of the following weeks freerolls.
There is no need to opt in to this promotion, simply earn 50 Sky Poker points during a qualifying week and you'll gain entry into the week of Rewards Freerolls your choice. Remember, earning 50 Sky Poker Points doesn't give you entry into just one freeroll, instead it offers you entry into all five freerolls in the following week.
What is the schedule of the Rewards Freeroll events throughout the week?
In each of the four weeks of the promotion, there is a different type of freeroll event taking place each evening (including a rare Pot Limit Omaha game). The Rewards freeroll events start
at the same time each night, 7.30pm UK Time and the freerolls are held from Monday through to Friday.
Outlined in the table below are the key details about the schedule for the Daily Rewards Freeroll events over the summer.
| | | | |
| --- | --- | --- | --- |
| Day | Format | Start Time | Prize Pool |
| Monday | Freezeout | 7.30pm | £1,000 |
| Tuesday | Turbo | 7.30pm | £1,000 |
| Wednesday | Pot Limit Omaha | 7.30pm | £1,000 |
| Thursday | Progressive Clock | 7.30pm | £1,000 |
| Friday | Deep and Steep | 7.30pm | £1,000 |
What is interesting about this promotion is that Sky Poker players now have the chance to try a number of different formats of poker different to the games that are in the standard Sky Poker Rewards Freerolls.
What are the added technology prizes available in each freeroll?
In addition to the prize pool of £1,000 for each of the five freerolls every week, Sky Poker will also be offering a trio of "added prizes" for the top three players in each freeroll event.
The first prize winner will earn themselves a fantastic LG 4k HD ready Smart TV. The Runner up will win themselves an exciting iPad Pro, while the third place player in each freeroll will win themselves an Apple Watch.
These tech prizes will be awarded in addition to the cash prizes that each player would receive for finishing in the top three of each tournament.
If players wish to, they can elect to take a cash prize equivalent to 50% of the value of their technology prize instead.
When time can you register for the freeroll and is late registration available?
Registration for each of the freerolls opens each week day at 5pm, two and a half hours before the freeroll is scheduled to start and registration will remain open until 20 minutes have passed in the tournament.
At this point, no further registrations will be permitted into the event
Do I still earn all my other rewards from the Sky Poker Rewards scheme?
One of the most exciting aspects of this offer from Sky Poker is that all the other rewards that players can earn on a weekly (or monthly) basis with the Sky Poker Rewards scheme are all still fully available as these prizes have been offered in addition to the usual rewards available.
This means that you can still earn a tournament token worth £2.30, plus earn more points and you could receive cash back of between 1p and 2p per point (depending on your Rewards Badge level and the number of Poker Points you earn in a week).
Furthermore, all the monthly rewards available for players that play regularly on the site and earn rakeback on their spending, are also still fully available.
Remember Sky's  Rewards Accelerator promotion too
One of the best things about Sky's Reward program is that you can earn points very quickly when you take advantage of Sky's Rewards Accelerator offer and for at least one qualifying

week of this promotion, you could earn a lot more points for a lot less spend if you play at the designated times.
As part of the Rewards Accelerator promotion, Sky Poker boosts the points earned during stated times of the week allowing players to earn up to 4x the usual number of points in the stated timescale.
The next scheduled Rewards Accelerator promotion is due rot run on Wednesday 13th, Thursday 14th and Friday 15th July, which means you can boost your poker points earned for the week beginning the 18th July very easily indeed.
Simply log in to Sky Poker from 7pm on those evenings and from 7pm to 8pm, every Poker Point you earn will be doubled. From 8pm to 9pm, every point you earn will be trebled and then from 9pm to 10pm, every Poker Point earned will be quadrupled.
What this means is that by using this offer, you will easily be able to earn the 50 Sky Poker points you need to qualify for the next week of Rewards Summer Freerolls, without having to spend anywhere near as much as you normally would to earn those points.