What could be better than enjoying some of the very best slot games you can find on any of the Bet365 family of sites? Well how about enjoying these slots and through your playing, giving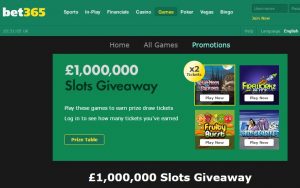 yourself a chance of earning a prize that could be worth as much as £5,000 simply for playing certain slots at certain times?
If that sounds like too good a deal to miss, then you should take a look the exciting new £1,000,000 Slots Giveaway promotion that started on Bet365 Games on the 31st October and which runs through until the 27th November.
Of course, to participate in this offer you do need to have a Bet365 account. You can easily join today and claim your first Bet365 bonus code by following the previous link.
Once you are a member you can then join with thousands of other Bet365 customers heading to the Bet365 Games site this month to participate in this fantastic, £1,000,000 in prize money guaranteed offer.
How does the £1m Slots Giveaway Work?
As the name of the promotion suggests, this is not a competition, but simply a giveaway although the more tickets you have entering a draw, then the more chance you have of winning a cash prize.
There are two parts to the competition and two different ways you can earn tickets into each of the prize draws.
There are two qualifying periods each week, one running from Monday to Thursday and the second from Friday through to midnight on Sunday and after each qualifying period, there is a prize draw, the first held on the Friday after the first qualifying period has ended, the second on the Monday.
For each qualifying period, Bet365 Games will list a number of Featured Games. These are the slots that you must wager £10 on during the relevant qualifying period in order to earn a prize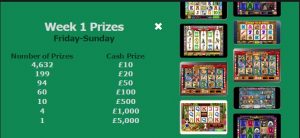 draw ticket. These games change every qualifying period, so it is important you know which Featured Games are the ones to target when you visit the site to participate in the offer.
In addition, every week one slot game on Bet365 Games is designated as a Double Ticket Game. For every £10 you wager on this game alone you will earn two prize draw tickets, double the amount you would receive for playing the Featured Games.  You can play the Double Ticket Game for the two qualifying periods in a week as the Featured Game will only change when a new week starts.
Once you have earned Prize Draw tickets, they are all entered into the next Prize Draw and if you receive a prize, then you will be notified of that by Bet365 Games and the cash added into your account.
When are each of the prize draws held?
The eight prize draws, complete with the total number of prizes and prize money to be awarded in each of the draws is outlined below. As you can see, as you progress through the weeks of the promotion, the number of prizes and the value of the cash prizes awarded in each draw increases.
| | | | |
| --- | --- | --- | --- |
| Prize Draw Number | Qualifying Period | Prizes on offer | Total Cash Awarded |
| 1 | Mon 31st Oct – Thu 3rd Nov | 5,000 | £75,000 |
| 2 | Fri 4th Nov – Sun 6th Nov | 5,000 | £75,000 |
| 3 | Mon 7th Nov – Thu 10th Nov | 6,000 | £100,000 |
| 4 | Fri 11th Nov – Sun 13th Nov | 6,000 | £100,000 |
| 5 | Mon 14th Nov – Thu 17th Nov | 7,000 | £125,000 |
| 6 | Fri 18th Nov – Sun 20th Nov | 7,000 | £125,000 |
| 7 | Mon 21st Nov – Thu 24th Nov | 12,000 | £200,000 |
| 8 | Fri 25th Nov – Sun 27th Nov | 12,000 | £200,000 |
What slots do I need to play and when to earn my tickets to the prize draws?
In the tables below we have outlined the different slot games you need to play for each of the eight prize draws, including both the Featured Games and also the Double Ticket Games.
Prize Draw Number
Qualifying Period
Featured Games
Double Ticket Game
1
Mon 31st Oct – Thu 3rd Nov
Fireworks Frenzy, Big Top Tombola & Bouncy Balls

Full Moon Fortunes

2
Fri 4th Nov – Sun 6th Nov
Fireworks Blitz, Fruity Burst & Arctic Adventure
3
Mon 7th Nov – Thu 10th Nov
Fluffy Favourites, George and the Dragon & Bounty of the Beanstalk

The Winnings of Oz

4
Fri 11th Nov – Sun 13th Nov
Britain's Got Talent Superstar, Rich Treats & Fairest of Them All
5
Mon 14th Nov – Thu 17th Nov
Dynamite Digger, Mafia Millions & Bar X

Clover Rollover

6
Fri 18th Nov – Sun 20th Nov
Rainbow Riches Slot (Bet365 Bingo only), Chests of Plenty & Leprechaun's Luck
7
Mon 21st Nov – Thu 24th Nov
Zodiac Supernova, Snow Queen's Magic & Adventures in Wonderland

Wild Gambler

8
Fri 25th Nov – Sun 27th Nov
Amazon Wild, Heart of the Jungle & Pirate Plunder
Are there any other rules and regulations I need to be aware of?
There is no limit on the number of prize draw tickets you can earn either for a single prize draw or across the promotion as a whole. For every £10 you spend on Featured Games and on the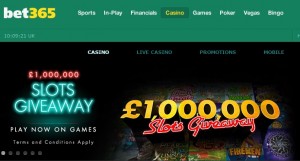 Double Ticket Games during the qualifying period, you will earn a prize draw ticket.
Similarly, players that enter multiple tickets into a single prize draw can win multiple prizes within that draw and also players that win a prize in one draw, can win subsequent prizes in any of the other draws they enter. Every ticket you earn has the potential to be a prize winner.
You can stake £10 cumulatively across each of the Featured Games and still earn a ticket. For example, on Prize Draw Week 2, you can spend £4 on Fireworks Blitz, £3 on Fruity Burst and £3 on Arctic Adventures and you would still earn one prize draw ticket.
You do not need to Opt In to this offer, playing on the Featured Games or Double Ticket slot during the qualifying period will automatically make you eligible to receive a prize draw tickets and any tickets you do earn will automatically be entered into the relevant draw.
The £1,000,000 Slots Giveaway is one of the hallmark promotions of Bet365 Games and it has been run with huge success for several years now, why not participate and see if you could be one of the lucky winners of a top individual prize of £5,000 simply for enjoying some of the finest slot games on the site.