It's generally rare that Sky Poker add a regular new tournament to their schedule. They already have a pretty full timetable of evening poker tournaments with their Main and Mini Events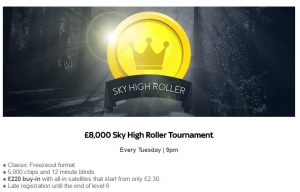 taking place each night (along with the chance to win the Final Table Jackpot).
However, if you are a recent convert to Sky Poker having just joined the site (and if you haven't yet joined, you can click on the following link to get the latest Sky Poker promo code) then you'll have noticed that this week has seen a brand new tournament added to the schedule on a Tuesday evening.
This is the new Sky Poker Sky High Roller event and the first of these was contested on the 20th September and going forward, there will be one of these tournaments every week from now on.
What is the Sky High Roller?
The Sky High Roller is Sky Poker's newest weekly competition, taking place each Tuesday night from the 20th September 2016 starting at 9pm UK Time each week.
The tournament is a freezeout event, which means players cannot rebuy in time and time again if they are eliminated and a buy in costs £220, £20 of which is a registration fee paid to Sky Poker and £200 of which goes into the prize pool. The Guaranteed amount for this event each week is £8,000.
Each player starts in the High Roller with a larger than normal stack of 5,000 chips and the blinds are increased every 12 minutes of competition.  If you are not there at the start of the event, you can register for the event at any point up to the end of Level 6 (which will take place approximately 72 minutes after the start of the tournament).
This event is clearly aimed at the Sky Poker customers that have a larger than usual bankroll and who want to play in some high value events. However, the good news for the remaining Sky Poker customers is that there are other ways you can earn a place in this event each week, other than paying the £220 buy in.
How can I play in the Sky High Roller?
Of course, a £220 buy in each week may be beyond the means of a significant number of Sky Poker customers but the good news is that there are a number of different ways you can enter this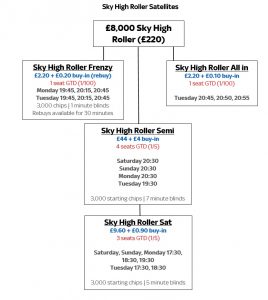 weekly event, without having to front up the full entry fee.
Sky Poker has devised a number of different routes into the big Tuesday Night event each week via a number of much cheaper satellite events with the cheapest of these being just £2.30 in total to enter.
There are essentially three different options you can play in each week to earn a place in the High Roller event.
Sky High Roller Frenzy Satellite
This event takes place on Monday and Tuesday evening each week at 19:45, 20:15 and 20:45 each evening. The buy in is £2.20 plus £0.20 and this is a fast and frenzied event. Players start with 3000 chips but blinds increase every minute and you can rebuy back into the event for 30 minutes after it has started.
One seat in the Sky High Roller is up for grabs for every 100 players that compete in this event which will be played through relatively quickly given the speed at which the blinds increase.
There are three All-In events available to play in for £2.20 + £0.10 buy in each Tuesday night at 20:45, 20:50 and 20:55. In an all in event, players are placed all in every hand until the winner of the tournament is decided. There is 1 seat in the Sky High Roller guaranteed in each of the three events for every 100 players competing.
Sky High Roller Satellite & Sky High Roller Semi
In addition to these two fast-format methods of earning a seat in the Sky High Roller, there is a satellite format also in place to allow players to satellite into the event for as little as £9.60+ £0.90 buy in.
Every Saturday, Sunday, Monday and Tuesday you can enter the Sky High Roller Satellite for just £9.60 + £0.90.  There are three of these satellites on Saturday Sunday Monday (ay 17:30, 18:30 and 19:30) and two on Tuesday evening at 17:30 and 18:30.  Blinds rise every 5 minutes and players start with 3,000 chips. Three seats are guaranteed in each Satellite into the next satellite.
That is the Sky High Roller Semi, which you can buy into if you prefer for £44 plus £4 buy in. These events take place at 20:30 on Saturday, Sunday and Monday nights and 19:30 on a Tuesday evening. Blinds rise every 7 minutes and each player starts with 3,000 chips. Four seats into the Sky High Freeroll are guaranteed in each Semi.
How talented will my opposition likely be?
With this event being one of the most expensive to enter on Sky Poker every week, the people that enter this event are likely to be those at Sky Poker who enjoy regular success at the poker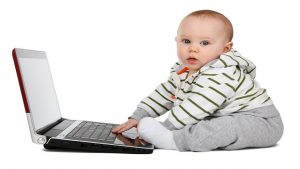 tables and who have either built up, or deposited, a significant sized bankroll to enable them to play in these higher value events.
Now, there's no cold and hard facts here but what this generally means is that those players on Sky Poker with the larger amounts of money earned from playing poker, are generally the stronger players and certainly the more consistent winners on the site.
It is therefore relatively safe to assume that many of the competitors in this weekly event will be the better players on Sky Poker, however there will also be a number of players who have satellite their way into this event. As such, the abilities of these players can be somewhat mixed as there are not only satellites available where you play your way into the Sky High Roller, but All In satellite events too where essentially it is a lottery and any player could win.
That means a typical tournament will likely comprise of a high number of the top players at Sky Poker with a smattering of players of mixed ability. Where you fall on that continuum, is down to you and your poker skills.
Can I play in the Sky High Roller on a mobile device?
Yes. Sky Poker's revamp of their mobile poker offering a while back now ensured that all mobile customers using the Sky Poker platform could access all the different types of games available on the site.
This means that you can play in this event from an iOS or Android device as you see fit from the Sky Poker app or from the mobile compatible version of the website. However, if you progress far into the tournament, then it is strongly advised that you have the capability to recharge your battery as you play as these events could take some considerable time to play through.
If you are going to be playing in several tournaments at the same time as the Sky High Roller, then you can multi-table, although it is easier to do this via a desktop PC, or a larger mobile device (such as a tablet) than it is on a smaller screen device.