A new month often heralds a change of promotions at Bet365 Poker and once again we have not been disappointed as gone are the promotions that ran through until the end of March and now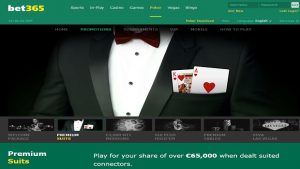 what we have is the exciting new Premium Suits promotion.
So what exactly is the Premium Suits promotion and what do you need to do to participate in it? Well all the answers to these questions will be outlined below.
What is Premium Suits?
Over the course of April, Bet365 Poker has a total of €65,000 in prize money waiting to be won through their exciting Premium Suits promotion. Over the course of the promotion, which runs from 3rd April 2017, through until 30th April 2017, players will need to be dealt a series of hands to earn themselves prizes including Daily All in Shootout Freeroll tickets and Weekly All In Shootout Freeroll events.
Provided you are a Bet365 customer, all you need to do is log in to your account and head on over to the Missions section once you have loaded up the Bet365 Poker client software and then click on the Start button for the mission that you want to complete.
Let's now take a look at how the daily and weekly missions are organised.
Premium Suits Daily Missions
The table below outlines what each of the different missions are for each week of the promotion for the player to win a Daily Missions €1,000 Premium Suits Tournament Ticket – an All In Shootout Freeroll event. For this promotion the cards required to complete the mission must be dealt at the No Limit Hold'em Cash Tables on Bet365 Poker with minimum stakes of £0.05/£0.10 or €0.05/€0.10 or above.
| | |
| --- | --- |
| Week | Daily Mission to be completed |
| 1 | Be dealt Ace-King of the same suit as your hole cards |
| 2 | Be dealt King-Queen of the same suit as your hole cards |
| 3 | Be dealt Queen-Jack of the same suit as your hole cards |
| 4 | Be dealt Jack-Ten of the same suit as your hole cards |
You can complete the daily mission once per day to earn a Tournament Ticket every day of the promotion. Once you have earned a ticket you can then use it to register for the next Daily Missions €1,000 Premium Suits Freeroll. As this is an All-In event, you don't need to be present on site when the tournament takes place as all players are placed All In on every hand until the winner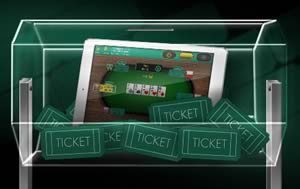 is decided.
The €1,000 Premium Suits Freeroll takes place every day throughout the promotion at 19:00 GMT and are single-entry events.
Premium Suits Weekly Missions
It's rather simple to complete the Weekly Missions because you have to collect the exact same cards as you would for the Daily Missions at the same tables. Only with the Weekly Missions, you have to collect these cards as your hole cards on three separate days within the weekly qualifying period.
What this means is that you need to collect the cards outlined below on three different days. If you are dealt the same hole cards twice on a single day, then that only counts as one towards your weekly ticket total.
| | |
| --- | --- |
| Week | Weekly Mission to be completed |
| 1 | Be dealt Ace-King of the same suit as your hole cards |
| 2 | Be dealt King-Queen of the same suit as your hole cards |
| 3 | Be dealt Queen-Jack of the same suit as your hole cards |
| 4 | Be dealt Jack-Ten of the same suit as your hole cards |
If you earn yourself a ticket for the €10,000 Premium Suits Freerolls then these take place at 20:00GMT every Sunday throughout April starting on April the 9th and also on the 16th, 23rd and 30th of April. These are also All-in events that players only need to register to enter and do not actually need to be on site to participate in the event.
Once you have completed your Weekly Mission, then you have a chance to earn an additional ticket into this event by completing a further mission that will become available once the Weekly Mission has been completed. If you then go on to complete this second mission, then you will earn an additional Tournament Token for the next €10,000 Premium Suits Freeroll. Each player can enter this freeroll a maximum of twice.
Do I have to use my Tournament Tokens earned on the next available Freeroll event?
No, you don't. If you earn a Daily or Weekly Tournament Token as a result of this promotion, then you can only use that token on events associated with that promotion. However, if you don't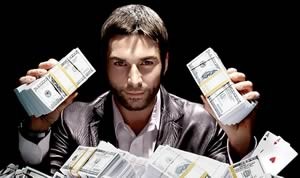 want to play in the next available event, you can keep hold of your token and use it any time before the promotion comes to a close.
For example, if you earn a Weekly Tournament Token for the big Sunday night Freeroll for this promotion, but forget to enter it in the tournament on the 9th April, you can use it on the tournament on the 16th, or the 23rd or the 30th. However if you fail to use it after this final tournament, the ticket will expire.
How will winning tickets in the Freeroll events be paid out?
There will be a different number of winning tickets in each of the Daily and Weekly freeroll events, each of which will offer a different cash prize based on how far your ticket went in the tournament. Your cash will be paid into your account as bonus funds (hence it cannot be withdrawn) but you can use the cash you may win to enter Bet365 Poker events.
What happens if I forget to click on the Start Button before I start a mission?
Any play that occurs before you click on a the Start button for the mission you want to complete will not count towards that mission. You must remember to click start on the mission you want to complete before you start playing. Furthermore you must collect the hands at the No Limit Hold'em Cash Tables only, on stakes of £0.05/£0.10 or €0.05/€0.10 or above