This year will see the 25th competing of the World Matchplay Darts tournament, which has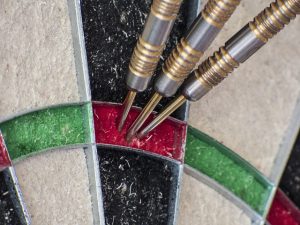 been held since the tournament began at the Winter Gardens in Blackpool. This year, the competitors will be competing for the Phil Taylor Trophy, after it was renamed in honour of the now-retired darting legend, who tasted victory on an incredible 16 times at Blackpool (including last year in his final top tournament win).
This year's champion will take home a top prize of £115,000, with the runner up receiving £55,000. The action began on Saturday 21st July with the first round of 16 games getting underway. The first round continues through until today (Monday 23rd July) with the subsequent rounds being played out over the remainder of the week through until Sunday 29th July.
Darts betting is hugely popular especially in the UK and bet365 Sport offers a wide range of bets including betting on each of the games at the World Matchplay, as well as betting on the outright winner of the tournament, as well as a host of other bets too.
Before we bring you our tips on who to watch at the tournament and who to back as the winner, let's now take a look at the history of the tournament over its 25-years.
A History of the World Matchplay
The PDC World Matchplay began 25 years ago at the Winter Gardens in Blackpool and for many darts fans it is the essence of pure darts. There is no legs and sets in this event, players simply play a straight race to a stated number of legs to win their match.
However, players must win their match by two clear legs and if after six extra legs, no player has established a two-leg lead to win the match, then a single deciding leg is played. In first round games this takes place if the match between the players reaches 12-12.
Other than the World Championships, it is regarded as the second most prestigious tournament on the darts calendar and over the years, there have been just seven different winners.
World Matchplay Darts Winners
1994 – Larry Butler beat Dennis Priestley – 16-12
1995 – Phil Taylor beat Dennis Priestley – 16-11
1996 – Peter Evison beat Dennis Priestley – 16-14
1997 – Phil Taylor beat Alan Warriner – 16-11
1998 – Rod Harrington beat Ronnie Baxter – 19-17
1999 – Rod Harrington beat Peter Manley – 19-17
2000 – Phil Taylor beat Alan Warriner – 18-12
2001 – Phil Taylor beat Richie Burnett – 18-10
2002 – Phil Taylor beat John Part – 18-16
2003 – Phil Taylor beat Wayne Mardle – 18-12
2004 – Phil Taylor beat Mark Dudbridge – 18-8
2005 – Colin Lloyd beat John Part – 18-12
2006 – Phil Taylor beat James Wade – 18-11
2007 – James Wade beat Terry Jenkins – 18-7
2008 – Phil Taylor beat James Wade – 18-9
2009 – Phil Taylor beat Terry Jenkins – 18-4
2010 – Phil Taylor beat Raymond van Barneveld – 18-12
2011 – Phil Taylor beat James Wade – 18-8
2012 – Phil Taylor beat James Wade – 18-15
2013 – Phil Taylor beat Adrian Lewis – 18-13
2014 – Phil Taylor beat Michael van Gerwen – 18-9
2015 – Michael van Gerwen beat James Wade – 18-12
2016 – Michael van Gerwen beat Phil Taylor – 18-10
2017 – Phil Taylor beat Peter Wright – 18-8
Phil Taylor holds the record amount of wins with 16, well ahead of Michael van Gerwen and Rod Harrington who have two each and the other four winners, Larry Butler, Peter Evison, Colin Lloyd and James Wade have each won the title once each.
Taylor appeared on 17 finals in total in his career, winning all but the penultimate one when he was beaten by Michael van Gerwen in 2016, however he returned a year later to win his 16th World Matchplay title beating Peter Wright in the final.
Other players to reach multiple finals include James Wade (six appearances in the final, one win), Michael van Gerwen (three appearances, two wins), Dennis Priestley (three appearances, no wins) and Alan Warriner John Part and Terry Jenkins (each making two appearances but not winning either).
The highest recorded average in the final was set in 2013 when Phil Taylor averaged an incredible 111.23 when defeating Adrian Lewis, who himself averaged 105.92 in that memorable final. In contrast, Rod Harrington won the 1999 World Matchplay with an average in the final of just 85.95. This remains the lowest three-dart average in the final of any player competing, winner or loser, in the tournament's history.
The tournament also boasts a number of historic moments. In 2002, Phil Taylor landed the first ever televised nine dart finish broadcast live on UK television. Taylor landed another nine-darter in 2014 and other players to land nine dart finishes in the tournament are Raymond van Barneveld, John Part, Michael van Gerwen and Wes Newton.
Who stands a chance of winning in Blackpool this week?
Let's take a look at some of the big names who are expected to do well in Blackpool this week at the World Matchplay starting with the man who is always the favourite no matter what tournament is being contested, the current World Number 1, Michael van Gerwen
Michael van Gerwen (Hol) – 8/11 with bet365
The Dutchman is enjoying another stellar season in 2018 winning a total of 15 titles so far this year including the Premier League and The Masters, as well as the World Cup of Darts with compatriot Raymond van Barneveld. Quite simply, there is no player on tour that can match the sustained scoring power and finishing of van Gerwen at present, although when he has a poor day, other players can surprise him. He's odds on to win here and given that this is a straight legs tournament rather than sets, it is easy to see why.
Gary Anderson (Sco) – 13/2 with bet365
It's been a relatively quiet year for the Scot, who did win one big tournament in the UK Open earlier on in the season, the first time that he has ever won that event. It is fair to say though that Anderson does tend to keep his best darts for the bigger tournaments and in terms of pure natural ability, he is probably (along with Rob Cross) one of the few players who could better van Gerwen when the Dutchman is playing well. He's never got beyond the semifinal of the World Matchplay, reaching that stage in both 2014 and 2016 and this year he could perhaps go one better.
Rob Cross (Eng) – 7/1 with bet365
The current World Champion has enjoyed a strong season in the major PDC events this year. After shocking everybody to win the World Championship on New Years Day, defeating Phil Taylor in the process, Cross has also reached the quarterfinals in The Masters and the UK Open as well as finishing second to Michael van Gerwen in The Premier League Darts tournament. He went out of the World Matchplay in the second round last year but I am expecting him to do much better this time around and he could be a solid longer odds selection for the outright winner, if he can find his best form.