Ever since Sky Sports first came to the wider attention in the UK, ostensibly when they claimed the TV rights to the new FA Premier League back in the mid 1990s, a sporting behemoth was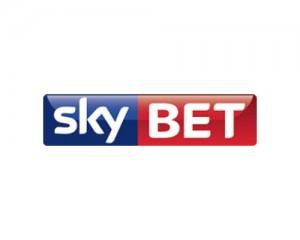 born. Now the channel owns the rights to many top sporting events and enjoys a close link with the SkyBet sportsbook.
Part of the television channels sports coverage involves a presenter sat with one or more resident experts or pundits as they have become known. Some pundits, such as the likes of Andy Gray, Gary Neville, Jamie Carragher, Jamie Redknapp, Graeme Souness and more have forged a second career as an expert on their chosen sport for Sky Sports.
As part of their betting service, SkyBet have decided to utilise the expertise of several of these pundits across a broad range of popular sports in the UK as part of their free betting tips service. You can access the blogs of these punters by clicking on the Free Betting Tips link in the Extras column at the foot of the SkyBet home page.
The good news is that you don't have to be a SkyBet customer to read the blogs, however if you wanted to place a bet after acting on the information provided within, you would need to be a SkyBet customer. Click here for the latest information on the best Sky no deposit bonus available to you when you sign up.
Let us now learn a little about each of SkyBet's six tipsters and their particular areas of expertise.
SkyBet's Pundits
Alex Hammond – Horseracing Pundit
Alex Hammond is SkyBet's resident horseracing pundit, combining her role as a presenter in the mornings for Sky Sports news along with her love for the Sport of Kings. She also serves as a presenter on the At The Races channel and is also a keen amateur jockey herself, with over 50 rides across the UK to her name.
Alex's role as a pundit is well respected. Each day she posts her "Tip of the Day" on her blog, the SkyBet website and also it is announced on the Sky Sports News channel every morning. Alex is married to jockey Richard Quinn, so you can be sure that the tips she passes on are likely to be coming from trusted sources within the horseracing industry.
Alex's blog posts are updated relatively frequently, especially on the eve of a big meet and with both Cheltenham and Aintree on the horizon in a relatively short space of time, plus all the action of the Flat Racing season, this is one blog that horseracing punters should keep a close eye on.
Jamie Redknapp – Football Pundit
Jamie Redknapp is SkyBet's resident football pundit. Forced to retire due to recurrent knee problems, Redknapp had enjoyed a career with the likes of Bournemouth, Liverpool, Tottenham, Southampton and England before he was forced to quit the game at the tender age of 31.
Immediately after his career ended, Redknapp was invited to become a soccer pundit with the BBC where after a relatively short amount of time, he impressed the bosses at Sky Sports enough to be invited to work with the channel on a full time basis.
Jamie's blog post are amongst the most widely read and regularly updated of all the pundits given the amount of matches that take place during the football season and through the blogs he will give punters a number of different tips for forthcoming matches.
Ed Chamberlin – General Sports Pundit
Of all the SkyBet Pundits Ed Chamberlin is perhaps the most unusual as unlike the other five, he does not have an obvious affiliation with one sport in particular, having developed his career as a TV presenter more so than a sporting star.
However, over his time as a presenter across a wide range of sporting events for Sky, plus a sting on Sky Sports News, Ed has become something of an expert across a number of different sports, offering betting tips on a far wider range of events than the other tipsters.
Ed's blog does offer tips on sports covered by other pundits, so it can be enlightening to read what he feels are the best bets of the day, compared to those of some of his other fellow pundits on the site.
Johnny Herbert – F1 Racing Pundit
One of the most recognisable faces in motor sports, Johnny Herbert is perhaps best known for the 11 years he spent in Formula 1, racing 160 times in his career and earning three victories and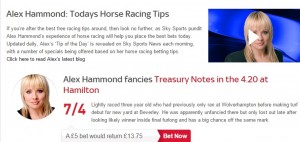 seven finishes inside the top three. After hanging up his drivers helmet, Johnny has become a regular contributor to Sky Sports F1 coverage and SkyBet's incumbent F1 pundit.
During his career in F1, Herbert raced for teams as diverse as Lotus, Ligier, Sauber, Stewart, Jaguar and Benetton. In 2001, Herbert switched codes trying other forms of motor sports including racing in the 24-hour Le Mans race, Speedcar and also in British Touring Cars.
The F1 season runs from 20th March through to the 27th November with 21 races slated for the 2016 campaign. Check out Johnny's blog before each race throughout the season for all his latest F1-inspired betting tips.
Sir Ian Botham – Cricket Pundit
One of the greatest cricketers ever to play the game, former England captain, Sir Ian "Beefy" Botham enjoyed a stellar career in the game as one of the few genuine all-rounders. During his test career, he hit 14 centuries and took 383 wickets for England, earning himself a place in the ICC Cricket Hall of Fame in the process.
After retiring from the game, Botham continued to be a controversial figure with his outspoken and forthright views often in sharp contrast to his peers who tend to take a more moderate line.
Having earned a knighthood for his considerable work for charitable causes, Sir Ian is part of Sky Sports cricket team and when there is a major test series in the pipeline, you can catch Ian's thoughts and tips in his blog posts.
Rob Lee – Golf Pundit
After a long career as a professional on the European Tour, Rob Lee finally gave up life as a tour pro in 1999 and moved into the field of broadcasting, becoming one of Sky Sports predominant golfing analysts.
Lee proved a natural at presenting with his laid back demeanour and gentle humour seeing him move from being a guest, to taking on a presenting role. Lee is now one of the most familiar faces on all of Sky Sports extensive golf coverage.
Rob takes you through many of the top forthcoming golf tournaments, including all four Majors, throughout the year on his blog, offering insight and tips on which of the world's best golfers will be in contention.