Real world sports have a competitor nowadays. Of course, we've been betting on real life sports events for many years, but the computerised age has ushered in a new form of sport. One not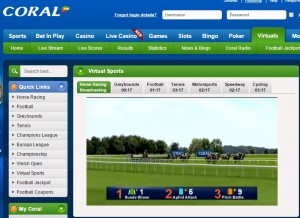 reliant on the health and fitness of its participants and which can run 24 hours a day, 7 days a week, 365 days a year.
This is the relatively new world of Virtual Sports, so named because of the famed Virtual Reality headsets that never really quite caught on. Fortunately for punters, there's no strange eyepiece to strap to your head to view Coral's Virtual Sports games, all you need is a mobile, tablet or PC and an Internet connection.
So how do Virtual Sports compare to real world sports betting? What is it they offer and what Virtual Sports can you bet on at Coral Sports? Let's find out the answers to these questions and more.
What Virtual Sports do Coral Offer?
You can find the Virtual Sports on offer at Coral Sport under the Virtuals tab at the top of the page after the Poker tab. Clicking on this will open the dedicated Virtual Sports menu and it is here you can see all the sports that are currently part of this service at Coral.
There is a choice of the following sports:
Horseracing
Greyhound Racing
Football
Tennis
Motorsport (Car)
Speedway
Cycling
The start time for each of the events in each sport is staggered so that usually there is one or more sporting events just about ready to start off, while others may have a couple of minutes to wait before starting, time which allows players to peruse the available betting markets and place a bet.
The choice of betting markets available for each sport also depends on the sport picked. For Horseracing, Greyhounds, Motorsport, Speedway and Cycling, these are race-based sporting events and so the betting markets available on these reflect this. You can, for example, back the winner, a Forecast or Tricast bet is available and you can back Each Way in some events too.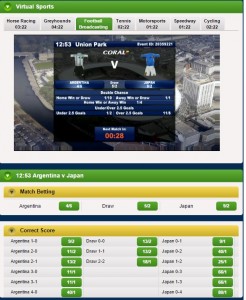 For more game based events, such as Tennis and Football, there are a number of other betting markets available. In Virtual Football for example, you can back which team will be the winner of the game, what the correct score will be, the total number of goals that will be scored in the match, whether there will be Over/Under 2.5 goals in the game and a double chance bet where you can back two outcomes of the three possible.
In Virtual Tennis you have similar options but based on a Tennis theme, so you can back the winning player, the correct score of the game that is played and the total number of points contested in that game.
Each sport has an event starting every five minutes, but as we have stated, start times are staggered across the sports so you are always close to an event starting in one of the virtual sports on offer at Coral.
Once you have placed your bet and the timer runs down for the event you have bet on, the Virtual Sport in question begins and you can then view the sporting event on your chosen device.
For the race-based events, this comprises of the race in full and for Tennis, this comprises of one game of tennis between the two players, where you view all the points contested. In football however, it is slightly different as you only get to view key highlights from the game including goals, missed chances, penalties, free kicks, saves and similar.
After your chosen sports event has finished a summary of the event is displayed on the screen outlining which of the betting markets for that event were the winners and if you have won, any money is credited to your account immediately. You can then move on to the next event (starting in five minutes time), or try your luck on another Virtual Sport with a more immediate start time.
What type of punter would enjoy Virtual Sports?
It is fair to say that Virtual Sports are something of an acquired taste in the world of sports betting. Punters who like to peruse the stats of real life teams and players, or who like to thoroughly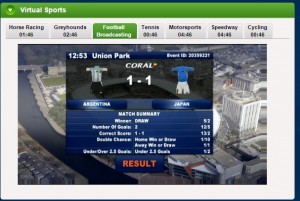 research their bets before they place it, will likely find the ad-hoc and haphazard approach to betting in Virtual Sports not to their liking.
However, if you are a punter that enjoys smaller wagers and the rapid-fire approach to Virtual Sports that means bets are decided very quickly, then this is a form of betting that will readily appeal to punters.
There is also a significant appeal to casino gamers or National Lottery players or slot players and the like who enjoy playing games with a significant amount of luck involved in deciding the outcome. While Virtual Sports are not 100% based on luck (the differential in odds means that performers are weighted to give realistic outcomes), it is a fast, enjoyable and quick form of wagering very similar to playing a slot machine.
Virtual Sports also appeal to punters who may not have a huge amount of time when it comes to placing a bet, but who want to bet on a sporting market or similar. You can spend an hour of your lunchtime for example placing many Virtual Sports bets and you'll know before you head back to work the outcome of each of those bets.
Could Virtual Sports be as profitable as real life sports betting?
Whether or not Virtual Sports could be as profitable as real life sports betting would depend very much on the punter in question. If you are a punter who spends a lot of time researching their sports bets and makes bets carefully and astutely, then the likelihood is that Virtual Sports won't prove to be as profitable for you as sports betting, for the obvious reasons.
However, if you are a more general punter who places bets somewhat randomly and based on gut instinct or similar, then there is no reason why betting on Virtual Sports cannot be every bit as profitable, or more so, than placing a bet on real life sports.
Coral Sports offers seven Virtual Sports games to play every day of the year, 24-hours a day. Why not log in to your account now and play, or if you have not yet joined, click here for the latest Coral bonus codes to get yourself up and running on the site.