Although it is often one of the last things that a punter will look at when they first join a betting site, the humble betting slip is without doubt one of the most important features of any sports book.
An ill-designed, poorly thought out and confusing betting slip can be the death knell for a company as its customers will seek to place their bets with another bookmaker who makes things considerably easier for them to bet with them.
While most betting slips generally contain the same features and perform what is essentially the same task from site to site, namely to facilitate the placing and storage of bets made by an individual on the account, there are some betting slips that set the bar very high as to what can be achieved and how useful they are to punters.
Coral Sports' betting slip is a very good example of this.
What makes Coral's betting slip stand out against many others are a number of key features, the most important of which we have outlined below.
To use the slip of course you'll need to be signed up with a Coral account. Joining is quick and easy, and to make matters better, new UK players can claim a Coral welcome bonus – click the link for more information.
The Float feature
On most betting sites, the betting slip is often located in the top right corner of the screen and you always have to click there to access the slip and its features. There is nothing wrong with this as such, but sometimes it is good to have the option to move your bet slip around the screen so it is more accessible and reveals other bets and features of the site.
This is precisely what Coral's Float feature on the betting slip does. While at log in the betting slip is in the top right corner of the page, you can click on the Float Icon and drag the betting slip into any position on the screen. In doing so, you will also move up some of the other features listed in the right hand side column, including live streaming sporting events (if you have a credit account).
This is a very useful feature as it allows you to move the betting slip away from the main screen so you can see more of the betting markets. No matter where you move the slip, adding bets to it remains as simple as clicking on the odds.
If you want to move the betting slip back into its customary position, simply click on the anchor icon and it will return to its position at the top right hand side of the screen.
Bet Slip help feature
Next to the Float/Anchor button is a question mark icon and clicking on this brings up the Bet Slip Help feature. As the name suggests, this is a series of instructions to help you place a bet with Coral.
However unlike many other sites which offer a text-based approach (which is somewhat dull and potentially confusing if you are a new player) Coral use a series of screenshots to clearly indicate the processes of placing a bet, which make it more interesting to read and easy to follow.
It may only be a small feature of the site but the information contained in it is extremely useful, especially to novice punters who may be trying to bet online for the first time.
Bets that you can cash out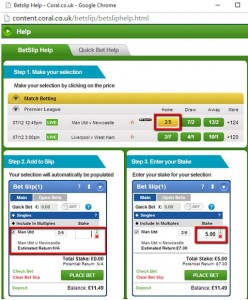 Underneath the Bet Slip header, there is an orange bar which lists Bets That I Can Cash Out. It is therefore self-explanatory what clicking on this bar will bring up.
This is great for punters who like to use the Cash Out feature when they place a bet, especially multiple bets or accumulators, and who may feel that one of their later selections may not have a great chance of success, so want to cash out to maximise their return (or minimise their losses).
Clicking on the tab brings up a list of all the bets you have made, complete with a status of whether they are available to cash out, what your stake was and how much you will receive if you cash out the bet at the present time.
Having quick access to this, especially when time can be of the essence if you are looking to cash out a bet, is important so it is excellent news for punters that this feature is so clearly marked and easy to use.
Main betting section
The main betting section is where any selections that you add to your betting slip are recorded and listed. Each individual selection is listed initially on the bet slip and underneath, you can access a list of all the different accumulator and multiple bets that are also available for the selections you have made.
The number and availability of these bets depends on the markets you have bet on and the number of selections you have added to your slip.
Coral make this section very simple for the user to follow whether they want to place single bets, or multiples. The number of betting lines for each type of multiple is also shown, which is very helpful for new punters who may not be aware that a multiple bet can contain many lines, all of which have to be covered by the unit stake.
Open bets
As the name suggests, the Open Bet feature lists all the bets you have made recently which have not yet been settled by Coral. You can also view your history of settled bets by clicking on the View Bet History option near the bottom of the list.
You can then set a time frame which you can search between to discover the outcome of all the bets you have placed with Coral.
Quick bet feature
If you are a punter that tends to bet the same amount on your selections, then the Quick Bet feature is one that makes betting with Coral even speedier. Simply select what your usual Quick Bet amount is (this can be selected from a list, or defined by the user) and then turn the feature on.
Now when you click on the odds for a horse, you can place the bet immediately in a pop up window, which will list the bet and your chosen stake for ease of use.
Clear bet slip option
Particularly useful if you are fond of making accumulator bets, or other multiples, is the Clear Bet Slip option. It can be easy to add too many selections to your slip, making it unwieldy to sort through, so why not start again?
Click the Clear Bet Slip option and you have a brand new, empty bet slip which you can fill with the bets you do want to make immediately.
Deposit link
Another simple but useful feature. If you have not checked your account lately and you want to place a bet but you've run short of funds, there's no need to log out and find the Cashier. Click on the green Deposit link and you'll be taken straight there so you can get funds in your account more quickly.
Image Martin Good / Shutterstock.com