The popularity of online poker has seen an increasing number of people elect to try and make a living playing the game. While not everybody can enjoy massive tournament poker success like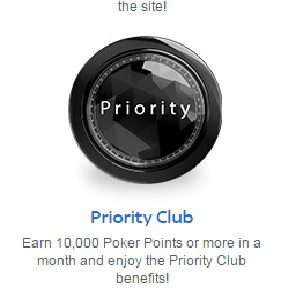 Chris Moneymaker did back at the 2003 World Series of Poker, or that high stakes players like Daniel Negreanu, Phil Ivey and Tom Dwan enjoy today, there is a thriving market for players who grind out a profit by multi-tabling on sites just like Sky Poker.
Of course, before you can even consider changing careers to try and eke out a living at the poker tables, you need to be a Sky Poker member. Click here to get the latest Sky Poker promo code for 2016 and all the information you will need on how to sign up.
Now, it is not up to me to suggest whether or not you can earn a living playing poker. That is very much down to your skills and abilities as a poker player combined with your ability to earn enough money at the tables to post a profit while covering all your living expenses and more. However, if you play a lot on the Sky Poker site then you can earn yourself a big bonus each month.
That becomes from becoming a member of the Sky Poker Priority Club and activating up to 20% in cashback (on Sky Poker, it is called rakeback) on your total spend over the course of the month.
Let's learn a little more about this qualifying members-only club available on the site.
What is Sky Poker's Priority Club?
Sky Poker's Priority Club is an add-on to the Sky Poker Rewards programme. With Sky Poker rewards players can earn themselves a number of bonuses based on how much they spend while playing at the site over the course of a week. The more you spend, the bigger the bonus that you receive.
However, there are a small number of players who generate a considerably larger amount of points than the usual player on Sky Poker, which starts at over 10,000 Sky Poker Points per month. It is for these 'higher roller' players that the Sky Poker Priority Club was created to offer additional benefits to those received from the Sky Poker Rewards offer.
There are four levels in the Sky Poker Priority Club:-
Priority Bronze (10,000 points to 19,999 points per month)
Priority Silver (20,000 points to 29,999 points per month)
Priority Gold (30,000 points to 49,999 points per month)
Priority Platinum (50,000+ points per month)
It is very simple process to become a member of the club, all you need to do is earn over 10,000 Sky Poker Points in a given month.  Once you do, then you will be given the coveted Priority Club membership which offers members a number of outstanding bonuses.
What does my Sky Poker Priority Club membership offer me?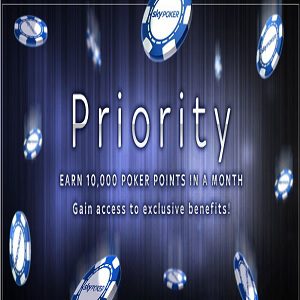 Membership of the club is all well and good, but what does it offer you as a Sky Poker player to make it worthwhile joining?
Here's a list of just some of the benefits available to you as a Sky Poker Priority Club member:
A chance each month you are a member to win a chance to play in the Priority Big Cash Game where Sky Poker will give you £1,500 of their money to play against five other players for a chance to win a bigger share of the £9,000 available at the table.
Access to Priority Freeroll events, exclusively for Priority Club members, that offer total prize money of at least £3,000 every month.
You will be assigned a dedicated Personal Account Manager who will deal with you personally regarding any issues you may have with the site. You also have access to the dedicated Priority Club Service Team who will deal with any issue expediently.
You will receive a special Birthday Bonus treat on your birthday each year.
Sick Day allowance available for members who may not be able to earn 10,000 points in a month for whatever reason.
Bubble Insurance for Sky Poker players playing in the 8pm Main Event tournament, which means that should you be eliminated from the tournament on the bubble, you will receive your tournament buy in back. Furthermore, the higher you are rated on the Priority Scheme, the more places this insurance will pay out. Bronze members will receive the bonus on the bubble only. Silver on the Bubble plus 1 place before, Priority Gold on the Bubble plus 2 places before and Priority Platinum it is the Bubble plus 3 places before.
Jackpot Boost is also available for Priority Club members on the Final Table Jackpot promotion. Land any prize in this promotion by finishing in the top six in one evening of Sky Poker's Main and Mini event (starting at 8pm and 8.30pm respectively) and you will win a boost in prize money. Bronze members get a 5% boost, Silver 10%, Gold 15% and Priority Platinum receive the maximum 20% boost (worth a potential extra £1,000 on top of your usual Jackpot and Tournament winnings).
However, potentially the biggest benefit for Sky Poker Priority Club members comes from their rakeback. Once again, the level you are at in the scheme dictates the percentage of rakeback of your spend at the site that you receive back.
Priority Bronze members will get a 10% rakeback paid to their account each month. Priority Silver get 12.5%, Priority Golf 15% and Priority Platinum get the largest rakeback percentage of 20%.
Considering that most Priority Club members will spend many thousands of pounds playing on the site each month, this rakeback offer can quickly turn into a very important revenue stream for higher rollers on the Sky Poker site.
Once I am in the Priority Club, do I still earn my usual Reward Scheme bonuses?
The great thing about Sky Poker's Priority Rewards club is that when you become a member, the rewards you receive as a member are paid in addition to the rewards you would receive as a member of the Rewards scheme. So you will still receive all your weekly bonuses from Sky Poker, alongside the additional benefits of Priority Club membership, including entry into five £1,000 Rewards Freerolls every week from Monday through to Friday.
As you can see, as a Priority Club member on Sky Poker, you receive a lot of additional benefits alongside the usual benefits of the Reward scheme. Of course, you do have to spend a significant amount in order to receive these benefits on the site, which is why they tend to be available for the higher rollers only. Nevertheless, if you are a high roller at Sky Poker, you can be sure that you'll get a great deal when you play thanks to the double-incentives available via the sites Reward and Priority Reward programs.