Bet365 has teamed up with Incentive Games once again, but this time to announce the release of a brand-new free-to-play game at Bet365 Games.
It is called Unleash A Mercenary, and it is based on characters created for the Mercenary X slot.
The original game was produced by Incentive Games and released on bet365 back in December 2022.
It has since gone on to be a popular addition to the casino gaming site.
And now this new promotion means that Mercenary X is going to be even more popular with customers!
The Unleash a Mercenary Free-to-Play game is available to participate in on the bet365 Games platform now.
How to Participate In The Unleash A Mercenary Free To Play Game
To play, you need to be a new or eligible customer with bet365. Additionally, you need to have made at least one deposit into your account previously.
The Unleash A Mercenary game is a game where players reveal icons and collect them to earn a prize.
One entire game lasts one week, from 5pm on Monday through to 4.59pm the following Monday (both UK Times).
Each game is subdivided into seven days. With each game day lasting from 5pm on one day to 4.59pm the following day.
On each day of the game, players can log in to bet365 and head to the promotional page for Unleash A Mercenary.
Here they are given 3 picks to reveal 3 of the tiles on their game board.
Each pick reveals either a tile, or a blank square.
Each tile picked is added to your total for the different prizes to be won.
Once you have collected enough tiles for a prize, you can claim the prize.
Prizes range from 5 to 25 Free Spins, plus there is also a cash prize available to be won, which will be added directly to your Withdrawable Cash balance.
Over the course of the 7 days, you can reveal 21 tiles to see if you win a prize.
However, if you miss a day's tiles, you cannot subsequently pick them on another day as they expire if not used on the game day they were allocated.
Once we reach 4.59pm on Monday, that week's game will end. At this point, your game board is wiped clean and reset at random.
You can then begin a new game with a new game board from 5pm Monday.
If you win a cash prize, then the cash is added to your withdrawable balance. There is no wagering requirement on the cash prize and you can withdraw the cash if you wish.
If you win any Free Spins prize then your Free Spins are played at £0.20 per spin on the Mercenary X slot game.
Consequently, if you land a win on your free spins. This cash is then added to your withdrawable balance as there is no wagering requirement on these cash wins either.
There are several prizes available on the Unleash A Mercenary game each week. However. It is not guaranteed that you will be a winner.
"Historic Moments"
Speaking about the release of the free-to-play game, CEO of Incentive Games John Gordon remarked:
"This is one of those historic moments where everyone will remember where they were when bet365 launched Unleash A Mercenary… I was playing Chess in Ibiza,"

"Harnessing the sublime graphics from Mercenary X takes this game to the next level. Coupled with our world-class user segmentation and data analysis, Unleash a Mercenary really is a game-changer."
In response, a spokesperson from bet365 also said:
"The release of Mercenary X in December 2022 allowed us to elevate our in-house Games product, enhancing our 'Originals' brand. Now we're able to do the same for our customers in the form of Unleash A Mercenary, our latest free-to-play offering to all new and eligible customers."

"We're delighted to once again partner with incentive Games and hope that Unleash a Mercenary unleashes an amazing gaming experience for our players."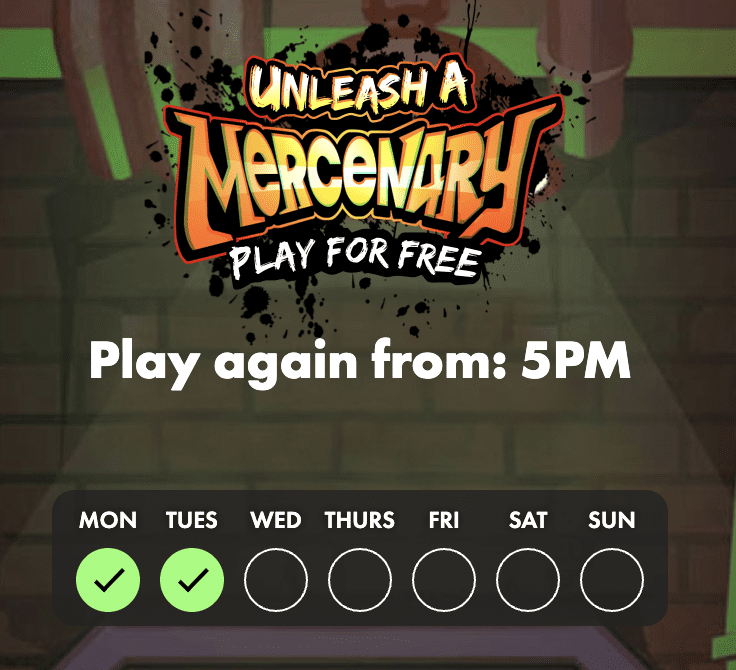 Latest Free To Play Game from Bet365
This latest release is the newest addition to a growing free-to-play range of games and attractions at bet365.
At bet365 Sport, customers can compete in the weekly Goals Giveaway promotion. At bet365 Bingo, there are free to play game rooms available from set times each day.
Customers at bet365 Poker can play in a number of freeroll events each day, while Bet 365 Fantasy gamers have a choice of free to play fantasy offerings too.
Key Terms and Conditions of the Unleash A Mercenary Game
The game is available for eligible customers that have previously deposited cash into their account.
Each 24-hour promotional period runs from 5.00pm UK Time, starting on the 17th July 2023.
The game is divided into weekly periods. Each weekly game period starts at 5pm on the Monday and runs until 4.59pm the following Monday.
When the weekly promotional period ends, the grid on which players have made their selections will reset back to default.
You can reveal up to three tiles on your grid each day of the promotional period.
If you do not use up all your reveals then they do not carry over into the next 24-hour period.
There is no guarantee you will win a prize.
Prizes available are either Free Spins, or a cash prize.
Cash prizes are added immediately to your withdrawable balance.
Free Spins are added to your account and must be claimed and used within seven days of receipt.
All Free Spins prizes must be played on the Mercenary X slot.
Each Free Spin you win has a spin value of £0.20 per spin.
Any winnings you achieve from your Free Spins do not have any wagering requirement and can be freely withdrawn.
Bet365 have really given this free to play casino game a lot of thought. And working with Incentive Games, whose expertise lies in free-to-play gaming, was a very wise move.
So why not see if you can Unleash a Mercenary and gain a few free spins, or some extra cash courtesy of bet365 Games!