If you are someone who enjoys a bet while you are watching a sporting event, either in person, on television or via live streaming, then a quality in play betting service is an absolute must for your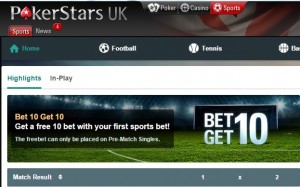 choice of bookmaker.
PokerStars' new sports betting service already has an extensive in play service available for users, so how does it shape up?
We'll take a look below, but since it's a brand new service, you might not yet have had the chance to try it out. If you fancy a flutter on the freshest site, create an account today and you can take advantage of a hot off the presses UK new player bonus from PokerStars Sports.
Finding and using PokerStars Sports In Play Betting
Navigating to the PokerStars Sports in play betting section is extremely simple. Once you have clicked on the sports tab and the page has loaded, in the white section underneath the individual sports tabs and the home page tab, you will see two other links – Highlights and In Play. Click on the In Play tab and you'll be taken to the In Play betting section.
Once this loads up, you will be provided with a list of all the current sporting events that are currently in progress, which you can bet on with PokerStars Sports.
At first it may look as if there is only one type of bet available for each game, however if more than one market is available, a symbol with arrows pointing upwards and downwards will be shown.
Click on this to bring up a list of all the other In Play markets available for that sporting event and then you can highlight which of the bets you wish to make and the odds and selections available will change accordingly.
When you have found the right market, simply click on the odds to add that selection to your bet slip and then enter your stake and click on the Place Bet button at the foot of the page. After you have entered your stake (which must be in dollars), the slip will update to show you your potential returns for the bet plus the total number of bets made and the total stake.
Remember, with in play betting, time can be of the essence and if you take too long placing a bet, the odds on that bet can change based on a number of factors in the sports event. Therefore, if you are going to place an In Play bet, be sure you get the bet on at the odds you want, as quickly as possible.
PokerStars Sports In Play choice of markets
Although PokerStars Sports betting site is a relatively new one, the In Play section is generally rather good.
It certainly isn't as extensive as a more established sports site in play offering, such as Bet365, but for those who want to bet in play on tennis and football in particular, then this site offers a service that is perfectly fine for the needs of the typical punter.
Usually, there are a wide range of markets available across a wide range of sports but football and tennis does predominate given the number of games played across the globe.
Using the service is quick and easy and placing bets and keeping tabs on open bets is also very easy.
One thing to note however is that there is no warning given when the price of a bet you wish to make In Play changes. This can catch you out if you are not sharp enough to notice that the odds and potential returns have been updated on your bet slip before you click the Place Bet button.
It is also a bit annoying for UK users to have to bet in dollars, but if you have a PokerStars UK account to play poker, then you'll already be used to this.
To conclude, the PokerStars Sports In Play service is generally good. It is certainly user-friendly and placing bets In Play is quick and easy. It does have a few little foibles, but nothing that would seriously detract from your enjoyment of this part of the site. It's not as extensive as you would find on a site like Bet365, but for the majority of In Play gamblers, the options available are perfectly adequate.
All in all, it's a good start and as the site develops over time, we are sure that the In Play betting section will only improve too.