The Premier League football season is under way and of course, all the top sports betting sites in the UK are gearing up for the season ahead by unveiling their next batch of special offers and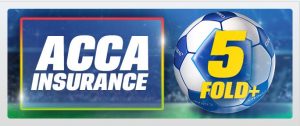 promotional items for the duration of the football season.
Coral sports betting site is no different and there are two exciting promotional items that punters with Coral can participate in throughout the season ahead. In this article, we are going to look at both of these items and explain exactly what each is and how you can use it to enjoy some great value soccer betting this season with Coral.
Let's begin by looking at the promotion making a return to Coral after the summer break; the sites popular Acca Insurance offer.
Acca Insurance Offer
When it comes to football betting, accumulator betting is very much one of the most popular bets made every week by thousands of punters. This low stake, high reward form of betting may not pay off very often, but it only needs to hit once for the punter to make a considerable profit.
Given the huge popularity of these bets, it is unsurprising that Coral have followed the lead of several other sites in offering their football punters a chance to play with some extra insurance when placing these bets.
To participate in this offer, you need to make an accumulator bet with Coral Sport of at least five selections in the Match Result market and place a bet of at least £2 on the accumulator in question. The combined odds for the bet must be 3/1 or greater (but that is highly likely on a 5-team accumulator anyway).
If you do, then your bet is covered by Coral's Acca Insurance promotion which means that if four out of your five selections win, but a single selection lets you down, then Coral will refund your stake as a free bet up to a maximum refund of £25.
For bets to qualify for this offer, they must be on selections taken from the Match Result market only and also all your selections on the slip must be from football matches.
If you qualify for this offer and receive a free bet after triggering the insurance, you have four days from receipt of the free bet in which to use it otherwise the free bet will expire and the promotion is available until the end of the football season, which Coral have deemed to be the 21st May 2017.
This is a simple and effective way to give yourself a little added insurance should you just miss out on landing an accumulator and it is available across any of the matches that Coral offer Match Result betting for, giving punters great flexibility over which games they can select from each time they place a bet.
Football Jackpot Game
Coral have also announced the return of its popular Football Jackpot game for the new season and this feature of the site offers punters a different way to bet on football matches, very much in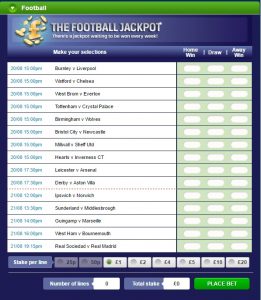 a "National Lottery" style.
Every week Coral have a jackpot of up to £250,000 waiting to be won and playing could not be simpler. You can even select your unit stake, ranging from 25p per line up to a maximum of £20 per line.
The Football Jackpot game is a coupon of 15 matches from all over Europe each weekend and next to the 15 listed games are the three possible results. Home Win, Draw or Away Win and under each is a white box.
All you do to participate in the Football Jackpot game is go through the 15 fixtures shown selecting what you think the result will be in each. You do this by clicking the relevant result (which will see the box turn green to indicate it has been selected).
Once you have selected your 15 results, you can then decide how much you want to stake per line from the Stake per line box below and once you have completed this, click Place Bet to place your bet.
However, what is different about Football Jackpot is that you don't have to make just one selection for each game. You can make two selections for some matches although this does increase the number of lines in your bet and thus your total stake will increase.
For example, if you are not sure what the result of a certain match will be, you could put down both a Home Win and a Draw as a selection for that match and just pick one result for the other 14 games. However, that would mean your bet has two lines and as such the price of placing the bet for the same unit stake would increase.
You can even select all three results for a fixture, which again increases the number of lines. However, the more options you select for a match and the more matches you select with multiple result outcomes, the greater the number of lines you will need to cover and thus the greater the cost of your bet will be.
The minimum bet you can make on Football Jackpot is £1, which is why the 25p and 50p selections are greyed out initially, however if you add more lines to your bet slip by picking additional selections for some games, then these unit stake options become available.
One additional feature available for the game is the "Lucky Dip" option, which is very similar to how the same feature is used on National Lottery tickets. If you hit the Lucky Dip button then the site will generate a Jackpot Game coupon where it selects one result at random for each of the games and you can then bet on this coupon, or modify it slightly if you wish, and then place your bet. Alternatively, you can simply click it again until you get a random selection you do like the look of.
Both the Football Accumulator offer and the Football Jackpot coupon are available throughout the entire football season on Coral Sport and both offer an exciting way for punters to enjoy some outstanding betting on the world's most popular game.