Bet365 Twister Poker has been one of the biggest success stories in recent times when it comes to online poker. It has quickly become one of the most popular forms of the game, especially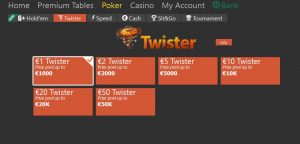 for players that don't have a huge amount of time to play in lengthy multi table tournaments or to grind away the hours at the cash tables.
Twister Poker's form of fast poker, variable prizes and randomly assigned opponents was originally added to the Bet365 Poker site as a promotional item for a limited time. However, such was the surge in popularity of this offer, that it has remained on the site ever since.
However, since the latest update to the Bet365 Poker software, there are now even more options for this fantastic format of the game, so let's take a closer look at why Twister Poker could put you in a spin when it comes to fast, affordable and fun to play poker.
If you are not yet a member at Bet365 Poker and would like to join today, click on the following link for the latest Bet365 Poker bonus code, to ensure you sign up and get the best possible new player deal.
How does Twister Poker work?
Twister Poker is a wonderfully simple game which sees players elect to buy in for a set price to a game and they are then seated at a table with two other randomly selected players who have also bought in at the same price.  After this point the Prize Wheel is spun (or Twisted) and the prize pool you are playing for is decided.
The prize you are playing for will either be 2x, 4x, 6x, 10x, 20x, 50x, 100x, 200x or if you are very lucky, 1000x your buy in. Most games will be for smaller prizes with just a few games for the top prizes.
The game then progresses as a standard game of Texas Hold'em, only in this game players start with just 500 chips and the blinds are increased very quickly. This forces players into action quickly and ensures that each Twister Poker game is relatively short-lived compared to other forms of the game. Most take around five to 15 minutes to run to completion.
The winner is the final player left at the table having eliminated both other players and in most cases, this player will take home the entire prize fund (however Bet365 have introduced a new rule for games with a prize pool of over €1,000, which we have explained in more detail below).
What are the new options for Twister Poker at Bet365?
Originally when Twister Poker was released at Bet365 Poker, there were four choices of buy ins available to play. These were €1, €2, €5 and €10.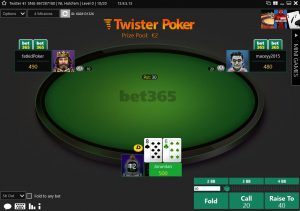 However, such was the popularity of these games with players that Bet365 have now introduced two new games at higher buy in levels, each of which offers a larger potential prize pool than was on offer previously.
With the new Bet365 Poker client software, you can now play for a €20 buy in and a €50 buy in, which means that there are now prizes of €20,000 and €50,000 potentially available to be won, increasing the maximum prize available for Twister Poker fans by five times the original €10,000 top prize.
The rules for these new buy in games are exactly the same as the original, only with these games the minimum prize pool you will be playing for in each is €40 (in the €20 game) and €100 (in the €50 game).
Anything else I should know about the game?
As you will already be aware, Twister Poker is a game where the amount you are playing for is decided by the random spin of a wheel at the start. For the most part you will likely be playing for 2x, 4x or 6x your buy in, but occasionally, there is a much bigger prize fund on offer, which could adjust your Twister Poker strategy.
Originally, when the game was conceived, it was a 'winner takes all' game, where the three players battled it out and the winner that took home the prize was the final player of the three standing at the table with all the chips, having eliminated the other two players from the game.
Now when you are playing for €2 or €4 that is fine, however it becomes far more nerve-racking and punitive if you hit one of the big games and are playing for a prize of between €1,000 and the top prize of €50,000.
To offset this, Bet365 have come up with a new rule which is fairer to all players at these bigger prize money tables. In any Twister Poker match up with a prize of €1,000 or more, Bet365 will award the pot as follows:
10% of the prize to each of the two losing players
80% of the prize to the winning player.
What this means is, if you buy in for €1 and end up playing for €1,000. You are guaranteed at least $100 as one of the three players playing at the table. However if you win, you will take
home $800.
This new rule is fairer to all players fortunate enough to be playing for larger sums of money and ensures that being one of the losers at these tables isn't quite so costly for the player as it used to be.
Should I give Twister Poker a try at Bet365?
If you have not yet given Twister Poker a try at Bet365, then you should do so immediately. This is arguably the most user-friendly game of poker you can find on the site as with random opponents and randomly selected prizes, you could find yourself up against two novices for a big money prize, or taking on two Bet365 Poker behemoths for a €2 prize fund.
Add to that the fast rising blinds and short stacks and you have a game which not only plays quickly, but is also volatile, giving players with lesser ability a greater chance of having some success against more experienced opponents.
Of course, that is not to say that luck is the key to winning in Twister Poker, a solid game will certainly see you have far more chance of profit, but it does level the playing field a bit between players of differing abilities.
Twister Poker has been a huge hit since it was first introduced onto Bet365 Poker several years ago now and these new games and the rule change for higher prizes, means that it is now arguably the biggest attraction for poker fan son the Bet365 Poker site.