Since BetStars first came into existence as a sports betting site for UK customers, the number and scope of the promotions on offer on the site has multiplied considerably. Initially, there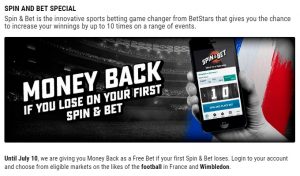 were no offers on the site, but now there are a huge number of different promotional offers across a wide range of sports.
Of course you need to join BetStars to take advantage of these offers (click here for more information and our detailed BetStars UK Sportsbook review) but one of these promotions that has been causing the biggest stir is BetStars Spin and Bet offer.
However, in order to attract more people to try this unique betting feature, BetStars have now come up with a brand new offer, which means that you can try Spin & Bet at no risk to yourself.
Before we explain this new offer, let's quickly recap exactly how the Spin & Bet option works at BetStars and why it is proving so popular with sports betting punters on the site.
What is Spin and Bet?
When you place a bet on BetStars then you do so in the usual manner. You peruse the available markets for a bet, click on the odds of the bet you want to make to add it to your bet slip, then enter in your stake and click the Place Bet button.
However, BetStars are now offering you the chance to place the same bet, but get odds of between 1x and 10x the odds stated by using the Spin & Bet offer.
So for example, say you place a £10 bet on Wales to beat Portugal in the Semi Final of Euro 2016. If you elected to use the Spin & Bet feature, you would be charged 10% of that bet (£1), but you would then get to spin the reel. Depending on the outcome of the reel you could receive a multiplier of 1x, 1.5x, 2x, 5x or even 10x the stated odds on your bet.
What this means is that if you backed Wales to beat Portugal at 2/1 and used the Spin & Bet option, you would be charged £1 for the service and £9 of your wager would be placed on Wales at 2/1.  However, if you Spin & Bet and the reel turns up a 10x multiplier, if your bet wins, then you would be paid out at 10x 2/1, which is odds of 20/1.
In monetary terms, that means instead of receiving £27 back from your bet (£18 winnings plus £9 stake returned), you would receive £189 back at odds of 20/1 (£180 winnings and £9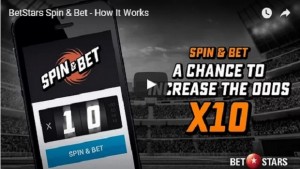 stake back).
The odds are you are most likely to get the lower multipliers for your bet. But there is always that chance you could land that big multiplier.
What is the new offer?
With the new offer from BetStars, you can try out the new Spin & Bet option at no risk to yourself thanks to their Money Back Spin and Bet Special promotion. But you will have to be quick as this is a limited time promotion which runs only until July 10th 2016.
All you need to do is place an eligible Spin & Bet bet with BetStars of up to £10 on any eligible market. That could be the Euro 2016 football championships, the Wimbledon tennis tournament or any other major sporting event taking place prior to the 10th July.
Once you have placed your bet, remember to use the Spin and Bet feature to see if your bet will earn a multiplier. You can then sit back and enjoy watching the outcome of your event safe in the knowledge that if your bet wins, then you'll enjoy a nice return, perhaps even more than you bargained for if you get lucky with Bet & Spin.
However, if you lose, then you won't lose out because BetStars will refund your losing stake as a free bet within 48 hours of your bet being completed. You then have seven days within which to use this free bet at BetStars.
You'll have to be quick as there is just a few days of this offer remaining so if you want to try Spin & Bet with no risk to your cash, this offer is a fantastic opportunity to do just that at BetStars.